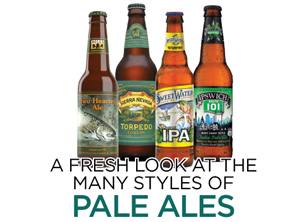 A FRESH LOOK AT THE MANY STYLES OF PALE ALES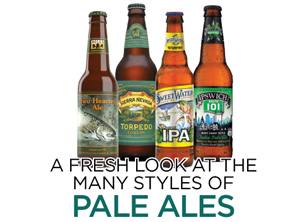 By Andy Crouch
The journey of hops as mere preservative to dominant flavor and aromatic ingredient in beer has been a windy one. Once cast aside as purely offering unpleasant bitterness, American beer enthusiasts and brewers have embraced hops to all ends of the spectrum. Brewers now routinely work with hop developers and farmers to cross-breed new types of hops that contain their favorite elements of existing varieties. The hop revolution is far from over.
Once a mere role player on a team with a deep bench, hops influence the aroma and flavor of beers in myriad ways. Far from a one-dimensional experience, hoppiness comes in three main forms: aroma, flavor, and perceived bitterness. Depending on the brewer's hand and recipe design, hops can add grapefruit juiciness or earthy nobility to the aroma, cotton candy sweetness or spicy bitterness to the body, and similar to the lines in a coloring book, they provide some structure and order to counterbalance malt sweetness. Hopheads once encouraged their favorite brewers to push the limits of hop solubility to tongue-blistering levels with their extreme offerings. Today, the beauty of hops rests in the complexity that judicious use can add to a well-crafted beer. A fantastic pairing with spicy foods, hoppy beers cut through heavy flavors in ways that other beverages fear to approach.
The American Pale Ale style is one that made American brewing famous. It is also one of the first styles that many drinkers experienced. Ranging from golden to light copper in color, the charming style is more reserved than its boastful brother IPA while refusing to lurk in the shadows. As is the case with many classic lager styles, it is not easy to make great American pale ales. The best examples manage equilibrium between citrusy American hop aromas, fruity flavors, and moderate bitterness and mild yet expressive pale malt sweetness. The ubiquitous American pale ale, produced by nearly every American brewpub and craft brewery, remains a very approachable style for novice drinkers. The bolder IPA versions often come in hazy and sometimes even murky form today. For those drinkers interested in a return to a more pronounced bitterness, often in the form of the West Coast style IPA, here are some great selections.
BELL'S TWO HEARTED ALE
Bell's Brewery, Inc.
Kalamazoo, Michigan
bellsbeer.com
alcohol by volume 7%
This brewery was long one of the few to avoid entering the Massachusetts market. With our good luck, however, Bell's lineup is now available in the Bay State. If you could bottle the nose as a house air freshener or a perfume, hop heads would buy that by the crate as well. A dullish yellow tone with shades or orange making an appearance and a touch cloudy, Two Hearted boasts nothing but Centennial hop goodness, brimming with sticky and sweet cotton candy notes covering citrus beats. The resulting flavor has been described by some as oddly intoxicating, in a mystical sort of way, with more sweet cotton candy hops mixed with grapefruit and a teasing touch of sweet pale malt that creates a stunner of a beer. Two Hearted Ale is a beer that unites both novice beer drinkers and the most hardened and skeptical beer nerds in the joy of drinking. AVAILABLE from Craft Brewers Guild, Commercial Distributing Company, L. Knife & Son and Seaboard Products Company.
TORPEDO EXTRA IPA
Sierra Nevada Brewing Company
Chico, California
sierranevada.com
alcohol by volume 7.2%
The Torpedo Extra IPA really signaled that one of America's largest brewers was serious about not resting on its laurels and was ready to engage with consumers on new flavor fronts. From the makers of the style-setting Sierra Nevada Pale Ale, this deep orange amber beauty asserts a wheat tinted head and starts with a slightly resiny and assertive hop assault on the nose, with a lush base of caramel malt. From the first sip, you know this is no weak-kneed pale ale but one that smoothly enters you into full bodied IPA territory. Its sharp hoppiness, however, is so well-balanced by the underlying malt flavors as to render it famously drinkable and deserving of a place within the pantheon of IPAs. A definite throwback in terms of style, Torpedo is now an elderly relative of many of Sierra Nevada's new and expanding line of fruitier and more tropical IPAs. Yet Torpedo remains a great West Coast IPA. AVAILABLE from Craft Brewers Guild, Girardi Distributors, L. Knife & Son, Quality Beverage, Seaboard Products Company and Williams Distributing Corporation.
IPA
Sweetwater Brewing Company
Atlanta, Georgia
sweetwaterbrew.com
alcohol by volume 6.7%
Along with Bell's, Sweetwater was another regional powerhouse that just never seemed to make its way into the Massachusetts market. That was a shame because the brewery's IPA is a classic. Packing a powerful aroma that mellows out considerably in the flavor, this is a beautifully balanced beer. Hopped with Columbus, Chinook, Cascade, Simcoe, and Golding, and then extensively dry hopped with Simcoe and Golding, it pours with a luminous and slightly hazy amber-orange hue with a choppy white crown, the aroma explodes with sweet malt and sugar covered grapefruit notes. A work of art, the nose is so filled to the brim with floral and fruity notes that you half expect a hop bomb in the body. Thankfully, the brewers exercised artful control, resulting in a swirling mixture of sweet pale malts, floral hop flavors, and a mild mannered but omni-present earthy and minty bitterness. It is a real pleasure to find such a classic example of a style so often lost in the hop shuffle. Sweetwater produces a line of other IPAs that is also worth your time. AVAILABLE from Girardi Distributors, Horizon Beverage Company, Quality Beverage and Williams Distributing Corporation.
IPSWICH ROUTE 101
WEST COAST STYLE
INDIA PALE ALE
Ipswich Ale Brewery
Ipswich, Massachusetts
ipswichalebrewery.com
alcohol by volume 6%
Named for the 1550 mile United States highway spanning the Pacific coastline, this surprisingly hoppy offering comes from a brewery best known for making understated and classic British and American style beers. Ipswich is a brewery that often flies under the radar, doing well in its home base but otherwise not making much of a splash. Beers like Route 101 may change the way consumers think about this older brand. Pouring clear yellow to gold in hue with a small dollop of white head, the aroma is smoothly of grapefruit, pine, and classic American hops, along with other citrus and tropical notes. The flavor follows suit, with some stickier piney notes alongside a solid undercurrent of malt sweetness. There are tropical touches along the edges of this entirely pleasant Massachusetts take on the classic style. AVAILABLE from Atlas Distributing, Craft Brewers Guild, Colonial Wholesale Beverage, Commercial Distributing Company and Merrimack Valley Distributing.