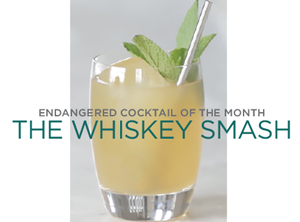 ENDANGERED COCKTAIL OF THE MONTH – THE WHISKEY SMASH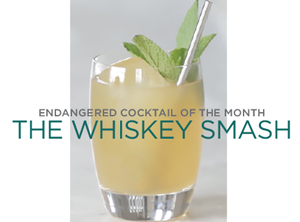 By Pink Lady
As summer started late in these parts, we predict that you should extend your summer-y cocktail sipping plans well into early October. The days may get shorter and your bar or store might be getting busier (hallelujah!) but there's no telling if a September afternoon will be 6O degrees or 9O degrees here in New England. Keep that mint plant happy and flourishing as long as you can so you mix up Whiskey Smashes as needed on the fly.
The Whiskey Smash is a drink that hails from the late 19th century and differs slightly from the Mint Julep in its original form. It was described by Jerry Thomas, author of the first cocktail book, the Bon Vivant's Companion, as "a Mint Julep on a small plan." We all know Juleps as the official cocktail of the Kentucky Derby, a drink made, per his recipe, with a dozen mint leaves, a spoonful of sugar, equal parts peach and common brandy, and crushed ice. Worth noting is that this drink led to a whole host of barware back in the day (Julep cups, julep strainers, straws ­— huzzah!) The smash appears in 1888 in Harry Johnson's book, The New & Improved Bartender's Manual, calling for whiskey — yay whiskey! — and garnished with fruits in season. He offers other variations: the Fancy Whiskey Smash which calls for a "fancy" bar glass, as well as a Medford Rum version, a Brandy version, all of which differ slightly.
As for how we like to drink it, we have to tip the hat to King Cocktail Dale DeGroff, who popularized this drink at the Rainbow Room, tossing lemon wedges into the muddling mix. If you remember the dark ages of the cocktail in the 197Os, 8Os, and 9Os, when the only fresh fruit that could be found in your drink was a cheap Maraschino cherry and orange wedge muddled begrudgingly into your Old Fashioned, you can understand and imagine what a true revelation this drink must have been when it burst on the scene (see previous columns on the Cairprhinia.)
The best thing about this recipe is that it has forgiving DNA — you can toss whatever you'd like into the mix, arm yourself with a muddler, and smash it up! Here's King Cocktail's recipe; we can't wait to see what you come up with!
WHISKEY SMASH
3 lemon wedges
4 mint leaves
3/4 OUNCE of simple syrup
2 OUNCES of Bourbon
MUDDLE the lemon in a shaker.
ADD the remaining ingredients and ice and SHAKE.
DOUBLE-STRAIN into a rocks glass over one large ice cube.
SLAP a mint sprig between your hands and use as garnish.
SERVE with a straw, preferably paper or metal — think of the turtles!
Cin-cin!