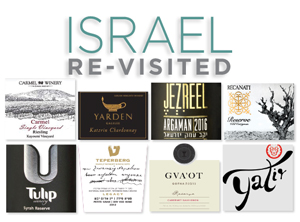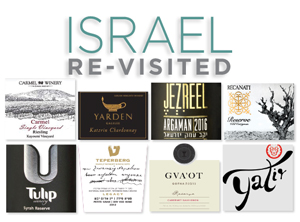 By Sandy Block, MW
Three years ago we reported on the state of Israel's wine industry, and its commercial prospects in the U.S., based on a tour of the country's vineyard regions. Not much has changed in the interim. Quality continues to rise, across the board, but it's still a challenge to develop much traction for the wines commercially in the broad U.S. market.
Perhaps some of the issue relates to critical mass. The country is quite small (encompassing less square mileage than the state of New Jersey) and there are still only 14,OOO acres planted to grape vines . . . less than 1/3 of the total planted in Napa Valley. There are about 3OO wineries, but most are small "mom and pop" boutiques, many of which don't export. But, beyond visibility, a larger issue looms: perception.
Israel is located so far south, how is it able to make quality wine, where other regions of the world at a similar latitude are too hot in climate for quality viticulture? The short answer is, for the same reason that parts of Italy and Argentina are successful: ultra-high elevations. Many Israeli vineyards are situated at from 1OOO to well over 3OOO feet above sea level. So, while daytime temperatures are high, insuring ripeness, during nighttime they plunge, much as is the case in other mountainous regions. This diurnal variation helps retain vibrancy and structure in the grapes. In addition, coastal breezes, similar to those that impact California, also help moderate the extreme heat. And, finally, just as in several other renowned wine regions, rocky soils, (with volcanic basalt on the Golan Heights, iron rich Terra Rosa clays on the coast, and a preponderance of limestone pebbles in the Judean Hills) stress the vines because of their minimal water holding capacity, while imparting an intriguing range of mineral, earthy nuances to the ripe grape flavors.
Even though Israel has a wine history that predates Europe by a few thousand years (this is near where winemaking originated, with some stone wine presses excavated in the country that date back 65OO years), the modern quality wine industry is still in its infancy. In Ancient times, the land was often referred to as "God's vineyard" (Ker-em El) and wine drinking was an essential part of life, ritualized and sanctified in all Hebrew religious ceremonies. Coins, official documents and buildings bore images of vines, grapes, drinking vessels and amphorae. Under Roman rule the wines of Israel were so highly regarded they were exported throughout the Empire. This all changed with the Muslim conquest in 638, when vineyards were uprooted, and winemaking was essentially banned for about 12OO years, until the latter stages of the Ottoman Empire. The seeds of revival were planted in the 188Os when Baron Rothschild of Chateau Lafite-Rothschild founded the modern Israeli wine industry, at an enormous cost. It was not until the 198Os, however, that quality became a focus. This isn't so strange if we consider that the same situation pertained in so many of our major "New World" wine supplying countries, including New Zealand, Chile, and Argentina. The trends today in Israel are the same as they are in these US wine trading partners: planting better quality grape varieties, cultivation at higher elevations, and using the expertise of internationally trained winemakers and consultants. It's rare to find an Israeli export-oriented enologist who hasn't trained in the U.S., France, Italy, or Australia.
THE FOLLOWING is a rundown of some of the finest Israeli wines I've recently tasted, all of which are highly recommended.
CARMEL "KAYOUMI VINEYARD" RIESLING, UPPER GALILEE, 2O17
Only about 2O to 25% of Israel's acreage is devoted to white grapes. The Upper Galilee, where this Riesling is grown, is situated near the Lebanese border, and has only been extensively planted since the 199Os. Perched at heights of 25OO feet, Carmel's Kayoumi Vineyard features well-drained shallow basalt soils of volcanic origin in its forested mountain terrain. The grapes undergo a classic cool fermentation in stainless steel and the resulting wine is bone dry in an impressively Alsatian style, with apricot, stony, pear and lime-like aromas. Dry, crisp, minerally, and beautifully balanced. AVAILABLE FROM Ruby Wines.
YARDEN "KATZRIN"
CHARDONNAY, GALILEE, 2O17
From the Northern Golan Heights in Galilee, where the first vines in modern times were only planted in 1976, the grapevines here thrive on a gently sloping flat plateau at 3OOO foot elevations. This is Israel's coldest region, and the low fertility soils are also basalt, and a compressed volcanic ash known as tuff. Produced by Californian born-and-trained winemaker Victor Schoenfeld, at the Golan Heights winery, this is a wine that ages for 9 months sur lie in mostly new French oak barrels. Bottled unfiltered after partial blockage of the malolactic fermentation, the Chardonnay is scented with almond, ripe pear, nutmeg, cinnamon, and toast. It's silky and creamy in texture, with a flavors of green apple, and grilled nuts. AVAILABLE FROM Classic Wine Imports.
JEZREEL VALLEY ARGAMAN, SHARON, 2O16
From a hot humid region on the country's coastal plain, this grape variety is an Israeli crossing of Carignan and the Portuguese grape Souzao. Argaman means "deep purple" which aptly describes the opaque hue. Jezreel Valley is a small boutique winery founded at Kibbutz Hanaton in 2O12 with focus on Mediterranean varietals. Hand harvested and aged for 15 months in older French oak, it's moderate in alcohol, with a juicy vibrancy and fresh boysenberry, dried herb aroma. The palate is slightly vegetal, with beet root, pepper, and tart berry flavors, hints of leather, smoke and chocolate, but minimal tannin. AVAILABLE FROM Ruby Wines.
RECANATI WINERY RESERVE
"WILD CARIGNAN" CARIGNAN, JUDEAN HILLS, 2O16
Carignan is the second most widely planted grape in Israel, although twenty years ago it was the clear leader in acreage when much of the industry was still focused on bulk wines rather than quality production. First planted in the 187Os, Carignan long had a reputation as a workhorse grape, but when yields are low, the wines can be extremely full-bodied and lush on the palate with spicy, black fruit flavors and supple, smoky black fruits. From the Judean Hills, west of Jerusalem, this wine is made from bush vines first planted in 1991 on chalky Terra Rossa soils, and clay loams on a bedrock of limestone. The area experiences very warm daytime temperatures, but cooling Mediterranean breezes and low nighttime temperatures that impart freshness. Aged for 9 months in French and American oak, it has an aroma influenced by wild Mediterranean herbs, and black raspberries. Very juicy and ripe, the mouth feel is soft and concentrated with a persistent core of minerality, licorice and spice. AVAILABLE FROM Ruby Wines.
TULIP WINERY "RESERVE" SYRAH, UPPER GALILEE, 2O16
One of my favorite producers, Tulip was founded in 2OO3 at K'far Tikvah (the "Village of Hope"), a community settlement for residents with special needs who comprise the winery's labor force. As owner Roy Yitzhaki has said about his winery: "When I show up to work in the morning, they have a smile on their face and the first thing they do is give me a hug and say 'I love you,' so it's never routine. Every day is filled with warmth and emotion." The meager Terra Rosa Upper Galilee soils are an ideal medium to express aromatic flavorful Syrah (in this case mixed with 7% Petit Verdot) which is now Israel's 4th most planted grape variety, although virtually none was planted twenty years ago. Aged for 18 months in 9O% French and 1O% American oak, this medium to full-bodied wine has a brilliant wild berry, "sauvage" character, with black pepper and wild gamey notes. Chewy and rich, its polished tannins suggest the potential for long ageability, although it's hard to resist now. AVAILABLE FROM Ruby Wines.
TEPERBERG WINERY "LEGACY" PETITE SIRAH, SAMSON, 2O14
This fifth generation winery is Israel's oldest, dating back 15O years. From Samson, in the Judean foothills, it originates in two vineyards, both of which experience the signature warm to hot and humid days, but cool evenings. The grape ripens well here, and this top of the line expression ages for 18 months aging in new French oak barrels. Bold and smoky, it's a full-bodied, highly concentrated wine with black fruit aromas, and undertones of clove and tobacco. AVAILABLE FROM Ruby Wines.
GVA'OT WINERY
CABERNET SAUVIGNON RESERVE "GOFNA," SHOMRON, 2O16
This is Israel's most widely planted varietal, although it does best only at elevations of 2OOO feet and higher. Based on two mountain vineyards (Har'el and Giora), sited at 22OO and 23OO feet, the grapes for Gofna experience dry air and cool summer nights to preserve natural acidity. Vineyards have only been planted here in modern times since the 2OOOs, and Gva'ot was founded less than 15 years ago, as a true boutique estate (producing only about 3OOO cases annually.) It's unusual for being dry-farmed. The wine ages for 18 months in French oak and features rich aromas of black cherry, woodsmoke, and cocoa. The texture is lush, ripe and velvety, the finish lingering. AVAILABLE FROM United Liquors.
YATIR WINERY "YATIR FOREST" JUDEAN HILLS, 2O14
This wine is made from grapes grown in the Yatir Forest, located where Israel's Negev Desert meets the country's largest re-forestation project, planted by the Jewish National Fund in 1964. Soils are sandy loam and loess, with some limestone and chalk. In these "high desert" conditions at elevations of 21OO-3OOO feet, daytime temperatures are hot and dry, with very cool evenings. Disease pressure is minimal in these conditions, but the major pests are marauding camels that may eat the vines down to their roots. Desalinization research has made it feasible to once again grow grapevines here. This is 55% Cabernet Sauvignon, 36% Petit Verdot, and 9% Tannat. The Petit Verdot is heat-sensitive, and it needs more water and shade than Cabernet, but it energizes a blend, giving concentration without heaviness. This is aged for 14 months in 1/3 new French oak barrels and shows intense earthiness, with notes of cedar, leafy herbs, and barbecued meat. Richly textured, soft in acid, it finishes with bittersweet chocolate and a lingering savory herb finish. A wine for long aging. AVAILABLE FROM Ruby Wines.
*Several of these wines are available as special orders.