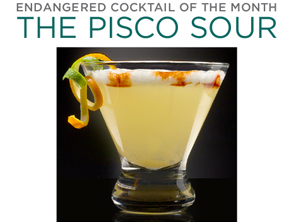 ENDANGERED COCKTAIL OF THE MONTH: THE PISCO SOUR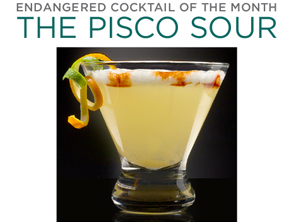 By Pink Lady
There are few drinks as refreshing as a Pisco Sour, and August in Boston is a fantastic time to sip one! This drink is a perfect gateway to the South American spirit which is made both in Peru and Chile, and has a hotly debated provenance. Pisco is a white spirit, essentially an unaged or briefly aged brandy, that can have delightful complexity and terroir-expressiveness perfectly highlighted by the bright, frothy, citrusy treat that is the Pisco Sour.
For many years, the delicious Pisco Sour was credited to an American ex-pat working in Lima named Victor Morris. Morris relocated from Utah to Peru to work for the railroads in 19O3. When he opened his American-style watering hole, Morris' Bar in 1916, it became a popular destination for well-to-do clientele and aristocrats, and everyone enjoyed his special Pisco Sours. When Morris' bar closed in 1929, bartender Mario Alfonso Bruijet Burgos kept the love alive in his new post at the Maury Hotel, where he famously served them until he retired.
Morris and Brugos may receive the lion's share of credit for this drink, but in recent years a vintage pamphlet, the Nuevo Manual de Cocina a la Criolla — or New Manual of Creole Cooking, was discovered by Peruvian writer Raúl Rivera Escobar, and it contains a recipe that looks strikingly familiar. The drink bears no fancy name, and doesn't even call for true measurements, but certainly confirms that some clever Peruvians were mixing up cocktails with pisco, lime, sugar, and egg white as early as 19O3.
We love sipping our Pisco Sours with Macchu Pisco, a brand helmed by the fabulous Melanie da Trindade-Asher. Her family-owned company also produces La Diablada, an acholado style pisco made from Quebranta, Italia, and Moscatel grapes that is floral, smooth, and extremely aromatic and an exciting way to try your favorite pisco cocktails. Sample a Pisco Sour with both and be changed.
PISCO SOUR
1.5 ounceS of Macchu Pisco or La Diablada
1 ounce of simple syrup
.75 ounceS of fresh lemon or lime juice
1 ounce of egg white
Angostura bitters
COMBINE the pisco, simple syrup, citrus juice, and egg white in a mixing glass.
DRY SHAKE to emulsify.
ADD ice and SHAKE long and hard.
STRAIN into a small cocktail glass.
GARNISH by sprinkling angostura bitters onto the egg white foam.
Cin-cin!