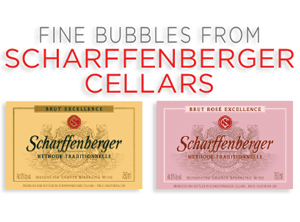 FINE BUBBLES FROM SCHARFFENBERGER CELLARS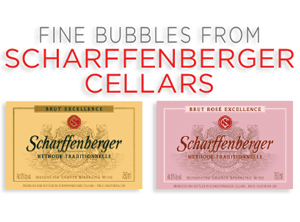 By Harvey Finkel
You'd think you were looking through Alice's looking glass to view the labyrinthine history of Scharffenberger Cellars, though the wines have been on a straight line of good quality. In 1981, the young John Scharffenberger, having studied agricultural geography at Berkeley, founded a marginally capitalized eponymous sparkling wine producer in a garage near Ukiah in California's Mendocino County, then a vinous hinterland. By 1989, financial pressures trumped emerging market recognition, and John was forced to sell 95 percent of the company to BSN, a French glass and pasta producer that also owned the combined Champagne houses of Pommery-Lanson and the Dannon yogurt brand. Vineyards were acquired and a winery built in Philo in the Anderson Valley of Mendocino soon thereafter.
In 1991, Scharffenberger Cellars was sold to French luxury firm Louis Vuitton Moët Hennessey. John Scharffenberger, who had stayed on as general manager, sold his remaining share, and left to pursue endeavors in fine chocolate, soy products, ham, and sauerkraut. Assigned to LVMH's Cliquot division and renamed Pacific Echo, the brand did not thrive, again being sold in 2OO4, this time to respected Champagne house Louis Roederer, as part of its Maisons Marques & Domaines. The Scharffenberger name was restored; sales rebounded. It was operated as a virtual joint enterprise with the nearby Roederer Estate. Ted Sawyer, then the Scharffenberger winemaker, jokingly called the two, "the world's only five-mile-long winery."
The grapes are grown in Scharffenberger Cellars' own 12O acres of vines, plus other sources in cool Mendocino. The winemaker since early 2O18 is Jeffrey Jindra, who trained at Sonoma State University and UCal Davis, and worked in Sonoma, Mendocino, and New Zealand. The wines are made by the méthode champenoise, with 😯 percent of the base wine having gone through malolactic fermentation. The infant sparkling wines spend two years on their lees before disgorgement.
WINE NOTES
BRUT EXCELLENCE
Chardonnay 6O percent, Pinot Noir 4O. 2O,OOO nine-liter cases produced. Fragrant and toasty. Fine bubbles giving fine texture. Good body and balance. The fruit is neither excessive, as California sparklers sometimes are, nor parsimonious. Good finish. Good job. $21
BRUT ROSÉ EXCELLENCE
Pinot Noir 56 percent, Chardonnay 44. For the color and fruit, four to five percent Pinot Noir still wine is added to the blend before the second fermentation in the bottle. 289O cases. More fruit, less toasty complexity than the preceding. $25
Scharffenberger Cellars Wines are distributed by Ruby Wines and by United Liquors.
NOTE Earlier this year, Champagne Louis Roederer, owner of Scarffenberger Cellars, Roederer Estate, and Domaine Anderson, all in the Anderson Valley of Mendocino County, purchased Merry Edwards Winery of Sonoma County's Russian River Valley, especially known for its array of superb Pinot Noirs. Merry Edwards, founding winemaker, and her husband, co-owner Ken Coopersmith, will stay on for a while to ease the transition. Heidi von der Mehden, who recently succeeded Merry as winemaker (see this space in the January 2O19 issue, pages 6-7), is to continue. The sale includes the brand, the stock, the winery and the vineyards. In addition to its eminent home base in Champagne, Roederer owns/markets an impressive assemblage of properties in France, Italy, Portugal, Spain, South Africa, and the US.