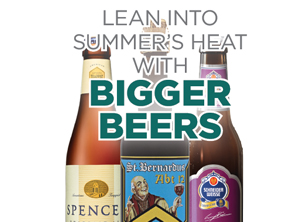 LEAN INTO SUMMER'S HEAT WITH BIGGER BEERS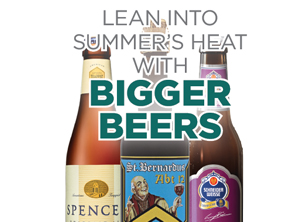 by ANDY CROUCH
A consumer's beer fridge undergoes a number of seasonal changes throughout the year, transitioning from the lighter, crisper beers of summer into more full bodied offerings in the fall and through winter before returning full circle in the spring. As the seasons change, some beers can get left behind, poor stragglers banished to the back of the cooler in favor of the new seasonal favorites. When weather turns warmer, the conventional wisdom supports reaching for beers that serve to quench the summer heat. Pilsners, hefeweizens, and light saisons fit the bill for most people. But summer can also be a time to turn that seasoned thinking on its head, reversing direction in favor of the occasional bigger beer. Whether for a nightcap or just as a full pour to lean into the heat, beers with a little extra alcohol kick can offer fun summer drinking experiences. Taking a moment to consider dubbels, quads, and other spicy Belgian influenced beers can result in some unexpected fun.
The return of the summer heat, and perhaps on a cooler night, also gives consumers the chance to look through the back depths of their fridges to harvest long slumbering bigger beers. In contrast to hoppy, juicy, and other crisp beers, these alcohol and malt bombs age with much greater grace and even mellow into even more interesting beers. For those drinkers interested in catching a break from the haze craze, try suggesting a big beer or two for their summer drinking.
SPENCER TRAPPIST ALE
The Spencer Brewery
Spencer, Massachusetts
spencerbrewery.com
alcohol by volume 6.5%
This Belgian-style pale ale is the flagship offering from America's first Trappist brewery. Produced by the the Trappist monks of St. Joseph's Abbey in Spencer, Massachusetts, the Spencer Brewery is one of fewer than a dozen Trappist breweries in the world. First released in early 2O14, the beer continues to enjoy wide distribution, especially across Massachusettts. For centuries Trappist monks have earned a reputation as brewers of some of the world's best beers. Names such as Westmalle, Orval, Rochefort, Chimay, and Westvleteren continue to excite beer lovers across the globe. As a certified Trappist brewery, Spencer is required to operate under rules set by the International Trappist Association, a nonprofit group overseeing the production of these abbey beers as well as the use of the profits of their sales. You can identify a true Trappist beer, which is a registered trademark, as their labels don a hexagonal "Authentic Trappist Product" logo. Pouring with a deep golden amber hue and a light off-white head, the aroma is bright with caramel Munich malt and zesty yeast notes. The beer is medium bodied and unfolds with a quick hit of sweeter Munich malt followed by a lingering mixture of more compex yeast notes, ranging from bubble gum to cracked pepper and ending with a nice kick of alcohol. The Spencer Trappist Ale is an excellent introduction into the cavernous subject of Trappist beers for interested consumers here stateside. AVAILABLE FROM Atlas Distributing, Burke Distributing, Colonial Wholesale Beverage, Commercial Distributing Company, Merrimack Valley Distributing.
ABT 12
Brouwerij St. Bernardus NV
Watou, Belgium
sintbernardus.be
alcohol by volume 1O.O%
As 1O percent alcohol, the St. Bernardus Abt 12 is a banger to be sure. Not a Trappist by pedigree but just a touch outside due to its history with the Westvleteren Trappist brewery, St. Bernardus makes some of the world's best and most accessible beers. The Abt 12, a huge Belgian quadrupel beer, has long reigned atop online beer reviewing site Best Of lists. Brewed to a recipe dating to 1946, the Abt 12 is the most potent offering in the St. Bernardus lineup.
The beer pours with a deep mahogany color and a surprisingly light off-tan head of sustained foam. The aroma is redolent with dark fruit, including raisin, cherry, and fig, as well as bread, toffee, touches of brown sugar, as well as cleansing hits of spice and clove. The alcohol is present in the nose but not in any burning manner. The beer benefits from being served as a slightly warmer temperature as being too cold returns a slightly bitter edge. The flavor follows the aroma, with big sweet dark fruit notes over breadier ellements and finished with a lightly warming alcohol note rounded out by cloves and spicy yeast notes. At 1O percent alcohol, you need be careful with this surprisingly light bodied beer. While the brewery suggest a four year shelf life, in my experience the Abt 12 is capable of aging for quite some time and gains complexity and maturity with each passing year. AVAILABLE FROM Atlantic Beverage Distributors and Craft Brewers Guild.
AVENTINUS WEIZEN-EISBOCK
Weisses Bräuhaus G. Schneider & Sohn GmbH
Kelheim, Germany
schneider-weisse.de
alcohol by volume 12%
Founded in 1872 and run by the Schneider family for more than six generations, this brewery produces a long line of engaging and lively weiss beers. Despite its substantial presence in and around Munich, the family's brewery in the city was destroyed during World War II. It then relocated its brewing operations outside of the city limits, rendering it ineligible to take part in the city's famous Oktoberfest celebrations. The family takes it in stride and continues to produce some beers that make the Muncheners' hair stand on end. The Aventinus Eisbock is one of the craziest beers you are likely to encounter on a trip to Bavaria. Priding itself as the most intense and complex wheat doppelbock in the world, the Eisbock is an eyebrow raiser. The tale told of eisbock is that a brewer left a higher alcohol beer barrel out in the cold, where part of the beer froze. The brewer then kept and tasted the more concentrated and unfrozen part of the beer, resulting in the creation of the higher alcohol eisbock style.
The Aventinus Eisbock pours with a deep ruby hue and a moderate top of off tan head. When it settles the beer looks a little like an innocuous Dr. Pepper. The aroma might confuse the unknowing into thinking it was some sort of sweetened beverage. The first hits are of deep sweet and dark fruited malts, big with raisin, fig, and prune notes. Mix into that some banana from the weiss yeast as well as clove, wheat, pepper on top of a toasted and bready base malt character and you have a potent beer. The beer is medium to full bodied with a big first burst of sweet dark druit malts followed by a wave of lighter wheat notes and finishing with an alternating routine of clove and spice over a substantial but not cloying or overpowering wave of alcohol. Complex, exciting, and strong, this Eisbock is a wonderful late night summer sipper. AVAILABLE FROM Craft Brewers Guild.