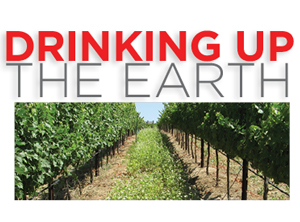 "A single bottle of Prosecco DOCG sparkling wine
drinks 4.4 kg of soil every year."
By Harvey Finkel
Among the inconvenient truths about humankind's disturbances of the ecosystem is that thoughtless agricultural cultivation accelerates soil erosion, already losing 30 percent of the farm production on the half of the earth's arable surface devoted to raising crops. A ten-year study by SE Pappalardo, et al., from the University of Padua and the Environmental Protection Agency for the Veneto Region, "Drinking earth for wine" (bioRxiv 516245; doi:https://doi.org/10.1101/516245, first posted online January 10, 2019), focuses on the cost in soil erosion of wine production in the Prosecco DOCG zone of northeastern Italy.
The Prosecco DOCG zone is an apt study site. The rapidly escalating popularity of its fizz has led to an increase of vine-planted area from 4000 hectares in 2000 to 7000 hectares in 2016. It is subject to several of the factors promoting maximal soil erosion: steep hillsides, bare soil poor in organic nutrients further damaged by market-driven aggressively imprudent agricultural practices, intense rainfall
following dry spells characteristic of the Mediterranean climate. The rate of erosion in the zone's vineyards is "40 times greater than the upper limit of the tolerable soil erosion threshold defined for Europe." Similarly alarming results have been reported for sloping vineyards in the Mosel, in eastern Spain, and in southwestern Sicily. New plantings are subject to extreme erosion rates, because of recontouring, deep plowing, and the down-slope orientation of vine rows.
Distant adverse impacts of agricultural myopia include fertilizer and pesticide pollution contaminating water supplies, air pollution by greenhouse gases, damage to the ecosystem and to the stability of the land itself.
All is not lost. This and other studies indicate that simple, sustainable, "nature-based" agricultural practices can do much to alleviate the ghastly erosion rate. Grassed buffer/filter strips, hedgerows, use of less intensive herbicides, and planting of inter-row grass cover can reduce the erosion rate within the vineyards by more than 66 percent. Perhaps these and other measures will decrease to sustainable levels essential topsoil being lost as wind-blown dust and flood-flushed alluvium.