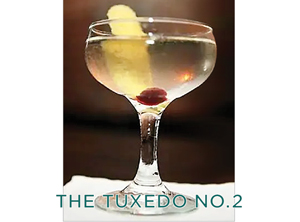 ENDANGERED COCKTAIL OF THE MONTH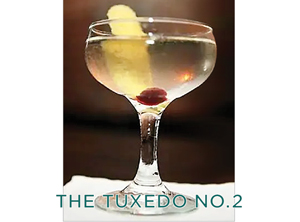 By Pink Lady
After an interminable, dark winter, by the time June rolls around, it feels celebratory and refreshing to sip something light and bright for body and spirit. The Tuxedo No. 2 is a fun Martini variation that will surely impress your less-nerdy-than-you cocktail friends who may be still learning when to shake versus stir. It's a delightful aperitif to raise as we move towards the longest day of the year, the summer solstice.
The Tuxedo No. 2, like so many great classics, was born at, and takes its name from, The Tuxedo Club, a high society hang for the bluest of New York bluebloods located in Tuxedo Park, 4O minutes north of New York city. This was a Gilded Age planned community developed by tobacco heir Pierre Lorillard, who was a Newport man and original owner of the original Breakers mansion. As the Newport scene grew more popular and glitzy, Lorillard grew more over it. He sold The Breakers to Cornelius Vanderbilt II — the OG Breakers that burned down in 1892, not the one still standing — and relocated to the Ramapo Mountains. There he developed an exclusive gated community catering to old money families, whose famous residents included J.P. Morgan, Mark Twain, and Emily Post. Like most planned 19th century communities, Tuxedo Park also boasted its very own The Tuxedo Club for sporting, dining, and socializing.
In addition to the drink, the Tuxedo Club is also where the men's formalwear made its stateside debut. Edward VII, the Prince of Wales, popularized the look of suit more formal than that worn in the lounge but without burdensome tailcoats (how many suits did they wear in a day?) The Prince met billionaire James Potter and his wife Cora while they were abroad in 1886, and Potter brought the new look back with him stateside to debut at the luxurious Autumn Ball held at the Tuxedo Club. Huzzah.
We'd just as soon sip this drink in cut-offs on the back stoop as on the Tuxedo Club veranda in tailcoats. Cheers to the great equalizing potential of a great cocktail!
TUXEDO NO 2
2 1/4 ounceS of Plymouth gin
1/2 ounce of Dolin blanc vermouth
1/2 ounce of maraschino liqueur
4 dashes of orange bitters
Absinthe, to rinse
RINSE a cocktail glass with absinthe
and DISCARD the excess.
COMBINE the remaining ingredients in a mixing glass over ice.
STIR until chilled.
STRAIN into a chilled coupe or cocktail glass.
GARNISH with an orange twist and a cherry.
Cin-cin!