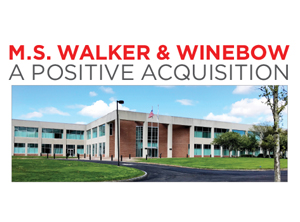 M.S. WALKER & WINEBOW – A POSITIVE ACQUISITION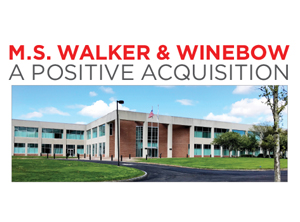 By Kirsten Amann
Good salespeople are expert problem solvers. In the continuously evolving landscape of beverage alcohol distribution, with more brands in the market than ever, savvier consumers with sophisticated palates, and restaurants and retailers jockeying to offer them the next best thing, efficient problem-solving is essential at all levels of the business and is Massachusetts-based M.S. Walker's forte. After a decade-long partnership, the company recently announced the acquisition of wholesale operations for Winebow in Massachusetts and Rhode Island this spring, and both companies are feeling freshly poised for success.
M.S. Walker expanded into the production and distribution of alcoholic beverages in 1933, just after Prohibition's repeal, an extension of founder Maurice Walker's pharmaceutical business that sold flavorings, extracts, and syrups in Boston's South End. One can imagine the challenges these early distributorships faced jumping into the fray of the newly developed three-tiered distribution system in their efforts to slake national thirst.
Still family-owned and operated today, the company is a diversified operation, that "wears many hats acting as a distributor, importer, manufacturer, and marketer of proprietary spirits brands that are sold nationally," says Doug Shaw, Senior Vice President. The company leans into this, "always looking for, and interested in, where there are potential fits and opportunities for us." Today, M.S. Walker holds a position of prestige and integrity in the market and is one of the three largest wholesalers in Massachusetts.
Winebow, Inc was founded in 198O by Leonardo LoCascio, a Sicilian-born corporate finance and banking executive who left his position as a V.P. at Citibank in 198O to become an importer and distributor of fine wine. He started the business with a handful of salespeople selling wine out of his garage servicing New York and New Jersey and grew it from there. In 2O14, Winebow merged with the Vintner group, which was also created in 198O in Virginia. This February, the Winebow Group unified its national footprint, rebranding as Winebow. Today the company is a major national importer of fine wine and spirits from all over the world, with a distribution network that spans across 2O states in the U.S. Winebow's supplier partnership with M.S. Walker began in 2OO9 and includes well-known international wine producers like Bodega Catena Zapata from Argentina and Cousino-Macul in Chile. Until this spring, Winebow has managed its own distribution houses in Massachusetts and Rhode Island.
"This new partnership developed over the course of time and conversations about the challenges and opportunities Winebow faces in the marketplace," says Shaw. "In a relatively short period of time, we recognized the potential for M.S. Walker to take the Winebow products to new heights given the strength of our relationships and commitment to the local market." The company's local ties to Massachusetts and Rhode Island have led to deep friendships and solid business relationships that span decades and, in some cases, generations. With Winebow's portfolio of established properties in prominent growing areas, as well as a new generation of winemakers and distillers dedicated to innovation and quality, M.S. Walker can continue problem solving for local retailers and restaurateurs looking to delight their customers.
For Winebow, bringing the wholesale distribution business into the fold at M.S. Walker is a way to catapult growth in Massachusetts and Rhode Island thanks to the distributor's broad reach here, strong customer relationships, and local leadership. "Winebow is a national company with a national footprint, and when they recognized the opportunity to gain distribution, it was attractive.This was a massive chance to identify parts of the work where we already have strong relationships, strong distribution and supplier partners that M.S. Walker can leverage to grow Winebow's business," says Shaw.
As the companies restructure, Winebow's wholesale operations will move to M.S. Walker intact as a separate and distinct selling platform operating as Boston Wine Company in Massachusetts; in Rhode Island, the Winebow team will fully integrate into M.S. Walker's existing operations. "When we're looking to acquire another business," remarks Shaw, "we look at the people. We are very excited that this is a well-positioned company in both Massachusetts and Rhode Island marketplaces. We have a great group of people and new team members coming over to us, bringing wonderful relationships to the table." The Winebow sales team began spending time with their new partners at M.S. Walker shortly after the announcement of the acquisition.
The deal closed on April 3O, with the transition of products and distribution immediately following. "We are expecting a smooth transition and both sides are excited," says Shaw. "Additionally, the trade response has been very positive." The new partnership promises to be a win-win for all parties involved.