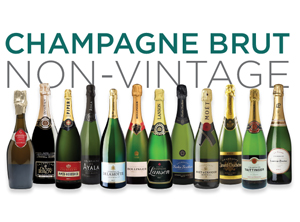 CHAMPAGNE BRUT NON-VINTAGE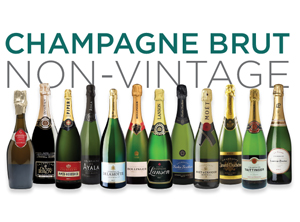 By Sandy Block, MW
The bread and butter of every Champagne house remains its Brut Non-Vintage blend. This is most often an alchemical assemblage of dozens of different wines from far flung villages within the Champagne viticole, as well as multiple vintages, including older "reserve" wines, and a varying proportion of the region's three major grape varieties. The percentage of the various cúvees that each village, vintage and grape cultivar comprises is a tightly held secret, but every producer's goal is to approximate as closely as possible the vaunted "house style" upon which their long-established reputation rests. Not a simple task when the raw materials are so diverse, and each wine ultimately reflects this cool northern region's capricious annual weather patterns.
My twice yearly blind tastings of Brut NVs almost always reveal a high quality of wine across the spectrum, as our most recent results do. Styles may differ, but standards are consistent. Brand identity leads us to expect certain differentiating characteristics from the major producers, and this is in fact what they deliver. Champagne brands may have more common with liquor brands than other wines, in that the goal is always create the same flavor and aroma characteristics regardless of the year. Loyalties are strong, not only because of image and emotional attachments, but because the underlying wine behind each brand differs so dramatically, depending on how it's constructed. This is the wine category that traditionally experiences the least consumer experimentation.
Champagne sales are quite strong across the board currently, rising 5 to 6% annually on the US market for a number of years now, and while interest in grower's Champagnes has been growing, particularly among restaurant wine professionals, the backbone of the business is still the large houses. If anecdotal evidence is accurate, a positive change recently has been what appears to be an uptick in genuine consumer excitement (or, perhaps, just less resistance) about enjoying these wonderful wines with properly matched cuisine.
The following are all blind tasting winners, and they are listed in ascending order of preference. All are aromatically complex and well-structured, rated in the excellent category. In my assessment there are two rough groupings: those which are more autolytic, toasty and bread-like, and those with more prominent upfront fruit expression. My preference is for the former, but that's just personal and not a statement about quality.
GOSSET
"GRANDE RESERVE" BRUT, NV
This boutique house is reputedly the oldest in the region. The wine shows a fuller, buttered toast, earthy character, with a bit of cherry fruit, spice, and some lemon. Fruit-driven, very tart, and vanilla-like, with aromas of croissant wafting from the glass, this is a Champagne that blocks malolactic fermentation, so it is amply fresh despite the fact that initial fermentation occurs in oak. Lovely balance. AVAILABLE FROM Classic Wine Imports and Ruby Wines.
DUVAL LEROY
"BRUT RESERVE" NV
There are predominantly red grapes in the cúvee of this small producer. The perfume is mushroomy with notes of cherry, lemon and apple. Crisp on the palate, but a bit smoother and rounder in texture than many of the other Brut NVs, it's among the spiciest, most almond-like Brut NVs on the market, with flavors suggestive of grilled bread. AVAILABLE FROM MS Walker.
PIPER HEIDSEICK, BRUT NV
A venerable producer that makes a richer, highly toasty autolytic NV with apple cake, brioche, roasted nut, hints of cocoa, and savory mineral accents. There is also a bright citrus undertone, expressive of tangerine, lemon peel and green apple. Medium in texture, this finishes with appealing umami notes of brown bread. Great to see that Piper is back on track. AVAILABLE FROM United Liquors.
AYALA BRUT MAJEUR NV
An elegant Champagne of finesse and nuance, with creamy textures and understated fruit flavors. I've been impressed by every cúvee I've tasted from Ayala, a small producer that is not well known in the US market. Bone dry, subtle in fruit, with chalky lemon zest notes, and a palate-thrilling minerality, it's a lovely example of the more toasty style that works so well with food like sushi, or smoked fish. AVAILABLE FROM Classic Wine Imports.
DELAMOTTE BRUT, NV
This has a clean, spicy fruitcake note, with well-integrated tart lemony flavors. Silky and elegantly perfumed, but well-structured with firm acidity, it is lighter in body, and has a crisp slightly saline flavor profile that makes it an appealing choice for raw shellfish. AVAILABLE FROM
Carolina Wine & Spirits.
BOLLINGER
"SPECIAL CÚVEE" BRUT NV
Bollinger stands apart in the region for owning a majority of the vineyards that comprise the Special Cúvee, while conducting fermentation in wood and also including a higher than average proportion of more mature reserve wines. The result is a richer, smokier, more honeyed Champagne, with round supple textures, and notes of toasted hazelnut, and wild mushrooms. It finishes with red fruit and ginger notes. AVAILABLE FROM Classic Wine Imports.
LANSON
"BLACK LABEL" BRUT NV
This is clean, crisp and well-structured, with sharp lemony and green apple flavors to balance the buttered toast impression. The perfume is delicately floral, cherry and apricot-like. Round and smooth in texture, it's an NV of substantial intensity and complex appealing fruit.
AVAILABLE FROM Boston Wine Company.
NICOLAS FEUILLATTE
"RESERVE EXCLUSIVE" BRUT NV
Very impressive, with notes of vanilla, powdered sugar, citrus, apple and pear. This is an elegant, almost confectionary style of Champagne, with creamy textures, and notes of caramel apple on the palate, balanced off with a crisp honeydew-like finish. AVAILABLE FROM Ruby Wines.
MOËT & CHANDON
"IMPERIAL" BRUT, NV
One of the category volume leaders, the Imperial is a delicious Champagne: highly autolytic, yet managing to retain freshness and definition. Supple and lush, but with a firm mineral chalkiness. The dosage tastes a touch higher than for some of the other Brut NVs, but it's so well constructed that the wine carries it off. AVAILABLE FROM
Carolina Wine & Spirits.
CANARD-DUCHENE, BRUT NV
This was a lovely, unexpected surprise, as the wine is not exported in large quantities to the US market and is, in fact, rarely encountered. It has the unmistakable enticing fragrance of a lemon scone. Tart, clean and earthy, it has some engaging toasty vanilla and brioche-like notes as well. AVAILABLE FROM Classic Wine Imports.
TAITTINGER BRUT
"LA FRANCAISE" NV
Always one of the classics of the category, this is creamy and lush, but balanced with lemon and vanilla. Bright on the palate, with firm acidity and toasty notes, this is an ultra- delicate Champagne of elegance and subtlety. Family-owned and proprietor of a majority of the vineyards from which it sources grapes, like Bollinger, it's an ideal all-purpose Champagne. Great with raw shellfish, or richer seafood like crab and lobster. AVAILABLE FROM
Horizon Beverage Company.
LAURENT-PERRIER
"LA CÚVEE" BRUT NV
This is a relatively new blend from the family-owned house of Laurent-Perrier, and it is stunning. Tasted blind on two separate occasions, it straddles the borderline between green apple citrus Chardonnay notes and cherry blossom, spicy red fruit notes. Leafy, yeasty, with lemon and chalk, but also chocolate and berry flavors, this has a classy satin-like sleekness on the palate that is hard to resist. Multi-dimensional and lingering, highly recommended. AVAILABLE FROM United Liquors.