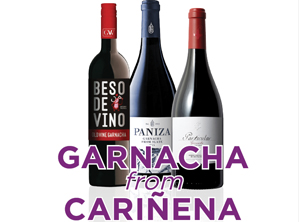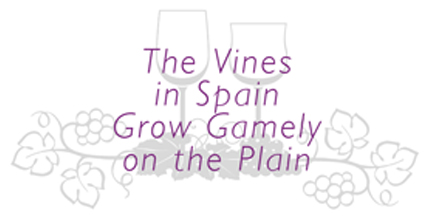 By Harvey Finkel
When I was but a boy, I would be transported weekly to Victorian England by the Sherlock Holmes radio program. Almost as much as the adventure, I enjoyed the usual coda, in which Nigel Bruce, genial, stalwart, comfortable Dr. Watson to Basil Rathbone's incisive Holmes, sitting before a fire, glass in hand, would discuss with relish in his plummy voice the sponsor's Grenache Rosé. Although he made it sound enticing, the red iteration of that grape variety that is our subject today is far more deserving of our attention for its drinking merits.
That varietal, called Grenache in southern France and elsewhere, cannonau in Sardinia, is Garnacha in our focus in Spain. The weights of evidence and authority have the origin of Garnacha in Aragón, in northeastern Spain. We shall concentrate on an emerging subregion, Cariñena, where Garnacha has become the most planted varietal. (It is widely grown in Spain, notably in Rioja and Priorat, famously in southern France, and southern Europe, especially Sardinia, and in California and Australia.)
Garnacha tinta, its full name, is a long-lived vine that buds early and ripens late. It needs warmth, and, though susceptible to a number of afflictions, tolerates dry conditions. Its fruit can develop high sugar concentrations, thus high alcohol levels in its wines, but only modest acidity. It may be vinified as a red, a rosé, even occasionally as a sparkling wine (elsewhere as a sweet wine), as a single varietal, or blended with the local Mazuela (Cariñena or Carignan) or Tempranillo or an international (French) varietal. Not especially productive, Garnacha can yield ripe, concentrated fruit. It must be handled carefully to avoid oxidation and prevent color loss. Garnacha mutants are rarely used in some places: Garnacha blanca, Garnacha gris or roja, Garnacha peluda (downy-leaved).
The vineyards of Cariñena occupy a high, dry plain south of the Rio Ebro, between 4OO and 8OO meters of elevation. The topsoil is reddish-brown limestone; the subsoil loose rock, rich in calcium. The wine of Cariñena has been called El Vino de las Piedras ("Wine of the Rocks"). Clay and slate predominate in some spots. Summers are long and hot, modulated by the Cierzo, a brisk, cool north wind. Hail is a hazard. Winters are cold. Day-night temperature swings are wide.
Mead was made here at least as early as 3OO BCE. The Romans initiated winemaking. The monasteries preserved the art during the Middle Ages. Cariñena earned its Denominación de Origen (DO) early, in 1932. It was awarded the Denominación de Origen Protegida (DOP) in 2O11. Previously a backwater producing coarse reds and watery rosés, despite the DO, it has been transformed and brought up to par in the 21st century by the modernization, research, investment, and the export stimulus that began in the 199Os. White wines are made from Viura, sweets from Muscatel Romano (Muscat of Alexandria).
Although there are private producers, much of the quality wine comes from large, modern, well-run growers cooperatives. Today's tasting samples have been selected from the three most esteemed to demonstrate what we can expect to soon become available in our market. All three are products of old vines. (Retail bottle prices are approximations, likely to be lower for the pricier wines.) Cariñena now produces about 36 million bottles annually of red Garnacha, exporting nearly four million to the US and Canada.
WINE NOTES
BESO DE VINO
OLD VINE GARNACHA 2O16, GRANDES VINOS Y VIÑEDOS
Winery established in 1997. Grown in clay and stones. Aged 4 months in half American, half French oak. Fragrant, with good fruit. Although a moderate 13.5 percent, the alcohol peeks through. Long finish. $8-1O
GARNACHA FROM SLATE 2O15, BODEGAS PANIZA
Winery established 1953. Grown in slate, as graphically depicted on label. Aged 8 months in French oak, then in bottle. Bouyant fruit lifted by balancing acidity. Bright and tasty. Very long. A well-made modern wine with an excellent future. $2O-24
PARTICULAR VIÑAS CENTENARIAS GARNACHA 2O12, BODEGAS SAN VALERO
Winery established 1944. Viñas centenarias should indicate "century-old vines." Wine aged more than 12 months in barrel, then in bottle at the winery. Smells and tastes more settled. Balanced and suave. Complex, with a touch of oak. The 14.5 percent alcohol is nicely cushioned. Very long finish. An almost voluptuous, delicious, grown-up wine. $2O-25