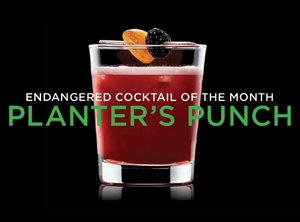 ENDANGERED COCKTAIL OF THE MONTH – PLANTER'S PUNCH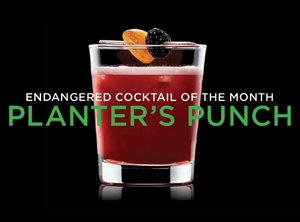 By Pink Lady
It may take us a while to warm up here in old, cold New England, but a sure sign that the days are getting longer – and our moods are getting happier – is the introduction of light, bright, citrus-y cocktails on menus statewide. And rum. In summer especially, modern New Englanders reach for rum. So, let's talk about the Planter's Punch, a drink invented much further south in climates where the goal of the beverage was actually to cool off. Wayne Curtis' And A Bottle Of Rum: A History of the New World in Ten Cocktails is a must-read, and categorizes the Planter's Punch not as one drink, but as a class of drinks "with hundreds of variations floating around, and more invented daily. Each bartender and each generation has variously added to, subtracted from, improved, and spoiled the drink."
In Jigger, Beaker, & Glass: Drinking Around the World, a compendium of Charles H. Baker, Jr.'s 1939 tour of the world through cocktails, we find ten recipes for "West Indian Planter's Punches, Swizzles, and like Ceremonies of a Pleasant Nature." Who wouldn't want to get involved with one of these? Baker spent most of his life traveling the world imbibing and writing about it for ESQUIRE, TOWN & COUNTRY, and GOURMET, and we'd love to hitch our wagon to that star. Baker also considers the drink more of a "drink family", and most of its members good: "The charm of all of these exotics is in their mellowness, their smoothness, and the gentleness with which they come, see, conquer."
Curtis references an early printed version of the Planter's Punch recipe, seemingly paraphrased by Baker nevertheless in couplet. This version is from the New York Times circa 19O8:
This recipe I give to thee,
Dear brother in the heat.
Take two of sour (lime let it be)
To one and a half of sweet.
Of Old Jamaica pour three strong,
And add four parts of weak.
Then mix and drink. "I do no wrong–
I know whereof I speak."
As time has marched on, the drink has morphed and changed, with some containing grapefruit juice, orange juice, grenadine, or whatever seems to strike the creator's fancy. Write's Baker: "America, when not having time to dally with its drink as a correct West Indian planter is supposed to do, sometimes transposes the quantities of 'strong' and 'weak.'"
And after a long, cold winter, this might be exactly what the modern New England drinker needs. Pop on over to Boston's new Tiki haven, Shore Leave, in the South End and ask any of the expert staff to help tailor a version to your liking. The below recipe is a basic template supplied by Ministry of Rum's Ed Hamilton to IMBIBE MAGAZINE.
PLANTER'S PUNCH
1.5 ounceS of dark rum
2 ounceS of seasonal juices
(passionfruit, orange, pineapple, etc.)
.5 ounceS of lime juice
.25 ounceS of simple syrup (1:1)
TOOLS shaker, strainer, bar spoon
GLASS rocks
GARNISH float of Demerara rum plus fresh, seasonal fruit
SHAKE the rum, juices and syrup with ice.
STRAIN into an ice-filled glass and garnish.
Cin-cin!