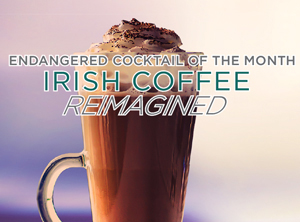 ENDANGERED COCKTAIL OF THE MONTH:IRISH COFFEE-REIMAGINED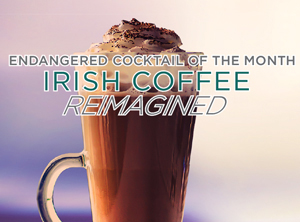 by PINK LADY
Most of the world get shamrocks in their eyes in March, to which we say Slainte! We can thank Irish monks for turning the stills invented in ancient Mesopotamia (by early female chemists, ahem!) into Irish whiskey making machines. Back then they drank the first stuff that ran off the still and called it poitin, meaning "little pot", a nod to the small size of the still. The stuff was quickly understood to be usige beatha, water of life. It was outlawed for over three centuries in Ireland, but made nonetheless in secret by illicit distillers.
Fast forward to the 194Os when the site of former mudflats in rural County Clare, Ireland becomes the grand gateway to Europe for passengers traversing the big pond via propeller plane. The airport at Foynes was an essential stop for refueling, and thus played host to the rich and famous, wealthy and diplomats, anyone who could afford the price of passage by plane.
Air travel back then was long, uncomfortable, most likely bumpy, and in some cases these planes were more like winged boats that actually made their landing on the water. They in fact flew quite close to the water, meaning that when the glitterati landed at Foynes, they were often tired, cold, travel weary, and primed for Irish hospitality in the form of fine food and drink.
Brendan O'Regan, a well-known bartender, hotel clerk, and caterer, was tapped to helm the operations at the airport restaurant. He was a dapper man with a knack for promotion, and rather than serve the continental cuisine that was offered at airport restaurants all over Europe, he promoted his country's own cuisine, gussied up with local place names – think Kerry Lamb, Dublin Prawns, and Limerick Butter. His chef was Joe Sheridan and theirs was regarded as one of the best restaurants in Ireland, where Sheridan served his coffee topped with a thick layer of local cream, known today the world over as Irish Coffee.
O'Regan went on to start the first duty free shop at what is now known as Shannon Airport, seizing the opportunity to exploit a centuries-old law that allowed seafaring travelers to purchase alcohol and tobacco tax free before boarding their ships. Aren't modern air passengers, after all, just sailors of the clouds? The first duty free shop opened in Shannon in 1951, serving butter, ham, bacon, honey, cheese, jam, eggs, and of course, Irish whiskey. At the time Irish whiskey sales were eclipsed by Scotch, and O'Regan saw the opportunity to promote it along with other local fare.
Today, the Connacht Whiskey Company of County Mayo is bringing the tradition of distilling back to the west coast of Ireland, just a few hours north of Shannon airport. Their Straw Boys Poitin is an homage to the unaged white whiskey made illicitly by underground distillers in Irish villages for centuries. And what better time than the wintery slushy month of March (and St. Patrick's Day) than to warm up with this twist on Joe Sheridan's classic?
IRISH COFFEE
1 ounce of Straw Boys Poitin
1 teaspoon of brown raw cane sugar (It's important to use brown sugar to get the perfect sweetness)
FRESH cream
1 hot double espresso (choose a good quality coffee that is rich in flavor)
WARM UP the Irish coffee glass by placing a spoon in the glass and rinsing it in hot water.
ADD in Straw Boys Poitin.
ADD in a hot double espresso.
STIR in 1 teaspoon of brown sugar.
TOP off the glass with hot water, leaving a gap for the cream.
STIR well.
WHIP the fresh cream until it's light in texture and not too stiff. With the back of a spoon, carefully POUR the cream on top, initially held just above the surface of the coffee and gradually raised a little as you pour,
the cream should float on top.
GRATE some of your favorite dark chocolate on top and enjoy!
Slainte!