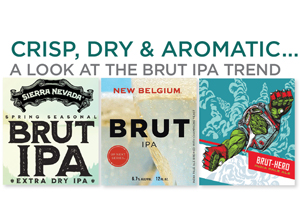 A LOOK AT THE BRUT IPA TREND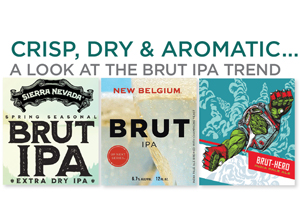 BY ANDY CROUCH
There is no denying that the India Pale Ale style has been pure fire in the past five years. And IPA has substantially evolved from its early days in American brewing, when it more closely resembled its maltier British predecessor. It changed over decades, growing less reliant on malt and eventually becoming a drier beverage. American IPA has long promoted citrusy aromatics, originally with the Cascade hop. Modern hops offer brewers the opportunity to select from a wide variety, offering a seemingly endless array of fun aromas and flavors. Coconut, pineapple, lemon . . . brewers can mimic all of that.
American IPA has continued to evolve, transitioning from big and bitter West Coast IPAs to big juicy dry hopped monsters to lactose infused sour IPAs and the more recent aromatically driven and dry hazy New England style IPAs that have all but taken over the category. The next hottest trend in IPA has arrived and perhaps it is the logical extension of where we have come from in past decades: the Brut IPA.
The Brut IPA style is often described as being the "Champagne" of beer, a bone dry beer that celebrates aromatics while remaining lively, effervescent, and with a lighter body than most IPAs. Brewers achieve this by employing amylase, an enzyme that helps break down sugars into alcohol, resulting in an increased alcohol by volume and less unfermented sugars in the finished beer. This leaves the beers drier than others in the style. While this trend is generally credited to West Coast brewers in recent years, the use of amylase in fermentation is not new. Brewers have often used it to smooth out the sweeter edges of bigger, boozier styles, including Imperial Stout. And at least one New England brewer, the High and Mighty Brewing Company in Massachusetts, used it to dry out its German-American hybrid style beers.
As with any new trend or technique, the resulting beers vary in quality. As is clear to anyone trying a wide range commercial examples of the new Brut IPA style, some brewers have mastered the technique while others are producing gimmicky beers of questionable quality. The best versions of the style are lively and expressive, bouncing back and forth between beautiful, aromatic fruit notes and balancing hints of earth and spice. The less impressive versions taste like early attempts at gluten free or reduced beers, some sort of beer hybrid that tastes vaguely of beer but with odd chemical or unnatural notes. While the consistency of each new offering may vary from brewery to brewery, let's explore some solid contenders in the new style.
BRUT IPA
Sierra Nevada Brewing Company
Chico, California and Asheville, North Carolina
alcohol by volume 6.2%
sierranevada.com
The pioneer of the American Pale ALe style has been quick to jump on IPA trends in recent years, with its popular Torpedo or even hazy beers. So it is unsurprising that Sierra Nevada was pretty quick out of the gate with one of the first widely distributed Brut IPA examples. This beer pours with a slightly hazy off golden hue with a decent dollop of white foam. The aroma peppers your senses with notes of lemon, lime, grapefruit, and other citrus, while mixing with earthier and breadier notes. The flavor follows suit with bursts of citrus mixed in with woodier and earthier notes, with flecks of pepper and spice on the finish. This version of the style is not as one-dimensionally bone dry as some others can be, instead offering a medium mouthfeel and a slightly warming alcohol boost. As per the style, it finishes dry with little residual sweetness and remains clean throughout. For beer nerds, the starting gravity is 12.5 degrees plato and it finishes at just above 0 degrees plato, with 25 International Bitterness Units, and finishing hops of Comet, Crystal, Chinook and Simcoe. AVAILABLE FROM Craft Brewers Guild, Quality Beverage, Seaboard Products Company and Williams Distributing Corporation.
BRUT IPA
New Belgium Brewing Company
Fort Collins, Colorado and Asheville, North Carolina
alcohol by volume 6.7%
newbelgium.com
Another craft beer pioneer quickly jumped onto the Brut IPA style with this enjoyable release. New Belgium's version pours with a clear pale golden color and solid and well sustained fluffy white head. There are considerable signs of strong carbonation in this beer. The aromas are redolent of substantial citrus notes, favoring grapefruit, lemon, and pineapple. There is also a mixture of some earthier notes, with flicks of wood, dirt, bread, cracker, and slight herbal pepper. The first sips reveal a beer filled with fruit notes as well as a decent base of pale malt, a bit more so than usual for the style. This beer does not present as bone dry as others in the style brag, but instead it offers a pleasing balance but finishes with a lingering dryness. Hopped with Huell Melon, Nelson Sauvin, Azzaca, Citra, and Amarillo hops, the New Belgium Brut IPA is a reliable version of the style that other brewers could learn from. AVAILABLE FROM L. Knife & Son, Seaboard Products Company and Williams Distributing Corporation.
BRUT-HERO
Revolution Brewing Company
Chicago, Illinois
alcohol by volume 7%
revbrew.com
Revolution's take on the Brut IPA style is a fun, lively experiment in blending a wide range of fruit notes with a mash up of earthy and spicy herbal characters. It pours with a brilliant golden yellow hue and a big boost of puffy white foam. The aroma smacks of a litany of aggressive fruit notes, ranging from peach and passion fruit to apple and the more reliable trio of lemon, lime, and grapefruit. As with many other versons of the style, we note a number of earthier elements contributing to the mix, including pepper, fruit rind, grass, bread, and earthy hops. There is a substantial robustness to the hop character in the glass, with boastful exchanges of piney and floral hops over fruitier and woodier notes. The carbonation level is medium and well-balanced and gives way to a moderate malt level, never unbalanced but also no mistaking it for another of Revolution's more malt focused IPA's. With a slightly elevated alcohol level, Revolution's Brut-Hero is another fun example of the evolving style. AVAILABLE FROM Atlas Distributing, Colonial Wholesale Beverage, Commercial Distributing Company and Merrimack Valley Distributing.