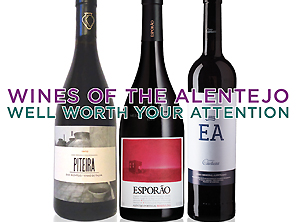 WINES OF THE ALENTEJO: WELL WORTH YOUR ATTENTION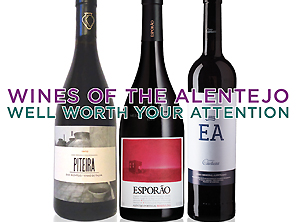 by HARVEY FINKEL
The immense wine resources of the small country of Portugal remind me of those diminutive circus cars from which issue forth endless numbers of clowns. Technology and sophistication have added finesse to the robust vigor we had come to expect. And while no longer nearly giving wine away, the Portuguese are more restrained than most when printing price tags.
Wines of Portugal's Alentejo region enjoy great popularity in that wine-loving country, constituting more than half of what's consumed and a growing proportion of exports. Divided into eight subregions, the Alentejo contains 51,000 acres of vines. (For comparison, Napa contains 45,000.) We would do well to become more familiar with what the region can do.
Alentejo means "beyond the Tejo," the river we call the Tagus. It occupies most of the southern half of the country, 30 percent of Portugal's area, inhabited by only five percent of the population. The region 's size, 10,500 square miles, is the same as that of Massachusetts, but its population, 538,000, one-twelfth of ours. The topography is rolling plains and granite hills. Soils are mixed. It is dry, and very hot in summer, though some areas are cooled by a sea breeze or elevation. It is in such favored spots that many of the finer wines are grown. The growing season receives 3000 hours of sunshine. Nights tend to cool off. Cork oaks, holm oaks, and olive trees dot the landscape. Wheat, livestock, forestry, mining, in addition to wine, are of economic importance.
Portugal grows more than 250 different grape varieties. Of these, at least 18 have been included under the rubric "principal grapes" in the Alentejo. Few are so-called international varieties. As in the rest of the country, Alentejo's wines are typically blends of several varieties, sometimes red and white intermixed. Wineries range from ultramodern to hoary, retaining in some cases, even reviving, the ancient Roman tradition of fermentation in amphorae (talhas de barro).
As assessed by the regional wine-trade consortium, there appear to be ten key grapes in the Alentejo, five each white and red. Let's survey that field.
FIRST THE WHITES
ANTÃO VAZ Native to the Alentejo. Eagerly pleases growers and winemakers. Resistant to diseases and drought. Ripens reliably. Alone or blended, picked early or late, oaked or not, yields wines of enticing aromas and flavors. The region's star white.
ARINTO DE BUCELAS Used often in Vinho Verde in Portugal's northwest. Abundant acidity. Gives the freshness of green apple, lemon, lime. Valuable as a blending component.
FERNÃO PIRES Widely planted, versatile. Early budding and ripening. Fragrantly aromatic. Valid as a single varietal or in blends.
SIRIA Also known as Roupeira and Malvasia Grosso and Malvasia Branca. Widely planted within the region. Makes honeyed aromatic wines. Like Viognier, best to drink young to avoid oxidation.
VERDELHO Famous in Madeira. Yields aromatic, ageable wines rich in alcohol and acidity.
AND NOW THE KEY REDS
TOURIGA NACIONAL Also known as Tourigo and Mortágau. Portugal's most esteemed grape variety, especially in the Dão and the Douro. Takes well to oak aging. Gives deep, complex wines in Ports or dry reds. Is cooperative in blends, and stands alone without support.
TRINCADEIRA also known as tinta amarela in the north of Portugal and Trincadeira Preta (black), and, confusingly, sometimes as Mortágau. Susceptible to rot in damp conditions; does well in dry Alentejo. A component of some Ports. Yields dark, deep, tannic, acidic wines. Often used in blends.
ALFROCHEIRO Also known as Tinta Francesca de Viseu, Productive, early budding and ripening. Prefers hot, dry Alentejo-type climate. Gives dark, firm, acidic wines with berry fruit. A base for blends.
ALICANTE BOUSCHET A cross of Petit Bouschet and G renache that buds early and ripens fairly early. As it is losing favor in France, it is gaining in Portugal. It has become a mainstay in the Alentejo, where not just a teinturier, but a producer of distinctive wines of character: dark, deep, firm, complex. Can be a blend component, though increasingly is bottled on its own.
CASTELÃO Was called Periquita ("parakeet"). Widely planted in Portugal. Gives fruity wines with hints of leather, ample tannins and acidity that age well. Versatile. Said to be hard to work with.
WINE NOTES
Finally, a trio of selected reds will illustrate the current wine current flowing from the Alentejo. They demonstrate the treasures of tradition and of modernity. Wines of this quality are by no means rare. We are seeing more and more of them coming into our market. But before getting into specific details, I must comment on the whites as a group, which constitute one-fifth of the total. Always known for robust red wines, Portugal in general and the Alentejo in particular, given the climate, surprises us in the modern era with notable white wines, which are fragrant, well structured, fresh, and which pair rewardingly with food of any nation. Wines are available from Saraiva Enterprises.
PITEIRA TINTO DE TALHA 2014 ENCOSTAS DE ALQUEVA
From out of the past, something completely different. Made in 2000-liter seven-foot-tall clay amphorae (talhas) in the ancient Roman manner shared with Georgia (where the vessels are buried). A layer of olive oil seals the tops. Fermentation lasts up to three months. Wine is drawn as desired from the bottoms. Indigenous yeasts conduct the fermentation. This is a hands-on, artisanal process. A local grape, Moreto, is used for this wine. Conventionally a pedestrian variety, these vines are special: ungrafted, 30-80 years old, grown in high heat and low yield in an ancient riverbed's stony, quartz-laden soil. Only 9000 bottles made. Very dark and saturated, and a bit rustic, but four-square and distinctive. A most enjoyable experience. Expected to reach Massachusetts soon. $23
ESPORÃO TINTO RESERVA 2014 HERDADE DE ESPORÃO
A blend of Aragonez, Trincadeira, Cabernet Sauvignon, and Alicante Bouschet from a respected winery. Each variety hand picked; vinified separately in stainless steel. Matured for one year in 60 percent American, 40 percent French oak, then at least eight months in bottle. A modern, polished wine with a traditional base. You could take it anywhere. $23
CARTUXA TINTO 2013
EUGÉNIO D'ALMEIDA
Made from Aragonez (Tempranillo), Alicante Bouschet, Trincadeira, and Cabernet Sauvignon in a historic winery just outside Evora, now operated by the philanthropic foundation Eugénio d'Almeida, which has not forgotten the revered 16th-century Carthusian vinous origin of the site. The wine is balanced, long, and just right – a Goldilocks wine. $22