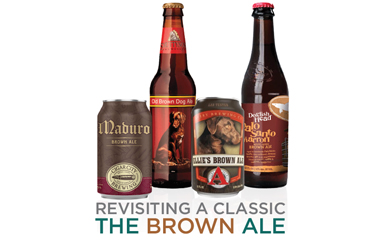 REVISITING A CLASSIC – THE BROWN ALE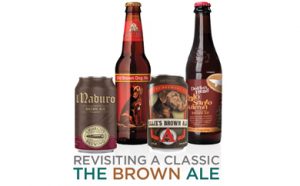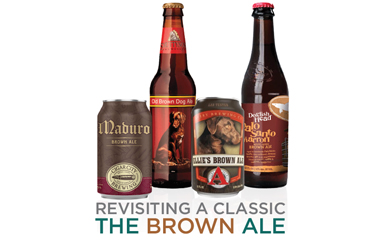 by ANDY CROUCH
If we know one thing in the beer industry it is that consumer interest works like a pendulum, gradually swinging from one direction to another. The swing in recent years has been a rather extended move towards hoppy beers, whether juicy, hazy, or tropical. We are starting to see the arm move again, this time away from the hoppier side of things. Consumers have been embracing smooth and flavorful lagers, snappy saisons, and plump and sweeter dark beers, including so-called pastry stouts. There is a decidedly traditional bent to many of these new consumer trends that may signal a return to classic beers.
Perhaps the most classic craft beer style, aside from the pale ale, is the time-honored brown ale. One of craft brewing's earliest offerings, the near ubiquitous brown ale gently guided many longtime macro beer fans toward a world of more flavorful beer. American craft brewers often tweaked the British versions of the style they enjoyed abroad and beer drinkers rewarded them. Many a craft brewer offered a brown ale in their lineup, with the style rivaling pale and amber ales for lead in many brewery portfolios.
A pretty expansive style category, brown ales encompass the classic English variety, which focuses on toffee, nutty, and dark caramel malt flavors, as well as the slightly hoppier version carried on by its American descendants. The English version of the style dominated the early days of the craft beer movement before ceding ground to the stronger, maltier, and hoppier American attempts. Brown ales range in color from dark copper to deep brown with ruby hues, all with a normal level of head retention. When done right, the aroma boasts strong and sweet bready malts, with hints of chocolate, toasted malts, and caramel. The brown ale's classic silky flavor zeros in on the beauty of malt, from mild, sweet caramel to modest roasted hints, with color imparted by darker malts. Even today, while American versions may veer into hoppier grounds, they generally stay somewhat close to the old tried and true English formula.
MADURO
Cigar City Brewing Company
Tampa, Florida
cigarcitybeer.com
alcohol by volume 5.5%
One of the earliest and most enduring offerings from this popular Tampa, Florida brewer, Maduro starts with a dull, deep brown color and a light tan head with moderate carbonation. The aroma offers slight toffee malt qualities combined with light fruit esters, including prunes, a touch of dry chalkiness, and the slightest hints of smoke. The flavor follows suit with the addition of an oatmeal component that melds with a light residual sweetness that continues through to the finish. At the time of its release, Maduro was a very drinkable addition to the Florida Gulf Coast market. As Cigar City has grown and grown, it has introduced Maduro as a hip take on the classic old brown ale style for new audiences. AVAILABLE FROM Craft Brewers Guild, L. Knife & Son and Seaboard Products Company.
OLD BROWN DOG
Smuttynose Brewing Company
Hampton, New Hampshire
smuttynose.com
alcohol by volume 6.7%
It is difficult to have a discussion about brown ale in the United States without referencing this New England classic of the venerable style. Named in reference to the founder's favorite pup, Old Brown Dog was first brewed in 1988 at the Northampton Brewery and it went on to win its first medal at the Great American Beer Festival in 1989. So it has been around a while. When I first started drinking more flavorful beer and was gifted a beer of the month club subscription, I often received bottles of Old Brown Dog in the mail. So this beer and I go back a long way as well.
Old Brown Dog is an American version of the style, with more alcohol, body, and hops. It pours a deep burnished reddish brown with a substantial off white head. The aroma is redolent of sweet bready malts, light toasted notes, the slightest hint of American hops, and a slight fruit note. The flavor fills with sweeter malt notes, touches of nuts and toast, and a light alcohol and carbonation bite.
Thirteen years after first appearing on the brewery's iconic Old Brown Dog label, Smuttynose's mascot Olive returned to pose for a new label, this one called Really Old Brown Dog. It is an amped up beer in the Old Ale or Stock Ale style and deepens the malt flavors and boasts more than 11 percent alcohol by volume. AVAILABLE FROM Craft Brewers Guild, Commercial Distributing Company and Seaboard Products Company.
ELLIE'S BROWN ALE
Avery Brewing Company
Boulder, Colorado
averybrewing.com
alcohol by volume 5.5%
What is it about stalwart brown ales and dogs on the labels? If your Old Brown Dog is getting lonely, I suggest pairing him with this longtime charmer from Colorado's Avery Brewing Company. Pouring with a dark reddish brown and a decent cap of off-khaki head, the aroma is classic brown ale, with notes of brown sugar, toast, nuts, caramel, and toffee. There are some playful dark fruit hints as well. The flavors rounds out the nose with brown sugar, chocolate, more fruit, touches of vanilla, and a light earthy bitterness to keep the balance. A fun, complex, and yet approachable brown ale from a brewery that has been at it for a long time.
If you want to try another beer that is a supersized brown ale, Avery's excellent Old Jubilation blinds with its deep, massively ruby hues and striking deep tan mousse of foam. This classic winter strong ale roars with fruit and malt notes, including apples, raisins, and plums, before retiring into chalky and mocha dry dark malts, along with hazelnut. Despite no addition of spices, this deeply complex ale strikes all the right holiday notes. AVAILABLE FROM Atlantic Beverage Distributors.
PALO SANTO MARRON
Dogfish Head Craft Brewery
Lewes, Delaware
dogfish.com
alcohol by volume 12%
First released more than a decade ago, this decidedly Dogfish Head take on the American Brown Ale style turns everything way up. The brewery commissioned two 1O,OOO gallon tanks constructed from Paraguayan Palo Santo wood. Palo Santo means "holy tree" and it is used in South American wine-making circles. It is an unfiltered brown ale aged in the handmade wooden tanks, which gives off some caramel, vanilla, and vinous qualities.
Palo Santo Marron pours very dark in color with a slight dark tan head. The glass fills with big notes of caramel, molasses, dark fruits, vanilla, and a bit of brown bread. The flavor unsurprisingly matches the aroma, adding notes of wood, roasted malts, and raisin. The beer offers a lot of different flavor components without going too far, everything in reasonable balance. There is an above medium mouthfeel and some booziness in light of the elevated alcohol level. This is far from the traditional British brown ale but is a wonderful sipper on a cold New England evening. AVAILABLE FROM Burke Distributing, Colonial Wholesale Beverage and Merrimack Valley Distributing.