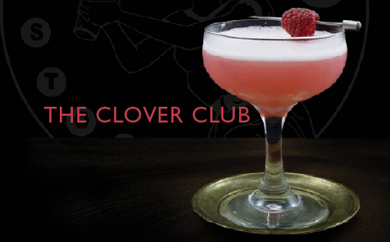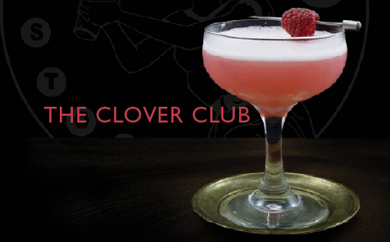 PINK LADY'S ENDANGERED COCKTAIL OF THE MONTH
WARMER MONTHS in New England are often heralded by gin drinks popping up on cocktail lists which delights gin-loving ladies like us! In the 11 years since LUPEC was founded, gin has most certainly arrived. Gone are the days when drinkers pushed "the other white spirit" aside in favor of vodka, and we couldn't be happier! Gin season typically coincides with berry season here in Massachusetts, so why not head to your local farmers market to make use of seasonal bounty? The Clover Club is a perfect application of raspberries and gin, in a frothy drink that goes down easy.
The Clover Club was named for a men's-only club comprised of writers and lawyers that met at the storied Bellevue-Stratford hotel in Philadelphia, a hotspot in its heyday. It was a stalwart of pre-Prohibition drinking, and was often enjoyed by William Butler Yeats over dinner. The drink got a bad rep by men's magazine Esquire as early as 1934, listed as one of the "ten worst cocktails of the previous decade." Writes David Wondrich, "Our 1949 Handbook for Hosts tucks it among the Pink Ladies and Alexanders in the 'Something for the Girls' section." Quite ironic for a drink that takes its name from a club that never allowed women into its ranks. Boston has its own Clover Club still active today which, as far as we can tell, is still men-only. In New York City, however, there's a new type of Clover Club located in Brooklyn, New York and helmed by cocktail revolution grand dame Julie Reiner. It's one of the best cocktail bars in New York City, and women are most certainly welcomed here. Cheers to Julie Reiner, for flipping the script and helping breathe life into a classic that in our opinion, should never have been ignored.
---
THE CLOVER CLUB
1 1/2 ounces of gin (preferably Plymouth)
1/2 ounce of dry vermouth (preferably Dolin)
1/2 ounce of lemon juice
1/2 ounce of raspberry syrup
1/4 ounce of egg white
Add all ingredients to a cocktail shaker with ice. shake until chilled and strain. add the drink back to the tin and
shake again,without ice. pour the drink into a chilled cocktail glass. garnish with skewered raspberries.
RASPBERRY SYRUP
1/2 cup of fresh raspberries
1 cup of sugar
1/2 cup of water
1/2 ounce of vodka
Smash the raspberries and mix thoroughly with the sugar. Allow them to macerate for 3O minutes. heat the water to warm (not hot), pour over the fruit mixture and stir until the sugar has dissolved. strain the mixture through a chinois and fortify with the vodka.
Alternatively, the cocktail can be made by replacing the 1/2 ounce of raspberry syrup with a 1/2 ounce of simple syrup (1 part sugar to 1 part water) muddled with 3 to 4 fresh raspberries directly in the shaker.