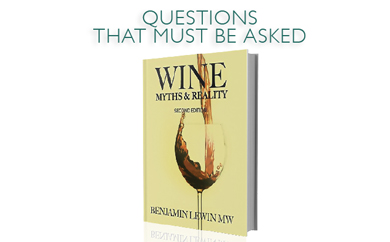 QUESTIONS THAT MUST BE ASKED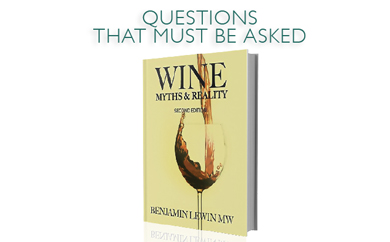 by HARVEY FINKEL
WINE MYTHS AND REALITY, 2ND EDITION
by Benjamin Lewin, MW
ONE OF MY favorite wine books now appears in a second revised, enlarged edition. Still handsomely mounted and strongly and clearly written, it weighs in at just over four and one-half pounds, having gained a half-pound since the 2O1O first edition.
Lewin distinguished himself as a molecular geneticist and science writer and editor before writing a notable series of wine books. He wrote Genes, which quickly became a standard work, and was the founding editor of CELL, an elite science journal. He then shifted to the informative wine books, notable all: What Price Bordeaux?; In Search of Pinot Noir, Claret & Cabs; Wines of France and a cluster of regional guides.
Although encyclopedic in scope, this book is not just another compendium of facts and tales. Brimming with information, it raises a host of incisive questions, many no doubt causing uneasiness in every corner of the wine trade, questions that should have been addressed long ago. Lewin demands factual bases for what have been casually or cannily handed down as gospel. He points out cogently what we do not know, while preserving a respect for the love of wine. He will get you thinking about and discussing issues you may have thought long settled.
This book is pleasant and stimulating to read and a valuable resource. If you like meat in your reading, here is your butcher shop.
DOVER, VENDANGE PRESS, 2O17
71O pages, $65