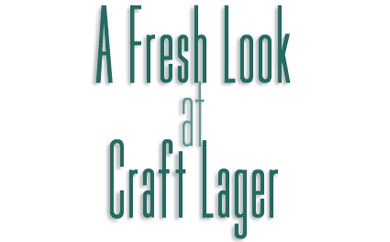 A Fresh Look at Craft Lager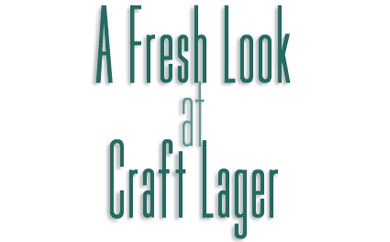 by ANDY CROUCH
IF INDIA PALE ALE is the undisputed heavyweight champ of the craft beer world, craft lager is the scrappy underdog just now starting to make a name for itself. Ranging from an afterthought to anathema for both craft brewers and consumers, lager seemed an unlikely up and coming style. But the numbers do not lie, craft lager is starting to become a thing. From the earliest days, pioneering craft brewers often derided lager, having associated it with the boring and ubiquitous macro lagers that controlled the American beer marketplace. Few brewers, such as Boston Beer, dared to make a lager style central to their operations. And when they did, they usually sought to distinguish their brands by offering darker hues, such as amber lagers. Few bothered making clear or pale lagers for fear of associating with the big brewers. Behind the scenes, however, craft brewers quietly respected the macro brewers for their dedication to quality if not flavor. These smaller brewers enjoyed drinking imported lagers and often produced their own versions to serve in their pubs and to their buddies at beer fests. A solidly crafted pilsner is the brewer's secret handshake at beer fests dominated by hops, booze, and envelope and palate pushing beers. There were of course pockets where quality small brewer produced lagers thrived. In the upper Midwest, Pennsylvania, and a small number of other venues, steeped deeply in lager history and respect for the styles, craft brewers felt safe releasing their own pilsners, bocks, and helles styles. It has taken more than thirty years for lager to no longer constitute a forbidden word in the craft beer world. Today, small brewers are producing a wide range of lager styles and often putting marketing support behind these flavorful beers. The offerings range from spot-on versions of classic styles to highly hopped riffs on once staid, humble beers.
The runway for lager styles in the United States is long, with the public's clear preference for their less flavorful macro cousins. Craft brewers are still experimenting with styles, hop additions, and pricing. Let's take a look at a few interesting beers.
SOLID GOLD
founders brewing company
grand rapids, michigan
ABV 4.4%
One of the most controversial beer releases to date in 2O18, Founders announced with Solid Gold its intention to fight in a way most craft brewers have avoided for more than 2O years: on price. Released as part of a 15-pack, Solid Gold retails for about a buck a can, well below that of other craft brands, some of whom charge more than that for a 4-pack of beer. Buoyed by the success of its wildly popular All Day IPA brand, Founders, which is now owned in part by the Spanish Mahou-San Miguel Group, seeks to attract the 85 percent of beer drinkers who regularly consume lower flavor, accessible macro lagers. Solid Gold is a premium lager brewed with corn and lemondrop hops and it promotes itself as having "memorable quality, legendary taste." The final product, however, falls a little short on that substantial goal. When consumed from a glass as opposed to the can, it pours with a solid white head that quickly disappears. The color is indeed bright golden and strikingly clear. The aroma is your first indication that this is not your usual craft beer. It is a familiar aroma, full of corn and macro-like notes. The resulting body is on the lighter side of medium but more substantial than your typical macro brand. There is a blast of carbonation across the palate that gives way to a tiny burst of sweet malt, corn or adjunct in nature, followed by a slow fade to a light bite of carbonation. Solid Gold is an intriguing product though it is difficult to know whether the space between craft and macro beer consumer offers any daylight for this hybrid, crossover brand. What is known is that with its throwback packaging, extremely low price point, and general accessibility of flavor, Solid Gold is an interesting addition to the Founders brand portfolio. foundersbrewing.com
MOSAIC PILS
castle island brewing company
norwood, massachusetts
ABV 4.7%
Known locally as the Mo' Pils, Castle Island Brewing's take on the classic pilsner style is very modern American. Fueled by infusions of Mosaic and Magnum hops, the style is tweaked a bit but still remains recognizable under the layers of fruity hops. It starts with a dull pale and golden hue with a slight touch of haze. The short blasting dome of white foam gives off light fruit and floral notes, basically Mosaic hops over lightly bready pilsner malt. The lasting impression is dryness, a near complete absence of sweetness. It begins with a light fruity hoppy character, it is surprisingly assertive especially as it warms. As the aroma suggests, the beer begins very dry and continues to be dry thoughout. Bits of Mosaic hops send off touches of fruit mixed in with bursts of pale malt and the slightest hints of honey sweetness. The Mosaic Pils is reminiscent of a very dry pale ale, with the finish long and bitter but always dry. Far from a classic German or Czech style pilsner, this is a fun and decidedly modern American play on the style. castleislandbeer.com
BACK COVE PILS
rising tide brewing company
portland, maine
ABV 5.1%
Named after a tidal basin on the northern side of the City of Portland, Maine, where Rising Tide Brewing is located, the Back Cove Pils celebrates a popular loop trail in the area. To celebrate this city landmark, Rising Tide has crafted what it terms a north German-style pilsner fermented with kellerbier yeast. This beauty presents with a big, frothy white head with loose carbonation and a slightly off-golden hue with only a touch of haze. The nose is clean with big waves of toast and cereal, no real hop presence, and smells like a clean helles with a light touch of malt sweetness. The north German pilsner style tends to be drier and more bitter than its southern German counterparts. The Back Cove Pils does not fit with the drier north German style but is instead an excellent example of a southern German pils or even a Dortmunder. Medium in body, it sets off with a strong burst of German malt, toasted and cereal followed by a slight hint of herbal, grassy and zesty hops. Not light and crisp but a bit flabby and fat, in a pleasant way, the Back Cove can be chewy at times. It finishes a touch sweet but remains beautifully balanced and far from cloying. Mild fruity notes show themselves alongside a bit of creaminess in the malt mixed with a nice herbal hop flavor throughout. The Back Cove is a fun if slightly sweet pils. risingtidebrewing.com
FARMHOUSE LAGER
the lost abbey
san marcos, california
ABV 5.8%
Now more than ten years old, the Lost Abbey is the brewery within a brewery at Port Brewing in San Marcos, California. Headed by brewer and co-founder Tomme Arthur, the project was inspired as an opportunity to produce a range of beers celebrating the monastic brewing traditions of Belgium. The Lost Abbey's portfolio largely relies on distinctive specialty beers, including many barrel aged offerings. So a relatively light, easy drinking lager seems a little out of place among the rest of the brewery's bruisers. But everyone needs a break and the Farmhouse Lager offers that respite. It presents with an ever so slightly hazy off-bronze hued beauty with a substantial lacing off-white head. The aroma is chock full of bready and toasted malt sweetness. The medium bodied beer starts with a burst of sweet caramel and bready malts before fading into a shapely hop bite that rounds out the lightly toasted malt edges. It finishes a bit dry but still with enough residual sweetness on the palate to ask for another sip. thelostabbey.com