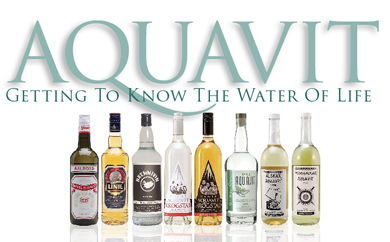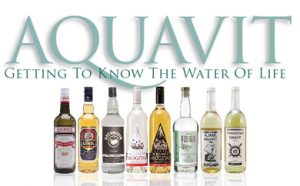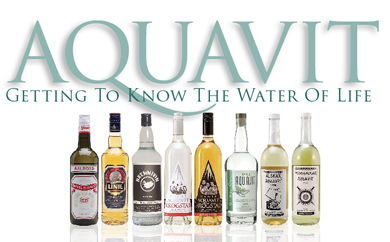 by LEW BRYSON
AQUAVIT? WHAT THE HELL IS THAT?
"When you had it, you didn't think about it, but when you ran out, it was suddenly a problem." That's Kate Palmer, Assistant VP of craft spirits at Horizon Beverage, and she got the calls, because "If it's weird, you call Kate Palmer!"
She's recalling the situation some years ago when Horizon ran out of AALBORG, the standard aquavit – if there is such a thing – due to importing changes and market adjustment, a perfect storm that led to a temporary shortage of the "water-of-life". That's what aquavit means, literally, from the Latin.
Aquavit is simple, according to the federal government: it's a neutral spirit flavored with caraway, the seeds you find in rye bread. Except it's not that simple, because everyone has their own twist on it, from adding fennel, or dill, or citrus peel; or like LINIE, Aalborg's sister bottling, aging it in barrels on ships that cross the equator twice. Really, all that, so you see why they called Kate Palmer.
"When we ran out, it turned out to be a real issue," she says. "I got phone calls from old-line Horizon reps: 'Hey, you gotta have this stuff for me.' It turned out that it's almost like Galliano: no one's really going crazy for it, but if they suddenly didn't make it anymore, it would be a problem."
Okay, really, what is aquavit? "It is a category of spirit that not everyone knows about, but it's quite delicious." That's Ben Sandrof, the craft spirits portfolio manager for M.S. Walker, which carries BRENNIVIN, an iconic Icelandic aquavit. "It is certainly in the world of herbal spirits; probably most similar to a savory gin when it comes down to comparing it to another spirit category."
As Lexi, the mononymous founder of the Old Ballard Liquor Company in Seattle (her aquavits are carried by Ruby Wines), put it, "There are hundreds of aquavits in Scandinavia, with vastly different flavors, styles, and applications. For straight shots, the aquavit should be lighter in flavor and well balanced. For food pairing and cocktailing, it should be more robust with an aggressive spice bill or wood to compliment the other ingredients."
Aquavit's really amazing with food, perhaps the best spirit for it that I've ever come across. That's how I got interested in aquavit last year, a rapidly accelerating thing that eventually led to an afternoon where my wife and I were day drinking on a weekday afternoon, sipping six different aquavits and eating stinky cheese, pickled eggs, smoked salmon on rye bagels, and pickled herring.
Christian Krogstad only eats pickled herring when he's drinking aquavit; his own, KROGSTAD FESTLIG, from House Spirits, which you may know as the maker of the breakout Aviation Gin. "If someone has never had aquavit, it's fun to introduce it to them. And if they've never had aquavit, chances are they've never had pickled herring." He pours some Festlig, and notes, "You shouldn't eat pickled herring without aquavit."
With all this talk of gin, you may be laughing: compare this weird stuff to gin? You're putting me on. No one drinks aquavit! Kate Palmer again: "We carry the Aalborg, the aged Linie, and the Krogstad Festlig and GAMLE. We have over 6OO points of distribution in Mass with just those four SKUs. There are gins that dream of those kinds of numbers."
What are they doing with all that aquavit? When I went looking, one of the first places to come up was Mamaleh's Delicatessen, in Boston. Co-owner/manager Evan Harrison runs it down. "We carry three aquavits at the Mamaleh's: two from Old Ballard (ÄLSKAR & MIDSOMMAR) as well as Linie Aquavit. Each aquavit is featured in a cocktail…the two Old Ballard aquavits are featured on our food menu as suggested pairings for our deli fish plates (most of which is cured, smoked, and/or pickled)."
It is marvelous as a sip/shot with Scandinavian food, and pickled/preserved foods in general, I can attest to that. But the cocktail idea is fascinating. The Bloody Mary is one that comes up a lot. Harrison uses the Ballard Midsommar, a dill-flavored aquavit, in their house Bloody Mary. The caraway in the spirit is great with the drink; try it, stick a dill pickle spear in there, and you'll agree with Alan Bishop, who makes an aquavit at Spirits of French Lick (not available in Mass . . . yet): "Why anyone would use any other spirit for that drink in particular is beyond me."
Cocktails are a good way to introduce the spirit sometimes; as Harrison puts it, "I can't imagine too many Americans walk into a bar and think, 'Man, I really hope that they have a drink here that tastes like anise, dill AND caraway!'" (If you do want all that, and a piece of rye bread…consider making your own house aquavit as an alternative. (see sidebar))
So I checked with some folks who are making aquavit cocktails, and it's a varied bunch. (These folks all contributed cocktails to the sidebar.) Vikram Hegde at Little Donkey in Cambridge admits: "We don't get a lot of calls for it on its own, but I enjoy keeping it on the cocktail list in some form or another as a way to introduce an element of savory into the drinking experience. I also like to suggest Aquavit neat with certain elements of our raw bar, particularly the Ikura or more mineral driven oysters from Maine and Canada."
John Battaglino, the beverage director at Hopsters Brewing in Boston, says he "loves using it, better than gin. A lot of cocktails that call for gin, I use aquavit any time I'm looking for something different. It's like Scandinavian gin, with caraway and dill, it's got this cool earthiness to it."
Ramona Pettygrave Shah, beverage manager at Opus in Salem (and for the whole Serenitee Restaurant Group), got hooked on Brennivin, the Icelandic aquavit (known as "Black Death" in Iceland). "The M.S. Walker rep brought some by, and I was immediately drawn to it. It started with a couple of us, and now everyone who works there drinks it at some times. It's become a staple, it's in at least ten cocktails on the menu. We have a cocktail menu section, the 'Point of No Return'. Brennivin's in those cocktails. People who gravitate to that kind of section, they're the people who will wind up drinking Brennivin."
But the really interesting thing about aquavit, the thing that makes it so appealing, almost irresistible at this time in spirits sales, is that lack of familiarity. As John Battaglino says, "There's no perception on aquavit. We can set it ourselves."
Shah gets very excited about that aspect. "Aquavit is uncharted territory," she agrees. "There's none of that brand stigma attached. You have to get what it is, and then you can see what it really isn't."
"It's a blank slate, a tabula rasa," Krogstad says. "You make a gin, and they may say, 'I only drink Tanqueray.' You make a brandy, but they only drink Hennessy. But aquavit…even if you look at the traditions, they're so varied."
Should you have aquavit? Definitely, and maybe more than one. "I believe any good store should stock at least one good quality Aquavit, if not two, for diversity," says Walker's Sandrof. "Giving their customers a range of what is on the market for each category and allowing them to try something new are both good reasons for a store to stock these items."
Not convinced? Think about selling in other categories: if there's one thing more and more customers want right now, it's something new. And if it's a whole new category to them, one that comes with a full set of traditions, and variety, and is uniquely delicious with artisanal foods, well…you better get some aquavit.
Horizon's Kate Palmer is on it. "Right now it's in that sweet spot: a funky spirit that's up and coming," she says, and notes that it's a fun item to sell. "People like what they do, and we like to sell liquor. Aquavit's unique, and it's not an overcrowded category."
Not yet . . .
---
COCKTAILS
There's a set ritual for drinking shots of aquavit: stare each other in the eye, barely nod, drink the shot, another stare in the eye, and no clinking of glasses. "It's my shot of choice. I know a lot of people are drinking Fernet, but you can keep that," says Ramona Pettygrave Shah at Opus. But aquavit cocktails are an open page, and Boston-area bartenders are writing the book.
Vikram Hegde at Little Donkey really dials up the savory angle on this one. (The Montgomery Distilling Skadi is available from Blueprint Brands.)
MAGNUS COLLINS
1 1/2 ounces of Skadi aquavit
1/2 ounce of lemon juice
1/2 ounce of simple syrup
1/2 ounce of sauerkraut brine
1 dash of celery bitters
Soda
mount all ingredients (except soda) in a mixing tin with ice and shake. strain into a highball glass over fresh ice and top with soda. garnish with a pickled vegetable of your choice.
"A take on the classic Tom Collins, I wanted to combine the caraway and pickled cabbage flavors of a Reuben sandwich, but in a refreshing cocktail form."
John Battaglino at Hopsters delivered a cooling cucumber cocktail.
CALM COOL AND COLLECTED
2 slices of cucumber
4 mint leaves
2 ounces of aquavit
1/2 ounce of Pavan Liquor
Cucumber celery bitters
add the cucumber, mint, aquavit, and Pavan to a mixing tin. With no ice, give a really hard dry shake to break up the cucumber. Then add ice and bitters and do a quick shake again. Then pour into a cocktail glass with fresh ice and garnish with a cucumber slice and mint leaf.
"In a lot of my cocktails I like bringing in these vegetal, herbal notes. Put too much sugar in it, and it all starts to taste the same."
Ramona Pettygrave Shah at Opus in Salem sent along one Tom Mathe made when he worked for her. The name is a reference to the song "Avalon" by Icelandic band Sigor Ros.
THE ISLE OF AVALON
1 1/2 ounces of Old Overholt rye
1 1/2 ounces of Brennivin
1/2 ounce of Meletti amaro
stir with ice, strain into a punch glass. No garnish needed.
"If I'm working with a brown spirit, gin or Brennivin will lift that up, aerate it. It's so savory."
---
INFUSING YOUR OWN
If you really like the rye bread angle on the caraway in aquavit, Dan Pontius, bar manager, Alden & Harlow, just off Harvard Square, has an idea for you. He makes a rye whiskey-infused house 'aquavit' they call "AHquavit."
"At Alden, every cocktail on our menu contains at least one house made ingredient," he explains. "The second year we were open, one of our chefs asked about putting aquavit in a cocktail. We discussed how the flavors were great, but it was generally a bit sweet. I decided to try an infusion and to be honest my first thought for a base was rye whiskey because I ate a lot of seeded rye growing up on Long Island. Safe to say it was an acquired taste."
The appeal is that you've got a "roll your own" aquavit. "The infusion is predominantly caraway, but we also add coriander, star anise, cumin, orange and lemon zest," Pontius says. "We toast all the spices and allow it to infuse into the whiskey for 7 days. It is surprisingly smooth drunk straight. The meatier flavor from the coriander and cumin seem to balance out the sharpness of the caraway. Rye as a base turned out to be a good choice since the spicy flavors seem to marry well."
Pontius says it's "aggressive," but quite versatile. Have some fun, experiment!