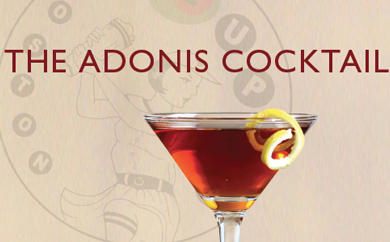 PINK LADY'S ENDANGERED COCKTAIL OF THE MONTH:
THE ADONIS COCKTAIL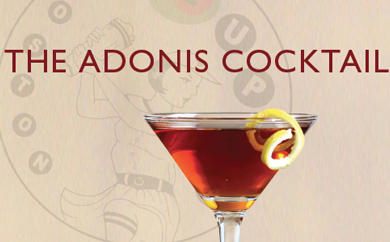 by PINK LADY
VALENTINE'S DAY stands out in the midst of a cold, long winter as a bright celebration of love and beauty, and a great excuse to drape things in pink and red, eat chocolate, and drink nice Champagne.   This year we'll be raising an Adonis Cocktail, a nod to sherry-loving bartenders that predates us all.
The Adonis is a classic dating to the 188Os and credited as the invention of bartender "handsome" Joe McKone of the elegant Hoffman House, one of the grand dame hotels that dotted 5th Avenue.  The Hoffman House was known for its famous clientele, including President Grover Cleveland, actress Sarah Bernhardt, and newspaper magnate William Randolph Hearst, among others.  It was also known for the fine, and finely scandalous, art pieces that graced the bar, most notably Adolph William Bouguereau's "Nymphs and Satyr" painting, a 12-foot masterpiece portraying 4 nude women prancing around a faun – titillating to Victorian-era notions of decency!
Modern bartenders discovered sherry a short time ago, and drinks made with these unique Spanish fortified wines have been all the rage since.  This light ABV cocktail is a great aperitivo pre Valentine's feast, or to slow your roll sometime after your first high proof tipple.  It takes its name from a musical, in which a handsome Adonis statue comes to life, eventually turning himself back into stone after finding human ways less than pleasant.  The show ran for more than 6OO consecutive performances in the 188Os making it the longest running show on Broadway at the time.
The original recipe doesn't call for a specific kind of sherry, but as it does use sweet vermouth, we recommend an Amontillado or Oloroso, which will be fuller and nuttier than its dry counterparts.  Cheers to love and beauty!
---
THE ADONIS COCKTAIL
1.5 ounces of Oloroso or Amontillado sherry
1.5 ounces of sweet Italian vermouth dashes of Angostura bitters
Strain into chilled cocktail glass and
twist lemon peel over the top.