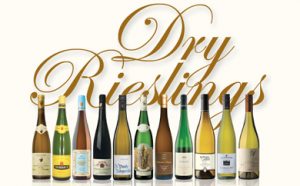 by SANDY BLOCK, MW
IT'S A NEVER CEASING SOURCE of amazement how marginalized Riesling remains in the market.  Restaurants and stores featuring dramatically lesser quality white grapes continue to underrepresent Riesling.  Why? The most common answer is that it's perceived as being too sweet.  Each year though, as more Sauvignon Blancs go over to the dark side, appearing in a cloak of tropical fruit scents and noticeable residual sugar following the Marlborough success formula, and as even super-premium priced red wines skirt the borderline separating dry from sweet, Rieslings keep getting drier and drier.
One of the first points I make in my educational seminars is that Riesling is able to range the full spectrum from bone dry to luscious dessert nectar and everything in between.  It all depends on the intention of the winemaker, but the stylistic range is astonishing.
What you should get with any Riesling is moderate alcohol, prominent fruit acidity and aromas redolent of the garden.  In the better examples you should also experience strong reflections of terroir.  The grape is able to express subtle differences in soil composition, altitude and microclimate in a manner reminiscent of Pinot Noir.  The best Rieslings all taste crucially different based on origin.
Quality Rieslings require rocky soils and a long, cool ripening cycle.  In these conditions they are often able to age in intriguing ways and for decades, not years.  In a recently bottled wine you tend to find focused peach, apple and citrus fruit, steely minerality and bright acids.  With age, the wine becomes richer and more delicious, its brightness giving way to dried fruit and earthy aromas.  At every age Rieslings carry on an exciting conversation with the widest variety of seafood dishes.  Their bracing acidity elevates the flavor of any fish prepared in a rich, creamy sauce, with a special affinity for lobster or crab.  Rieslings work beautifully with spicy dishes or those with fruit influences incorporated into the preparation, such as salads, or poultry with apples.  Dry Riesling and raw shellfish are wonderful as well.
How do we know if a Riesling is dry? If it's German, that's easy: it will say Trocken, Halb-Trocken or Classic.  In Austria the Federspeil or Smaragd designation denotes dryness.  Elsewhere, not so clear.  Alsace and Australia generally make bone dry Rieslings, unless specifically indicated on the label.  Elsewhere, you just need to know.  The following wines are high on my current list of recommended drier style Rieslings that you can buy to serve now with food, or hang onto in your cellar.  They exemplify to me what Riesling is all about: pure pleasure, but with intriguing and complex flavors.  And, to me at least, they are screaming bargains.
DOMAINE ZIND-HUMBRECHT, HERRENWEG DE TURCKHEIM, ALSACE 2O14
In the southwest corner of the Rhine River's Rift valley, Alsace is a major crossroad with a long history marked by French, Germanic and Roman influences.  Vineyards were already famous during the Middle Ages.  The key wine growing area today is concentrated in a narrow North-South stretch on the lower Eastern foothills of the Vosges mountains, which shelter Alsace from rain and maritime winds, making its cool climate sunny and the driest of any region in France.  The long April to November growing season is temperate, typically with low rainfall, enabling the grapes to enjoy a long and slow maturation.  Unless otherwise designated (V de T, or SGN) Alsace makes quintessentially dry Riesling, and Master of Wine Olivier Humbrecht has been among its foremost oenologists for decades.  The Herrenweg vineyard (or the "Road of the Soldiers") in Turckheim is a slightly warmer terroir than surrounding sites, with sandy, pebbly, clay silt soils, that Humbrecht fashions into an intriguingly lemon and apple-scented wine with dramatic peach pit minerality.  Round and savory, with a mouthwatering saline quality, it's a special match for Arctic Char with a lemon butter sauce.
TRIMBACH "CUVEE M", ALSACE 2O13
The house of Trimbach, now in its 13th generation as proprietors, makes absolutely steely Riesling of pristine purity and precision.  This bottling originates from old Grand Cru vines planted on hilly south facing slopes on the Mandelberg, one of Alsace's best exposed and warmest sites.  Crisp, clean and brilliantly fresh, this is a wine capable of improving in the bottle, developing finesse and complexity for at least ten years.  Good with grilled medium-weight fish (Mahi) lightly accented with herbs, salt and butter.
ROBERT WEIL "TROCKEN", RHEINGAU, 2O16
A region steeped in history, the Rheingau is located near the city of Mainz at an east west bend in the south flowing Rhine River.  In Medieval times the church and nobility had already planted Riesling here and by the 18th Century the very German practice of harvesting at various stages of ripeness had begun to develop.  Today the vast majority of its vines are Rieslings.  The region tends to produce elegant wines with spicy fragrances, marked acidity and lush flavor.  Founded in 1875, Weingut Robert Weil is actually among the Rheingau's younger wine estates producing nothing but Riesling.  Fermented and matured in large, neutral oak casks, these grapes originate in the villages of Kiedrich and Eltville.  Light silvery color, this Trocken features green apple, clean fresh peach and mineral notes.  It finishes with a satisfying lemony aftertaste.
VON KESSELSTATT, SCHARZHOFBERGER KABINETT, MOSEL 2O15
From the cool climate Saar, a tributary of the Mosel, this is a wine with crystalline minerality and an enticing bouquet of white flowers.  2O15 is already a legendary German vintage, and the openness of this wine is striking, considering how tight and closed Scharzhofbergers tend to be during infancy.  From grapes grown on slate rock soils at 1OOO feet elevations, this charmer is redolent of stone fruits, flowers and Meyer lemon.  On the palate its almost sweet, minerally flavors are irresistible.  Ideally suited to accent scallop or shrimp.
DR. PAULY BERGWEILER RIESLING TROCKEN, MOSEL 2O16
This small Middle Mosel family estate Germany's Riesling heartland uses only stainless steel for fermentation, producing wines of elegance and balance.  This wine has a floral apple pie-like aroma, with cinnamon and nutmeg accents.  It's mellow and clean, with a lovely tension between the understated fruit and acid.  The clean orchard fruit expression, and gentle texture are classically Mosel.  A terrific aperitif or accompaniment to milder Thai curries.
WEINGUT KNOLL, LOIBNER "FEDERSPIEL" RIESLING, WACHAU 2O16
Austrian Rieslings are mostly dry with more moderate acidity and broader on the palate than across the border in Germany.  Both countries experienced superb vintages again in 2O16.  Pale and silvery, this sunny single vineyard site produces a wine with remarkably vivid fresh apple, honeysuckle and lemon aromas.  The Federspiel designation indicates a dry wine made with very ripe grapes.  Highly structured and crisp, this has a juicy, flinty quality, with a fine balance between fruit and minerality.
PRAGER WACHSTUM "BODENSTEIN" RIESLING SMARAGD, WACHAU 2O13
Smaragd is the Wachau region's designation for late harvested grapes that are fermented dry.  The Prager estate's Wachstum is a 2 acre experimental vineyard site on the sunny upper terraces of a mountain planted at elevations of about 14OO to 15OO feet.  From these grapes Dr. Toni Bodenstein, who may be Austria's most highly celebrated winemaker, makes a luscious Riesling with tropical fruit and honeyed aromatics but without any expression of sugar.  It's firm and rich, with a long bone dry finish.  Great with grilled fish.
HERMANN J. WIEMER, FINGER LAKES 2O14
Upstate New York? That's what everyone said until Hermann J. Wiemer migrated from Germany and proved conclusively that this is among the finest places in the US for Riesling.  Today there are more than 1OOO acres of Riesling grapes spread among these parallel north-to-south lakes.  Made from grapes grown on well drained glacial soils near the shores of Lake Seneca, an area which enjoys an elongated moderately cool growing season, it mirrors some of the minerality of the Alsatians, but with more floral, lime and apricot notes, and a bit more sharpness and fruitiness on the palate.  An all-purpose Riesling, great with white fish fillets.
DUTTON GOLDFIELD "CHILENO VALLEY" RIESLING, MARIN COUNTY 2O16
Riesling was first planted in California in the 186Os.  Variously known as Johannesburg Riesling or White Riesling, it became very popular during the expansion of vineyards in the 196Os and 197Os, but it was generally planted in sites that were too warm and it has almost disappeared from Napa and Sonoma.  The multi-talented Dan Goldfield sources this from a 4 acre dry farmed chilly windswept vineyard above the Chileno Valley in northwestern Marin County.  The wine shows bright stone fruit flavors, and a concentrated stony minerality.  It's juicy but bone dry with notes of citrus and peach.  A fine match for sushi.
KILIKANOON "KILLERMAN'S RUN" RIESLING, CLARE VALLEY 2O15
Riesling only constitutes about 3% of Australia's vine acreage, but the grape has a long history Down Under, dating to the German immigration of the mid-19th Century.  It may well be the country's most consistently fine white overall.  The Clare Valley in South Australia is home to about fifty wineries, most small and independent, like Kilikanoon.  Its Riesling vines are grown on limestone soils at elevations of over 15OO feet, providing cool evenings produce wine in a relatively high acid style.  This wine has classic fresh lime aromatics, mingled with orange and charming floral herb scents.  Bone dry, with sharp green apple notes on the palate, it's very crisp and has a lemon rind note on the finish.  Bracing and tart, an ideal match for ceviche.
UNDURRAGA "TERROIR HUNTER" RIESLING, LO ABARCA, SAN ANTONIO VALLEY 2O12
Star winemaker Rafael Urrejola searches throughout Chile for unique sites to harvest single varietals under the TH series of Undurraga.  The grapes for this originate from a vineyard in a cloud covered part of the coastal San Antonio Valley known as Las Gaviotas.  This marginal climate has only been planted in the last few decades because it was previously thought too cold for quality grapes, much like the Finger Lakes.  Riesling makes beautiful wine on these steep granitic hills: floral, lemony, with nectarine and chalky mineral notes and sharp acids that go beautifully with clams or oysters.