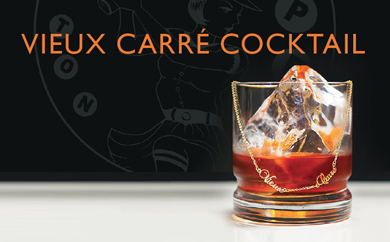 ENDANGERED COCKTAIL OF THE MONTH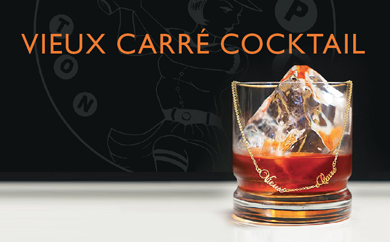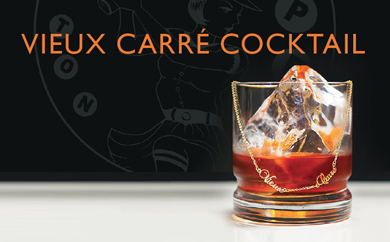 by PINK LADY
IN THE WINTER MONTHS, we enjoy hunkering by the fire (or any source of warmth really) with a strong, spirit-forward cocktail.  There's nothing quite like the velvety texture of a properly stirred (not shaken!) aperitif drink, and this is even more true when the base is a fine brandy such as Cognac, as in the Vieux Carré.  The Vieux Carré has warming utility in New England but the drink was born in the balmier climate of New Orleans.  This delightful potation was invented by Walter Bergeron in 1938 while he was head bartender at the Hotel Monteleone.
We do love a hotel bar, and a good hotel bar story!  The Monteleone was first christened in 1886, when Antonio Monteleone purchased a 64-room hotel on the corner of Bienville and Royal Street in the heart of the French Quarter, a section dubbed by French Colonials "the Vieux Carre".  An industrious Sicilian nobleman who operated a successful shoe factory in his home country, Monteleone moved to New Orleans to seek his fortune in the 188Os.  His hotel grew and expanded via five major additions over the years and has always been a jewel of the French Quarter.  After four generations, it's still family owned and operated.  Within the hotel is the famous Carousel Bar, a gilded, rotating bar fashioned to look like its namesake, which literally never stops turning.  Since opening, the Carousel Bar has played host to many renowned authors and musicians.  Tennessee Williams and Truman Capote famously warmed barstools there, as have musicians like Etta James and Gregg Allman.
Should you desire s twist on this delicious classic, we suggest swapping Benedictine for Bayou Satsuma liqueur.  Born in Lacassine, Louisiana just outside Lake Charles, Bayou has been making rum since 2O13 with local ingredients like Louisiana sugarcane and Satsuma, a sweet, juicy citrus fruit native to the region.
---
VIEUX CARRÉ COCKTAIL
1 ounce of rye whiskey
1 ounce of Cognac
1 ounce of sweet vermouth
1 teaspoon of Bénédictine D.O.M.
2 dashes of Peychaud's Bitters
2 dashes of Angostura Bitters
Mix all ingredients in a double Old Fashioned glass over ice; stir.