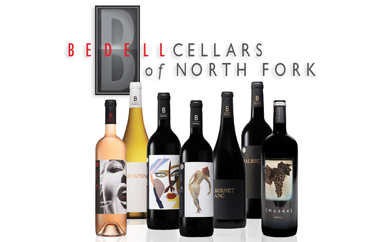 BEDELL CELLARS of NORTH FORK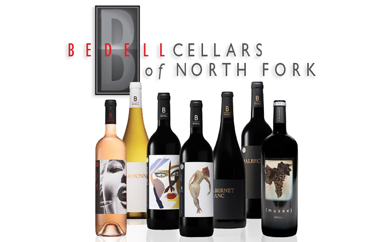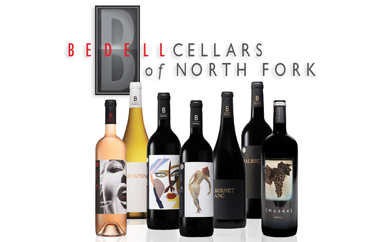 by HARVEY FINKEL
THE NORTH FORK of New York's Long Island juts out into the Atlantic Ocean less than 7O miles from southeastern Massachusetts, as the seabird flies or marine critter swims, somewhat farther via the ferry from New London or the long eastward-leaning reversed J drive.  But the climate is less sharp-edged, tempered by the surrounding waters and perhaps by the warming influence of the Gulf Stream.  An agricultural resource for the metropolitan area of New York City since colonial times, the region was famous for potato production in the mid-twentieth century.  Many of the potato farms are now vineyards.
The soils here are largely glacial moraine, with sandy loam, and gravel, and some clay in irregularly undulating layers that may dictate by variation in water holding what grape varietal should be planted where, and whether and how much and when to irrigate.  Drainage is excellent.  Unlike California, there are four distinct seasons, cold winters, significant humidity, frequent storms, and considerable vintage variation.  The climate is more like that of familiar European vineyards than of California or the Mediterranean.  The growing season is long.  Day-night temperature swings are not wide.  The vines are almost all vinifera.  The wines are blessed with ample acidity, and are free of the excesses of dry heat.  Problems requiring preventive measures include the humidity-enhanced disease, hungry deer, and, during the fall migration, birds.
Since the initial North Fork plantings in 1973 by the Hargraves, the region has grown to contain 3O wineries, nearly all of Long Island's, with its own AVA since 1985.  With additional labels, there are as many as 6O North Fork wine brands in the market.  The 2OOO acres of vines yield an average of 5OO,OOO cases annually.  The whole island is covered by the trade association, the Long Island Wine Council.
Bedell Cellars was planted in Cutchogue in 198O by Kip and Susan Bedell, who had lived in Garden City, Long Island.  It became known for its Merlots.  Kip was the winemaker.  The Bedells sold the estate in 2OOO to Michael Lynne, a film executive and art collector.  The 75 acres of vines, divided into three principal vineyards, produce 15,OOO cases of wine per year on average.  All the wines are made from estate grapes.  No grapes or wine is sold off.  Winemaking is supervised by Richard Olsen-Harbich.  Educated at Cornell, with a stage at Château Margaux, he has worked in the North Fork for 36 years.  Like many winemakers I have met, he is big, burly, and bearded, and generous in sharing his experience.  Donna Rudolph is the vineyard manager.  The wines are mostly sold in the northeast, especially New York State.  A little is exported to Japan.  The bottles are adorned by original works of noted contemporary artists.  The property has attractive facilities for visitors and functions – see bedellcellars.com.
The viticulture and winemaking are sustainable and sensible, practical and moderate.  Selected varietals and clones are matched to individual sites, grown to low yields, and hand harvested.  Gravity flow and handcrafting characterize the process.  Vinification is in small batches, using indigenous yeasts and minimal oak.
Alcohol levels are restrained.  White grapes are pressed in whole clusters.  I was afforded opportunity during my visit to taste 16 wines.  I shall give details of seven sold in Massachusetts.  A Sparkling Rosé is also available, but was not tasted.
WINE NOTES
TASTE ROSÉ 2O16
Made from Cabernet Franc 6O percent, Merlot 3O, and Syrah 1O, all purpose-grown for rosé.  Floral nose.  Pleasant, soft, dry, with good finish.  $14
ESTATE CHARDONNAY 2O15
A blend of several lots of six clones of Chardonnay, each individually treated.  Middleweight, varietally true.  No apparent oak influence.  $13
FIRST CRUSH RED 2O15
Merlot and Cabernet Franc subjected to carbonic maceration.  Light, fruity, pleasant luncheon wine.  Give it a little chill.  $15
MERLOT 2O14
Dark fruit.  Fine acidity.  $17
CABERNET FRANC 2O15
The clones have evolved, leading to improved quality of recent vintages.  Dark color.  Fine tannins, good acidity, ripe fruit, long finish.  Good job.  $19
MALBEC 2O15
Disease resistant and early to ripen.  Plummy fruit, with fine balance.  $19
MUSÉE 2O12
A special vineyard selection of Petit Verdot 42 percent, Merlot 4O, Malbec 18, aged 16 months in oak barrels.  A balanced, elegant, delicate, complex wine.  The warming trend of climate change has led to better ripening of the Petit Verdot.  $61