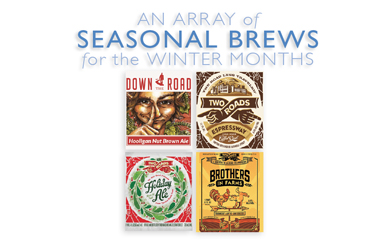 AN ARRAY of SEASONAL BREWS for the WINTER MONTHS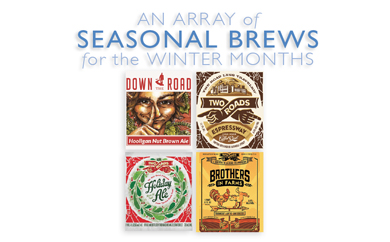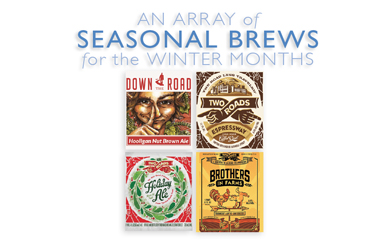 by ANDY CROUCH
THE AMERICAN CRAFT BEER scene is nothing if not subject to constant change.  Consumers, driven by experience- hungry millennials, constantly want the new, the untried, the next great beer.  Many are often content to experience a beer only once before moving on to the next pint, can, or crowler.  It remains a difficult environment in which to capture the imagination, palates, and wallets of fickle consumers.
The seasonal beer market has also taken a serious hit in recent years.  Once neatly segmented into new release dates for bock, Oktoberfest, pumpkin, and winter stouts, among other styles, consumers now demand greater access to new beers throughout the year, week by week.  To meet this demand, those on the retail, bar, and restaurant sides need to be prepared to provide a near endless stream of new options for their customers.  Variety is paramount and keeping customers on their toes remains of key importance.  With that in mind, let's take a run through a range of interesting beers in a variety of styles.
HOOLIGAN NUT BROWN ALE
Down The Road Brewery
Everett, Massachusetts
ABV 4.5%
Located just outside of Boston, the city of Everett is positioning itself as a tiny brewing powerhouse in a region much in need of new breweries.  The Boston area, due to a combination of factors ranging from the cost of real estate to the lack of well-suited commercial production spaces, has been slow to add new breweries.  Everett has picked up Boston's slack with the addition of several breweries, including Night Shift and formerly Idle Hands.  The latest addition is Down the Road Brewery, which formerly contract-brewed its beers and has now opened a brick and mortar facility.  Out of the gate, the brewery is focusing on a small range of American and German styles, with some limited release beers.   Falling into the occasional release column, the brewery's Hooligan Nut Brown Ale is a take on the classic English ale style.  The brewery says it is inspired by the Hedley Kow of English folklore.  Far from a style in vogue, the Nut Brown Ale style was long a great stalwart of the craft beer community.  On nearly every menu in the late 198Os and early 199Os, the beer signified a decided departure from low flavor lagers and the sweetness of the malt left it approachable for those who still feared anything perceived as nearing bitter.  The flagship beer of its time, Nut Brown Ales fell out of fashion in the mid-9Os and are a rarely seen style, especially from a new packaging brewery.  Down The Road's version pours with a beautiful burnished auburn brown color and light off tan head.  The aroma is fresh and clean, like chestnuts mixed with slight toffee malts.  A light spiciness lingers as well.  It offers the faintest hints of a winter warmer style but without the heavy handed seasonal spicing.  The flavor continues with a creamy mouthfeel mixed with a toffee maltiness.  A pleasing sipper in the winter, this 16-ounce pounder can is decorated with the aforementioned English pixie and sports the Brewers Association's new independent craft beer insignia.  A light English yeast character is present and at 4.5 percent alcohol, this medium bodied ale is easy drinking and finishes dry.  The Hooligan is a solid commercial example of a long neglected style that is due for a comeback.  dtrbrewery.com
ESPRESSWAY COLD BREW STOUT
Two Roads Brewing Company
Stratford, Connecticut
ABV 6.5%
The use of coffee beans and other related products as ingredients in beers is a long established practice in the world of craft brewing.  And while adding coffee to styles other than stouts and porters has been slow to catch on, we are starting to see more brewers take stabs at blonde and amber beers with deep, soulful coffee notes.  For those traditionalists, however, the Two Roads Espressway Cold Brew Stout is a palate-smacking, old school dark hued coffee beer with a new school soul.  To produce this aromatically challenging and engaging beer, Two Roads mixes a locally-roasted Ethiopian and Sumatra blend of coffee beans with a rich oatmeal base stout under pressure, similar to espresso but minus the steam.  More than fifty pounds of ground coffee is added to 14OO cases of the base beer, where it steeps under pressure for several days.  The resulting beer is jet black in hue with a well sustained, tightly carbonated off brown head.  The aroma immediately strikes you once the beer is poured, with huge notes of fresh, deeply roasted coffee rushing over you in waves.  There is a slight touch of cream and sweeter malts underneath the powerful current of dark, roasted espresso like notes.  Piquant hints of zesty pepper round out the aroma and draw you closer.  The flavor is smooth, mildly-creamy, and then filled with bursts of sharp but rounded dark chocolate and roasted coffee notes.  The Espressway is medium-bodied and dry throughout.  tworoadsbrewing.com
HOLIDAY ALE BIERE DE GARDE
Two Roads Brewing Company
Stratford, Connecticut
ABV 7.3%
The French style Biere de Garde is a rare breed in this country, one that is little understood when encountered.  More often cast under the general Saison style umbrella, these beers are generally light to deep golden in color and possess a vast earthy and musty sensibility that pervades from the aroma down through the body.  They usually offer light toasted malt nose hints and a slight sweetness with fruit edges that eventually gives way to some farmhouse elements.  Even less well known than the Biere de Garde style is the Biere de Noel style, a subset of the former.  Having originated in small farmhouse breweries in the northern part of France, these Christmas beers tend to exhibit a maltier profile than the usually drier Biere de Garde.
One of the few American commercial versions of the style, this beauty from Two Roads is a great addition to the winter beer list.  Pouring with a big, beautiful chestnut hue and consistent off-white head, the aroma is a wonderfully potent mix of caramel malts, mild dark fruits, and hints of Belgian yeast character.  The flavor follows suit with well-rounded but not cloying sweet malt notes, a mild creaminess, and slight pangs of zestiness.  The malt character is prominent, a rarity these days, and continues smooth but present throughout.  There are slight orange fruit hints as well.  A well-balanced winner for the winter season.    tworoadsbrewing.com
BONUS BEER
BROTHERS IN FARMS DOUBLE GRISETTE
Two Roads Brewing Company
Stratford, Connecticut
ABV 6.5%
Though perhaps difficult to find at this date after a release in June 2O17, the Brothers In Farms Double Grisette, brewed in collaboration with Yvan de Baets of Brasserie de la Senne in Brussels, is one of the best I have had this year.  Brewed with a malted wheat base and a sizable boost of bright hops, including the mosaic variety, it captures the essence of drinking well-aged Belgian farmhouse beer as well as anything I have enjoyed in the states.  It is fermented with two yeast strains, including a wild yeast captured from the brewery's own hop yard.  Let us hope that Phil Markowski and Two Roads deem this beauty worthy of another batch very soon.