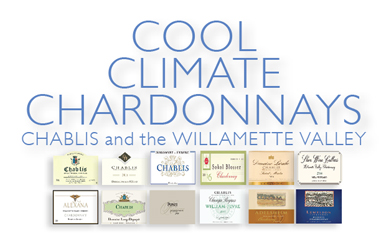 COOL CLIMATE CHARDONNAYS, CHABLIS and the WILLAMETTE VALLEY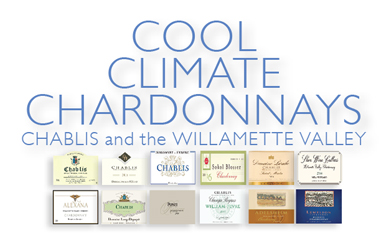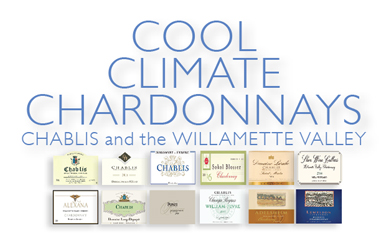 by SANDY BLOCK, MW
IT'S NO SECRET that Chardonnay's growth has stalled and that it's perceived as losing ground in the market, particularly among younger consumers who profess a preference for Sauvignon Blanc.  Chardonnay, however, is anything but monolithic.  Handled properly it shows subtle differences in soil, climate, weather, and winemaking technique.  Any white wine drinker expressing disinterest in the grape has probably just never identified the style most appropriate to their palate.  Among the many variations, Chardonnay grown in a cool climate has the greatest potential appeal to Sauvignon Blanc aficionados.  Why?  Marginal weather produces wines with higher acid levels, less overt ripeness, sleeker lines, and often citrus, green apple aromas.
The quintessential cool climate Chardonnay is Chablis.  Product of a unique Kimmeridgian clay soil laced with fossilized sea shells and chalk deposits that reduce yields and lend a crisp flinty precision to its wines, Chablis is the great antidote to Chardonnay-bashing.  As in, "Oh, you don't like Chardonnay?  Try this." It's reliable, even exciting, with a distinct message to deliver, but hardly fashionable, having been around forever.  There are other Chardonnay regions, many of which have been planted only recently, that push the cool climate envelope and show great promise: Hemel-en-Aarde in South Africa's coastal Walker Bay, Casablanca and San Antonio in Chile, Santa Barbara County's Sta. Rita Hills, and the Anderson Valley in Mendocino.  The most exciting of all, to date, is Oregon's Willamette Valley.  Its Chardonnay signature is different than Chablis, less magically mineral and gentler overall on the palate, but still dramatically differentiated from what you taste in more moderate, or warmer growing conditions.  One major difference, of course: in Chablis all you grow is Chardonnay, while the Willamette is best known for another deeper hued grape, so its Chardonnay production flies a bit under the radar screen.  Another distinction is that you rarely see barrique aging for village Chablis, while the comparable Oregon Chardonnays are often polished with some oxygen exposure in barrels.
So, it was inevitable that we would conduct the great cool climate Chardonnay blind taste-off, comparing recent entry level village Chablis (there are two notable quality grades above this, Premier Cru and Grand Cru, both of which are significantly more expensive) and Willamette Chardonnay of roughly the same price: under $4O retail.  The wines are not particularly difficult to tell apart, although the unusually warm dry 2O15 Chablis vintage did help blur some of the lines.  Note that the following wines are all very high in quality, and that they are listed in ascending order of absolute preference.
JEAN-PAUL AND BENOIT DROUIN CHABLIS 2O15
This small estate makes classic lees-aged Chablis that has no barrel exposure.  It's yeasty, herb and apple-like aromatically, with hints of stone fruits.  Light in color, mellow on the palate, the delicate herb sensations on the palate are accented by a mild saline mineral note.
DOMAINE DES HÂTES CHABLIS 2O15
From 3O-year-old vines located in the clay rich northern part of the AC, near Maligny, this estate Chablis shows a bright apple and peach aroma.  It's tart, crisp and lemony, with delightful stony notes that elongate the finish.  No wood aging, a wine of admirable structure and liveliness.
SIMMONET-FEBVRE CHABLIS 2O15
Owned by the great house of Louis Latour since 2OO3, Simmonet-Febvre makes textbook Chablis at whatever the level of classification.  This is a light to medium textured village wine that spends a year aging on the lees and shows delicate apple and lime zest aromas.  Clean and chalky, it has a refreshing, somewhat edgy mineral-salt note on the finish.
SOKOL BLOSSER CHARDONNAY, DUNDEE HILLS 2O16
Originating on the clay rich soils of the Dundee Hills, this Chardonnay has a ripe pear and melon aroma, with hints of citrus and earth.  It's juicy and crisp on the palate, with light body and a clean, balanced core of lingering acidity.
DOMAINE LAROCHE CHABLIS "STAINT MARTIN" 2O16
This wine showed an apple and lemon character on the nose, with leafy, vegetal scents supporting the fruit.  It's lightly spritzy at this stage, very tart and lemony, with hints of flint and stoniness.  Very appealing in a reductive style, very uncompromising, with no evident oxidative exposure.
SHEA WINE CELLARS "SHEA VINEYARD" CHARDONNAY, YAMHILL CARLTON 2O14
Situated on sandy sedimentary soils in the Northern Willamette, Dick Shea is noted for selling his grapes to some of the state's top producers.  This estate Chardonnay is still very pale despite aging in a percentage of new French oak.  It has an appealing yeasty, buttery, lemon scone aroma, with supporting floral, pear-like scents.  The smooth, mellow richness carries its multi-dimensional fruit well and there are subtle notes of citrus and pear in the finish.
ALEXANA "TERROIR SERIES" CHARDONNAY, WILLAMETTE VALLEY 2O14
This is an oak-aged but florally scented, peachy, tangerine-like wine, round on the palate with a  honeyed note.  Vibrant and bright, but with fuller body than many of the other selections, it has appealing vibrance and minerality, along with some phenolic notes.
ALBERT BICHOT CHABLIS 2O15
Sixth generation family owners of the renowned Domaine Long-Depaquit, Bichot produced a silky style of Chablis in 2O15, with distinctive notes of butter, green apple and leafy herbs.  It's a bit more salty, lemony and racy than some of the other selections, with a crystalline purity and brightness to the fruit that is exciting.
PONZI VINEYARDS CHARDONNAY "RESERVE" WILLAMETTE VALLEY 2O14
Pale and slightly smoky, with a mild, creamy texture and excellent concentration.  This Reserve bottling from one of Oregon's premier wine families tastes ripe and buttery, with a vibrant lemony finish.  It checks all the boxes: medium-bodied, toasty, tart and laced with stony minerals.
WILLIAM FEVRE "CHAMPS ROYAUX" CHABLIS 2O16
Light and yeasty, with aromas of peach, spring apple and lime, this is an outstanding wine, year after year from one of Chablis' most renowned names.  Its lively acidity and persistent minerality lend structure to a tangy goat cheese-like note on the palate that is very savory.  Bone dry, clean and pure.
ADELSHEIM CHARDONNAY, WILLAMETTE VALLEY 2O15
This is very Burgundian in style (although more Mâcon like than Chablis), from one of Oregon's pioneering original family producers, David Adelsheim.  Pale and light, with a delicate peach pie aroma, this is very soft and mild on the palate.  Very classy.  Smooth in style with nice balancing acids.  It's all about understatement.
LEMELSON RESERVE CHARDONNAY, WILLAMETTE VALLEY 2O15
Lemelson is a small boutique producer noted for high quality naturally produced Pinot Noir.  This wine is in a lighter, rounder, more delicate mode, with a silky smooth texture.  It's nicely concentrated flavors are mellow and silky, with an appealing low key purity that doesn't shout but whispers.  The flavors tend more towards melon and ripe apple, with delicate baking spice notes and a clean citrus element on the finish.