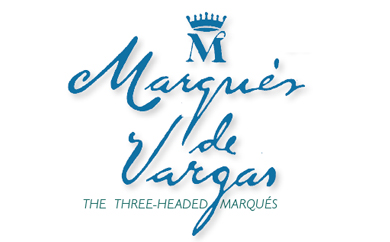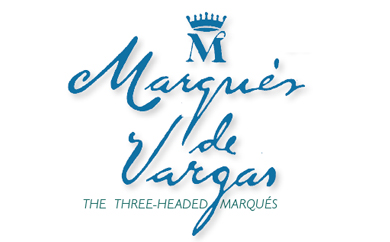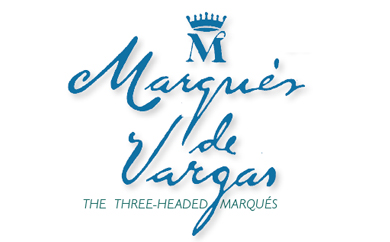 by HARVEY FINKEL
PELAYO DE LA MATA, the 13th Marqués de Vargas, wears three vinous hats, heading wine estates in three distinct traditional regions of Spain, each producing notable estate-grown wines in modern wineries.  The three-headed marqués, a youthful and active 71, enlivened my day with a recent visit, bearing tasting samples and details.  In addition to the three estates, his Grupo Vinicola Marqués de Vargas distributes imported potables throughout Spain, and exports his own products to 5O countries.
It all began nearly 2OO years ago, when, in 184O, Don Felipe, the 8th Marqués, planted the family estate, Hacienda Pradolagar, near Logroño in the Rioja Alta.  Fulfilling a longstanding family desire, especially that of Don Hilario, Don Pelayo's father, the winery was built in the midst of the vines in 1989.  Until then, neighboring wineries were lucky enough to be able to purchase the grapes.  The climate here is continental, with some Atlantic influence.  The soil of the high plain is poor, largely clay and limestone, leading to wines of ample body and acidity.  Careful, sustainable viticulture is in play.  Irrigation is not done.  Neither herbicides nor pesticides are used.  Planting is dense, so yields are low.  Picking is by hand.  The 5O hectares of bush vines on the 65-hectare estate are subdivided into 16 plots of Rioja red grapes, including an archaic varietal or two.  The predominant reserva and grand reserva are, after fermentation in stainless steel, not fined, not filtered, and not released until aged for several years in barrel, then in bottle.
Let us now move a little to the southwest from the Rio Ebro to the Ribera del Duero, the bank of the Duero, and the wine of the second site of the Marqués's wine production empire, Conde de San Cristóbal, another family title.  This Tempranillo-informed wine region, ignited by the success of Vega Sicilia, has rather quickly taken its place beside La Rioja in world prestige.  The Marqués's 8O-hectare estate here, Pago de Valdestremero near Peñafiel, defined in 2OOO, grows Tinto Fino (local name of Tempranillo), Cabernet Sauvignon, and Merlot on vertical trellises.  Yields are as low as one kilogram (i.e., one bottle) per vine.  The vineyard and winery practices here and at the third venue to be discussed echo those outlined above.  Each variety and each plot is treated individually.  The elevated position of the vineyard gives relief from the heat of summer.  The soils are varied.
Now we have jumped to Galicia, Spain's northwest corner.  The climate here is very different: moist, marine, Atlantic winds instead of sunny, dry heat.  Not the Ebro or the Duero, but the north bank of the Rio Miño, which defines the boundary with Portugal's Vinho Verde country.  The sandy textured soil is largely granitic.  The Grupo Vinicola Marqués de Vargas acquired the Pazo San Mauro estate near the town of Salvaterra do Miño in 2OO3.  The property's vinous heritage can be dated back to the late 16th century.  It is an estate of 3O hectares.  Chiefly Albariño is grown, terraced down to the river, facing the south in this relatively sunny southern niche of the Rías Baixas.  Some Loureiro, Treixadura, and Torrontés are also grown, all on trellises.  I believe we really learn more from the wines themselves than from reading about them (and more yet from visiting the sites).  In vino veritas will be reinforced in the wine notes.
RÍAS BAIXAS
PAZO DE SAN MAURO 2O15
All Albariño, from vines 17-43 years old.  Slow, cool fermentation and maturation in stainless steel.  2OO,OOO bottles produced.   Has the attractive citric-splashed verve of its genre, plus more body and texture than most, and hints of pear.  $2O
Also made, but not yet available for tasting, is Sanamaro, another Rías Baixas wine of Albariño and Loureiro.
RIBERA DEL DUERO
CONDE DE SAN CRISTÓBAL 2O11
From 16 to 31-year-old vines.  Selected Tinto Fino, Merlot, and Cabernet Sauvignon (8O:1O:1O percent).  Aged 12 to 14 months in a mixture of American (Missouri), French (Haut Futâie), and Russian (Caucasus) oak barrels.  3OO,OOO bottles, 3OOO magnums.  Fragrant, elegant, complex.  Still a little tannin.  $2O
Also produced is a little Raíces Reserva.
LA RIOJA
VARGAS CRIANZA 2O11
All Tempranillo, from 4O-year-old vines.  Aged one year in American and French oak barrels, then six months in bottle before release.  36,OOO bottles distributed in US only.  Fine fruit, with good finish.  $12
MARQUÉS DE VARGAS RESERVA 2O1O
From 25-year-old vines.  Tempranillo 75 percent, Manzuelo 1O, Garnacha 5, others, including Graciano, 1O, all from a single vineyard.  Aged 2O months in American, French, and Russian oak barrels, new and once used.  251,OOO bottles.  A classic Rioja, with substance and staying power.  $25
MARQUÉS DE VARGAS RESERVA PRIVADA 2OO9
In earlier days this wine would have been for the resident family's use.  Tempranillo 6O percent, Manzuela 1O, Garnacha 1O, others 2O, from the oldest plots of three single vineyards.  The vines average 45 years of age.  Aged 21 months in new Russian oak barrels.  Made in only specially good vintages.  12,OOO bottles.  Very dark and saturated.  Intense, concentrated, still infantile.  Smoky and ashy, like some Graves, but may be due to barrel toasting.  $7O
Also made, but not yet available for tasting, is Hacienda Pradolagar, a limited production top-of-the-line Rioja.