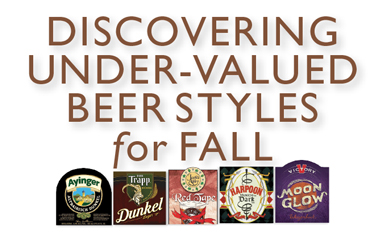 DISCOVERING UNDER-VALUED BEER STYLES for FALL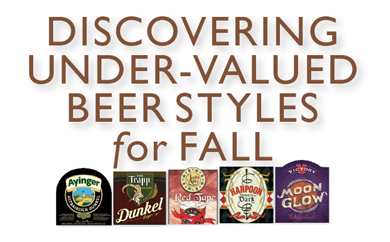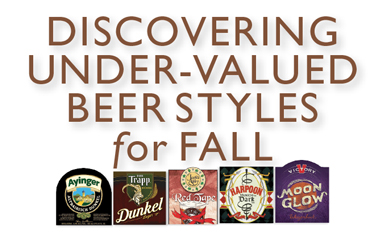 by ANDY CROUCH
FALLS BRINGS US another opportunity to contemplate some under-valued beer styles.  We don't know whether the India Pale Ale craze may be fad or lasting trend but it dominates the scene at the moment.  The current consumer movement towards hoppy, hazy beers shows no signs of abating any time soon, with new breweries opening with the intention of only producing multiple versions of the single style.  Consumers line up around the block for specialty releases of small batch New England style India Pale Ales.
Standing in stark contrast to this hop parade is the world of lager beer.  While sales of some German style beers, including pilsners, have rebounded, others just cannot seem to catch the beer consumer's attention.  While a perfect companion for the season, no one will ever accuse the dunkel and weizenbock styles of being cool.  But if you have one on your menu or in your cold box, old school beer folks will give you a nod of respect.  Let's take a look at some great versions of these neglected styles.
DUNKEL
This classic Bavarian beer style routinely gets overlooked by American consumers and brewers.  The dunkel style is an unusually delicate yet complex character.  Often pouring light to deep brown in color, the darker hues often deceive prospective drinkers into believing the style will taste bitter or strongly roasted.  In contrast, dunkels are a supremely drinkable style, balancing rich, layered malt sweetness with touches of chocolate, toffee, and caramel from dark malts with a light creamy and at times sweet body.  Medium-bodied and never over-powering, the best versions offer faint hints of noble hops in the aroma.  Hops otherwise take a back seat to the showcase of malt that dunkels celebrate.  The complexity and beauty of the Munich malts combined with the clean flavor and finish leave dunkels as an often undiscovered style for even dedicated beer enthusiasts.  But it is these same qualities that make dunkels, and indeed many lagers, the perfect meeting grounds for drinkers seeking either comfort or complexity in their half-liter mugs.
ALTBAIRISCH DUNKEL
Brauerei Aying
Aying, Germany
ABV 5%
Ayinger is one of those breweries that you don't hear much about but beer geeks really love.  A traditional and family owned brewery located just outside of Munich, Ayinger makes a wide range of delicious offerings.  The brewery's dunkel is a real beauty of the style, pouring with a vibrant dark amber hue with a substantial throw of off-white foam.  The aroma boasts dark German and European malts, with toffee, caramel, and toast very present.  The flavor follows with a wash of toasted caramel and bready malts, all well-balanced and without any cloying sweetness.  A medium-bodied easy sipper, Ayinger's dunkel offers a nice balance of noble hops keeps the malt sweetness in check and balance.  ayinger-bier.de
VON TRAPP DUNKEL LAGER
Von Trapp Brewing
Stowe, Vermont
ABV 5.7%
The Von Trapp family brewery, located in idyllic northern Vermont, produces a line of well-respected German style beers, including this tasty dunkel.  It pours with a simple bright auburn brown hue and a small dollop of creamy foam.  The aroma fills with sweet malt notes, including bread, caramel, toffee, and touches even of dried fruit.  Von Trapp's dunkel nourishes with waves of sweet but balanced European malts, washing the palate with a complex but not distracting arrangement of molasses, toffee, biscuit and toast, and slight bits of dried fruit on the finish.  A noble hop bite reins all of this flavor in before moving into a long, creamy, and enticing finish.  vontrappbrewing.com
RED TAPE LAGER
Jack's Abby Brewing
Framingham, Massachusetts
ABV 5%
Initially focusing on American-style versions of traditional German lagers, often employing New World aromatic hops, Jack's Abby has enjoyed an impressive growth run for several years.  In the past year, the brewery has started to focus on brewing more to style when it comes to its lager beers.  Celebrating the difficulty of getting open and navigating the "labyrinth of brewery licensing and state regulations," Jack's Abby released its Red Tape Lager.  While not quite to dunkel style, the beer is made with 1OO percent dark Munich malt, with additions of Glacier hops for bittering and noble German hops for aroma.  Lighter in hue than your typical dunkel, the Red Tape Lager pours a clear reddish amber with a fleeting but present beige head.  The aromas are more reminiscent of the classic dunkel style, with plays from both toasted and bready malts mixed in with caramel, a slight molasses character, and a bit of fruit.  A slight residual bitterness balances out the flavor and it remains medium-bodied and easy-drinking throughout.  jacksabbybrewing.com
HARPOON DARK
Harpoon Brewery
Boston, Massachusetts
ABV 5.5%
Long one of my favorite beers that Harpoon produces, the Harpoon Dark is the local brewer's ale-based take on the classic Munich dark lager style.  The beer presents with a deep, striking amber hue and a thin wave of white foam.  The aroma is lightly doused with toasted and caramel malts, bits of bread and toast, and bits of dark fruits and chocolate hints.  The flavor follows through with bursts of caramel and bready malts with touches of fruit from the ale yeast.  It has a nice carbonation bite to balance out the sweeter notes from the malts.  A bit lighter on the palate than most dunkels, the Harpoon Dark remains a pleasing if often overlooked beer from the brewery.  harpoonbrewery.com
WEIZENBOCK
Let's throw in another overlooked style.  Sadly, weizenbock is rarely a style on the tip of anyone's tongue.  For the unfamiliar, weizenbock is an amped up version of the dunkelweizen style, with a dark lager history lurking deep within its body.  Weizenbocks usually pour amber ruby to dark brown in color and with a hazy appearance and impressive foamy head.  While offering the usual fruit and clove dashes, a weizenbock's aroma possesses noticeably more alcohol and malt warmth than standard issue hefeweizen and dunkel beers and is more in line with the classic German bock style.  Beers of the style maintain a difficult to achieve equilibrium, with matching parts dark, zesty fruit and toasted, bready malts, all resulting in a smooth, drinkable, if potent, offering.
MOONGLOW WEIZENBOCK
Victory Brewing Company
Downingtown, Pennsylvania
ABV 8.7%
As a master of German styles, it comes as now surprise that Victory's Moonglow is a fantastic weizenbock.  With its mildly hazy rouge-apricot tone and pronounced and pillowy soft beige colored peak, the aroma blends restrained doses of spiced fruit, including cinnamon coated apple pie, with touches of peppery clove, all tucked into a glove of tangy and sweet bready malt.  In the glass, the beer transforms into a drinking marvel, with luxuriant toasted malt swirls mixed with touches of cocoa and dry wheat, all surrounded in a cocoon of spicy clove and mild banana fruits.  A mild tanginess pervades the heavenly mixture, bringing order where needed to keep this medium-bodied beer in proper order.  victorybeer.com