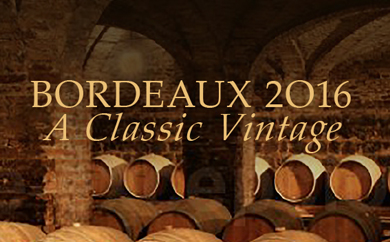 BORDEAUX 2O16 A Classic Vintage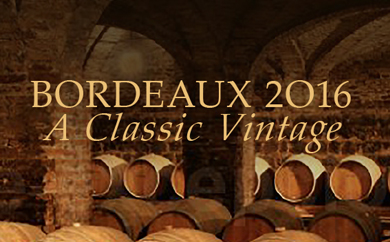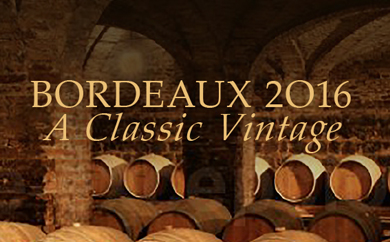 by HARVEY FINKEL
THERE SEEM to be no dismal vintages any more in Bordeaux, and perhaps surprisingly too many hailed with superlatives. But the latter are, to me, usually over-extracted, dense, and lacking in grace – echoes of wines made with more enthusiasm than finesse in northern California. Now, however, comes the 2O16 vintage, tasted en primeur in the spring in barrel, and evoking a different kind of praise.
This brief overview, a meta-analysis, must be taken in the context that these are unfinished wines, yet to complete their stage in barrel, not in their final assemblage, not to be bottled and too shy to be seen until 2O18, though one may venture a purchase of futures. These comments are directed to the remarkable reds. The whites, both dry and sweet, have not emerged on the same high plane.
The year started badly, and stayed that way so long that the rains and clouds were nearly matched by the tears and frowns of the vignerons. Relentless rain fell until July, with no sun to be seen. Severe frosts in May sharply reduced to normal what had promised to be a large crop. But then, après le déluge, as though two climates had been hybridized, came unending dry weather: a succession of bone-dry, sunny, warm, not-hot days and cool nights. So dry was the summer after the spring floods, that desiccation was threatened. Timely mid-September shoures soote ("sweet showers") provided relief, and the harvest proceeded under ideal conditions.
The red wines appear to be uniformly fine all through the region and up and down the hierarchy. Right bank, left bank, top classified growths, petits châteaux all seem safe bets. Terroirs are precisely expressed. The elegance and complexities of the grands crus are preserved. The fruit is pure and fresh, aromatics enticing, tannins ripe and fine. The acidity, the blessed acidity, is crisp and enlivening, the balance perfect. The wines are not overripe, overly alcoholic, raspingly tannic. I hope they will not be over-oaked.
To old hands, the character of this vintage recalls some of the great and fabled classics of the era before climate change and before heavy hands began squeezing too much out of the land and its fruit. If initial impressions hold up, we should once again be talking about precision of terroir, delicacy, elegance, finesse, and a long life of grace.