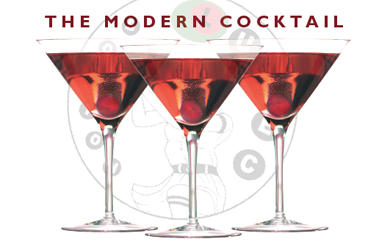 PINK LADY'S ENDANGERED COCKTAIL OF THE MONTH: THE MODERN COCKTAIL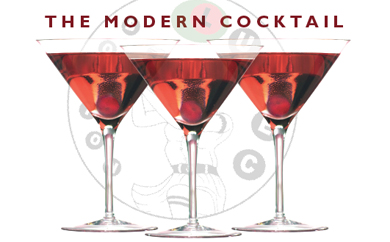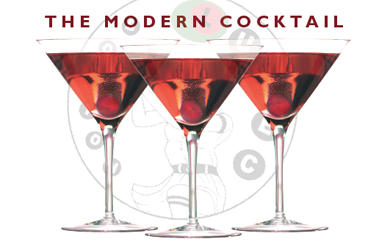 by PINK LADY
A CURIOUS BLEND of Scotch, sloe gin, citrus, and absinthe, The Modern Cocktail is one of those drinks that is greater than the sum of its parts.  This seems to be the case for several Scotch whisky cocktails: the Blood & Sand, for example, which mixes Scotch, sweet vermouth, Cherry Heering, and OJ . . . in equal parts.  Therein lies the magic of the well-crafted cocktail.
The Modern Cocktail first appeared in print in The Hoffman House Bartender's Guide in 19O5.  "The Hoffman House Hotel maintained New York City's best bar at a time when New York had nothing but great bars," writes David Wondrich.   And its famous, high-ceilinged saloon was the main attraction.  Paneled in mahogany with a long, wooden, heavily carved bar and brass-plated footrest, and adorned with Turkish rugs and fine wall tapestries that were said to have been made especially for Napoleon I, the room was a destination for New York's sporting men.  The pièce de résistance was a famous 8-foot tall painting called Nymphs and Satyr by French artist Adolphe William which depicted four voluptuous nymphs teasing a half-human, half-woodland creature and scandalized Victorian society.  This was a main attraction, with even women permitted to enter and view this and the many other pieces of art housed in the saloon one day a week.
The bar was helmed by Charley Mahoney, the author of the Bartender's Guide, who was an adept marketer.  Unlike many of the finest hotels in New York, which only welcomed the super elite, the Hoffman House was meant to feel elegant, luxurious, and accessible to everyone with money to spend.  His bouncer, Billy Edwards, was a retired English bare-knuckle boxer, whose intimidating presence helped keep things civilized.  He partnered with the Police Gazette, a publisher of the leading men's magazine of the day, who would later publish Mahoney's book.
The Hoffman House met its fate in 1915 when it was razed to be replaced by a 16-story office and loft building.  The Nymphs and Satyr was tucked away in storage, the buyer hoping to shield its "offensive content" from the world.  It was discovered in 1942 by Robert Sterling Clark, who'd gazed upon it in the Hoffman House in the late 19th century.  Today it hangs in the Sterling and Francine Clark Art Institute in Williamstown, Massachusetts.
If only we could hop into a time machine and hook a heel on that brass rail! Instead, we'll have to settle for mixing up a Modern Cocktail at home.
---
THE MODERN COCKTAIL
1 ounce of blended Scotch whisky
1 ounce of sloe gin
1.5 teaspoons of fresh-squeezed lemon juice
1 teaspoon of sugar
1 dash of absinthe
1 dash of orange bitters
Combine ingredients in a cocktail shaker with ice and shake well.
Strain into a chilled cocktail glass.
Garnish with a brandied cherry.