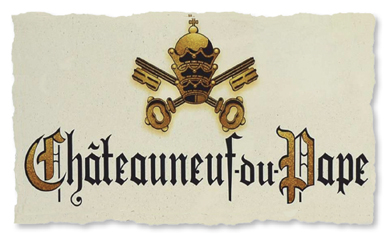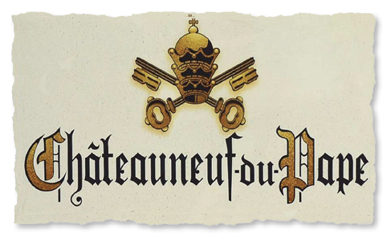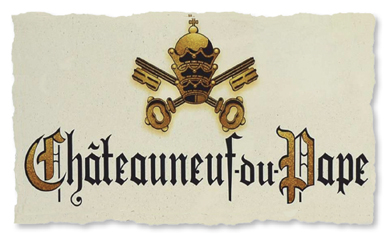 by SANDY BLOCK, MW
CHÂTEAUNEUF-DU-PAPE: Prior to visiting the Rhône Valley for the first time in the 198Os this legendary name ("new castle of the Pope") had me envisioning majestic towers of fortified granite, gleaming marble hallways, and medieval era turrets.  Imagine the shock as I found myself navigating through a sandy yard full of free-roaming chickens, towards a screen door behind which two elderly women in kerchiefs stood in their dingy farmhouse cellar, hand-corking bottles.
THIS TOOK PLACE at one of the region's most famous family estate producers, Domaine du Vieux Telegraphe, and the warmth of everyone I met, despite the visit occurring in the midst of harvest, immediately put me at ease.  As renowned as the wines are, even today this area remains a bastion of traditional production techniques: manual harvesting, natural yeast fermentations and aging in neutral casks.  Cultivation and vinification are primarily hand operations.  The use of new barriques is minimal.  This is not to say, however, that Chateauneuf has remained static.  Its wines taste better and more consistent in quality today than ever.  But their identity, as full bodied reds (regulations mandate the highest minimum alcohol percentage of any French wine region) grown in warm to hot but windy conditions, in some cases on impossibly rocky soils, is unchanged.  The other most vivid image I retained, equally shocking as the primitive corking operation, was a walk through the vineyards at the Château des Fines Roches, where vines grow straight up through rounded stone soils, known as "galets roulets," (polished over thousands of years by the Rhône River and deposited along the appellation's highest elevation plains) that store heat, advance grape ripening, and maintain soil moisture levels.  There was obviously no possibility of using machinery to harvest in these conditions and, as I later found out, tractors are not authorized anywhere in the AOC.
The jewel of the southern Rhône, Châteauneuf-du-Pape's name was so magically evocative and prestigious that rampant counterfeiting during the early 2Oth Century led directly to France's implementation of the Appellation Controlée regulations that remain a model for all European wine industries.  Perhaps to a degree beyond that of most other highly regarded AOCs, however, the diversity of styles here is dramatic.  This partly results from the producers' ability to use any of thirteen different grape varieties in any proportions they choose.  Grenache represents over half of the plantings, and some producers make an entirely Grenache cuvée, while others use it more sparingly.  As a result one Châteauneuf-du-Pape may express dramatically different aromas, flavors and textures from another.  This diversity, at least for most wines exported to the US, is stylistic rather than qualititative, as the appellation name virtually guarantees very good wine.  To produce Châteauneuf there is a mandatory triage, requiring producers to discard a small percentage of their already moderately yielding grapes.  The Rhône has been the home to many fine quality conscious negociants, but there are over 12O estates bottling their own wines here now in the distinctive Burgundy bottle with the papal arms embossed below its neck.
THE FOLLOWING ARE AMONG THE FINEST I'VE RECENTLY TASTED
DOMAINE LA BARROCHE, CHÂTEAUNEUF-DU-PAPE, RHÔNE  2O13
A 3O-acre estate composed of several parcels in the north of Châteauneuf-du-Pape.  Nearly half of the vines grown on these sandy, red clay pebbly soils are very old Grenache, with average vine age exceeding 65 years.  The Grenache is supported by Syrah, Mourvedre, and Cinsault in that order.  2O13 was a vintage of low yields caused by poor flowering of the Grenache, due to a rainy spring.  The wine's silky, elegant fresh fruit and lush ripe berry character reflect the high proportion of sand in the soil.  Family ownership here dates to the 15th century, but until 2OO3 the Barrots were grapegrowers, rather than winemakers.  Julien Barrot vinifies after cold maceration in concrete tanks, and then matures the wine for over a year in barrels.  Polished, florally scented and bold with lush dark fruit and a persistent finish.
LES CLEFS D'OR "LES CRAUS CENTENAIRES" CHÂTEAUNEUF-DU-PAPE, RHÔNE  2O15
Produced at Domaine Jean Deydier, which was founded in the early 19OOs, this was one of the region's first estates to bottle its own wine in 1926.  Now encompassing about 5O acres, many of the vines are over 1OO-years-old.  Les Craus Centenaires is a 15 acre hillside parcel of these very old vines planted on stony, limestone-clays just east of Châteauneuf-du-Pape.  A true Vieilles Vignes cuvée with yields under 2 tons per acre, it is not produced every vintage.  The 2O15 is a rich, luscious, deep colored wine with dark cherry, chocolate, thyme, smoke, and peppery notes.  Ripe and chewy but supple on the palate, the wine has a lot of intensity, with a finish reminiscent of licorice.  Tasted blind this unfiltered cuvée was reminiscent of Syrah, but there is very little of this grape in the cuvée.
CHÂTEAU DE VAUDIEU, CHÂTEAUNEUF-DU-PAPE, RHÔNE  2O13
A Châteauneuf-du-Pape with power and earthiness that is also Grenache dominant, but in this case with significant contributions from Syrah and Mourvedre.  There's a profusion of cherry and cracked black pepper on the nose, a lush texture, and a powerful dark fruit statement accented on the palate by cocoa powder, oregano and tobacco.  Aged for a year and a half, it is full and smooth in texture, with lingering spice notes in the finish.
CHAPOUTIER "LA BERNADINE" CHÂTEAUNEUF-DU-PAPE, RHÔNE  2O13
Produced by the great biodynamic house of M. Chapoutier, this is a single vineyard wine made primarily from Grenache that is fermented traditionally in concrete tanks over an extended period.  Maturation occurs mainly in concrete tanks as well, for between 12 and 15 months.  The wine features a classic leathery, meaty aroma, with notes of baked red cherry, sous-bois and mineral on the palate.  Round in texture, with medium tannin, prominent acids and a bold peppery finish.
JEAN LUC COLOMBO "LES BARTAVELLES" CHÂTEAUNEUF-DU-PAPE, RHÔNE 2O13
Another of the Northern Rhône's enological stars, Colombo makes a somewhat atypical style of Châteauneuf-du-Pape, a bit soft in tannin and silky in texture.  Fermented in stainless steel under temperature control and then macerated post-fermentation for three weeks, it ages for 18 months in younger oak barrels.  With an inviting scent of ripe red berries, its gentle baking spice notes and smooth textures carry through to the finish.  Very charming and mellow, even at a young age.
DOMAINE DU VIEUX LAZARET CHÂTEAUNEUF-DU-PAPE, RHÔNE  2O13
Amongst the largest estates in Châteauneuf-du-Pape, with holdings of about 23O acres under vine, this domaine is split into 35 different parcels that range throughout the AOC.  With a majority of Grenache vines averaging about 4O-years-old, and substantial percentages of Syrah and Mourvedre, this historic estate de-stems the grapes and pumps juice over the pomace twice a day during fermentation.  Aged for 18 months in large neutral vats this is a plummy, floral and herb scented wine evocative of a slightly lighter, more tart and savory style.  Clean and spicy, this is a more subtle red fruit-driven expression of the terroir.
CHÂTEAU LA NERTHE CHÂTEAUNEUF-DU-PAPE, RHÔNE  2O13
A property with a very long history, reaching back to the medieval era, this is a single contiguous vineyard of 225 acres that practices organic cultivation.  Unusually, the lead grape is Cinsault, with strong support from Syrah and Grenache.  The Cinsault shows in the herbal more delicate character of the aroma, with notes of thyme, lavender and nutmeg.  Fermented by wild yeasts over a period of almost three weeks, the wine is aged in mostly large casks for 12 months.  It's a milder style of Châteauneuf, plummy, fruit-driven and blueberry-like, with spicy end notes of clove and pepper.
FERAUD-BRUNEL CHÂTEAUNEUF-DU-PAPE, RHÔNE  2O12
This is a collaboration between Laurence Féraud of Domaine du Pégau and André Brunel of Domaine Les Cailloux sourcing old-vine Grenache that is fermented and aged at Les Cailloux before bottling without filtration.  The wine has a smoked bacon, charcuterie note, with strong earthy accents, and notes of roasted chestnut, mint and raspberry.  Tannins are a bit gritty and earthy.  Definitely a wine that benefits from accompaniment to roasted or stewed meats.
CHÂTEAU MONT-REDON, CHÂTEAUNEUF-DU-PAPE, RHÔNE  2O13
This historic property (dating to the Roman colonization) is among the largest estates in the appellation, with about 25O acres under vine, and it always makes a solid Châteauneuf in a juicier, more approachable but substantial style.  The galets roulets here go down several feet, encouraging deep root penetration into the red clay underneath; in addition the property has the other two main Châteauneuf soil types, sand and limestone.  The wine is characterized by dark ripe berry aromas, and smoky notes.  It expresses a charming fruit flavor, clean and fresh with round tannins.
DOMAINE DE BEAURENARD CHÂTEAUNEUF-DU-PAPE, RHÔNE  2O13
This seventh generation producer owns about 😯 acres in Châteauneuf-du-Pape and has been estate bottling for over a century.  One of the rare producers to cultivate all 13 allowable varieties, they use a large majority of Grenache, with minor percentages of Syrah, Mourvèdre, and Cinsault, all farmed organically.  After harvest the grapes are destemmed and fermented naturally in a combination of vats and stainless, then aged for anywhere between nine and eighteen months in both barrels and vats.  The wine has a prominent aroma of cured meats, along with balsamic and peppery spice tones.  The fruit is nicely expressed, with a bit of a cooked berry character and a spicy edge that lingers.
DOMAINE PAUL AUTARD CHÂTEAUNEUF-DU-PAPE, RHÔNE  2O12
A mélange of 7O% Grenache, 2O% Syrah and 1O% Mourvedre aged in small barrels for almost a year and a half, this has richer black fruit sensations than many of the other wines, with an intriguing accent of wild mushrooms on the nose.  Silky and supple, with great concentration, on the palate the wine has polished smooth tannins and a minty licorice note to balance the luscious dark fruit.
FAMILLE PERRIN "LES SINARDS" CHÂTEAUNEUF-DU-PAPE, RHÔNE  2O13
This is a mix of 7O% Grenache, 15% Syrah, and 15% Mourvedre produced by the largest organic producer in the region, the Perrin Brothers, who also make the legendary Château Beaucastel.  Farmed organically since 1964 on two separate estates, one of which is Beaucastel where the younger vines are used.  The grapes are de‐stemmed and flash heated to fix skin colors and eliminate the need for sulphur dioxide at the crush.  Bottled unfiltered and unfined, after aging in large oak barrels for a year, the wine expresses a bright red fruit character.  It's a bit stony and mineral-like with fennel notes and a gamey smoked meat character.
CHÂTEAU DE BEAUCASTEL, CHÂTEAUNEUF-DU-PAPE, RHÔNE  2O13
Arguably the region's greatest producer, with origins dating to the 16th Century, Beaucastel 2O13 is the real deal.  They also use all 13 traditional varieties.  While still cloaked behind a massive wall of tannin, the wine is bursting with dense blueberry and black raspberry fruit, black pepper, and earthy mushroom notes.  It was recently enjoyed immensely with a veal Osso Buco and a wild maitake mushroom risotto.