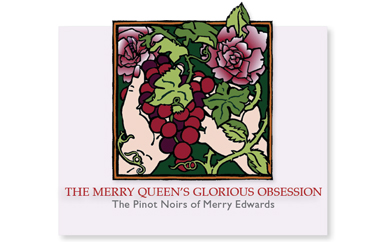 THE MERRY QUEEN'S GLORIOUS OBSESSION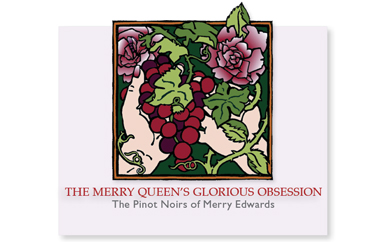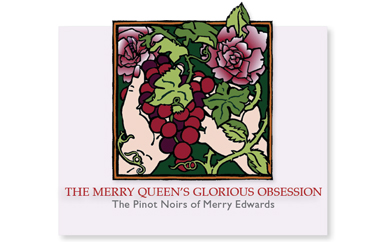 by HARVEY FINKEL
FROM THE HIGHLANDS section of her native Newton, Massachusetts, to California's Russian River Valley, from infant commoner to dubbed reigning Queen of Pinot Noir, much-honored Meredith Edwards, widely called "Merry,"ù evinces growing confidence and competence through her bottled progeny.
We can trace the steppingstones: a teenager cooking with wine in an otherwise wineless home; home wine and beer making while at college; degrees in physiology at UCal Berkeley, then food science/enology at UCal Davis; a glass-ceiling-cracking winemaker in 1974 at the revered Mount Eden Vineyards in the Santa Cruz Mountains, where she and Pinot Noir first danced together; a stage in Burgundy; memorable successes at Matanzas Creek Winery, her entrance to the Russian River Valley in 1977; sojourns at Merry Vintners and Laurier Winery; consultancies in California and Oregon; and, finally, near the end of the century her own Pinot Noir vineyards and winery. Mentors along the way have included Maynard Amerine, Richard Graff, Harold Olmo, and Joe Swan.
Merry, along with her husband Ken Coopersmith, and an array of her wines, did me the honor of a visit seven years ago. I decided it was again time for a thoughtful look and taste. Although her wines are largely sold at the winery and at restaurants, some find their way into the Massachusetts retail market, and many discerning restaurants here feature them on their wine lists. The prices listed later on are retail at the winery. They would be higher in this market.
Merry's own words about Pinot Noir are illuminating. She calls it "my glorious obsession . . . pinot noir "ì the Heartbreak Grape, Pinot Nero . . . Pinot Negro, Sp√§tburgunder and Red Burgundy are all part of the Noirien family of grapes. This very old wine variety, early on called Morillon Noir, is in all probability a selection made from wild vines millennia ago. It's highly prone to mutation, as evidenced by the more than 1OO individual clones that exist today. It has morphed into white varietals, including Pinot Gris and Pinot Blanc. In fact, it behaves more like a white wine than a red wine with its intensely perfumed aroma, relatively low color and modest tannin content when compared to any other red grape varietal. Its versatility with food is also a unique attribute not shared by others . . . The one constant trait is the capricious personality of this grape "ì graceful, demanding, charming, maddening "ì a true chameleon."ù To these characteristics I would add delicacy and transparency.
Merry, truly vineyard-focused, believes in letting a wine reflect its place of origin. She was attracted to the cooler reaches of the Russian River Valley by its cool temperatures with morning fog, which conserves enlivening acidity, its wide day-night temperature swings (4O-50∞F), which encourage flavorful, healthful, preservative polyphenol production, and its deep, sandy, shell-studded soil, which provides excellent drainage. She concentrates on fitting the Pinot Noir clone to its growing site. She and Ken are committed to sustainability practices. She is also concentrating on precision in the timing of various vineyard practices.
The soils are largely sandy loams. Vines are trained on vertical trellises, mostly closely spaced 5×8 feet. After their first land acquisition in 1996, Merry and Ken found themselves farming 54 acres of Pinot Noir by 2O1O, in addition to a few long-term purchasing contracts.
Farming and problems are two sides of the same coin, even in California. Particular difficulties include restrictions limiting necessary foreign workers, drought, and destructive Pierce's disease, whose insect vector, the blue-green sharpshooter, has proliferated as a result of climate change. This pest introduces the disease bacterium, Xlella fastidiosa, while sucking and filtering a large volume of sap, then forcibly expelling a stream of tiny droplets, thus earning its common name.
In what Edwards has called the "m√©thode √† l'ancienne"ù, she ferments in small open-top tanks, purging the head spaces of air with carbon dioxide of dry-ice pellets while punching down five times daily after an extended cold soak (up to seven days) to extract color and flavor yet gentling the tannins. She adds 25-3O percent whole clusters. The Pinot Noirs spend ten months in Burgundian oak barrels, largely new. Trials let each wine decide which type of barrel it favors.
In the recently released (November) 2O14 vintage, 14,385 cases of bottles and magnums of Pinot Noir were produced: two regional blends; six single-vineyard wines, all from the Russian River Valley; and one special commemorative cuvee. We'll taste those that have been available in Massachusetts. The winery also produces a barrel-fermented Sauvignon Blanc (95OO cases in 2O15), an occasional late-harvest Sauvignon Blanc, a superb single-vineyard (Olivet Lane) Chardonnay, and a late-disgorged sparkling wine. The Pinot Noirs exhibit a civilized version of exuberant Californian fruit combined with deep and complex restraint and elegance influenced by judicious use of French oak. They age gracefully.
NOTES ON MERRY EDWARDS
2O14 PINOT NOIRS
SONOMA COAST
Made from 18 lots from eight very cool, windy, foggy, marine-influenced vineyards. A mixture of clones. 32O5 cases produced. Floral-fruity nose, with raspberry-strawberry breaking through. Seamless, balanced. Mouth follows through. Nice acidity. Very long. $45
RUSSIAN RIVER VALLEY
Blend of a mixture of clones from most of the estate's properties. 5655 cases. Darker, deeper, riper fruit in nose and mouth. Slightly more tannic. Acidity less in the forefront. Long finish. $48
GEORGANNE
Just over seven acres, planted in 2OO6 with UCD 37 clone (also known as the Merry Edwards Selection). The youngest of the vineyards. 545 cases. More reserved in nose and mouth, and more elegant. Developing a finish. Needs aging. What's showing thus far is good. $63
MEREDITH ESTATE
The senior vineyard (planted 1998). Twenty planted acres of a mixture of clones. 1265 cases. Reserved, ripe, complex berry nose and mouth. $63
KOPP RANCH
A mixture of clones planted on 26 acres between 1989 and 1999. 1O65 cases. Fine nose, hinting raspberry. Smooth and suave mouth feel. Delicious fruit. Very long. $66
COOPERSMITH
UCD 37 planted 6.5 acres in 2OO1. 865 cases. Site of the winery. Dark in color. Fragrant and enticing. Complex and ripe. Long and balanced. $66
COOPERSMITH 2OO6
To telescope time, I pulled this bottle from my own cellar. Variegated fruit and spice, yet settled. Good length. Still has time "ì there's no sign of the downhill slope. A wine for Peking duck?