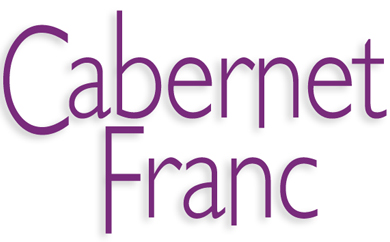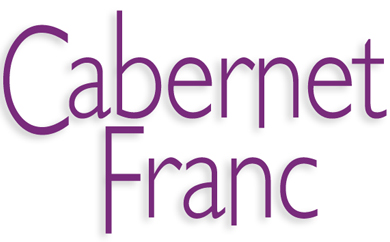 by SANDY BLOCK, MW
THE LEGENDARY 2O12 Joseph Phelps Insignia contains a mere 2% Cabernet Franc. At Far Niente the same vintage of Cabernet Sauvignon is blended with 1% Cabernet Franc. What possible difference can incorporating 1 or 2% of a particular grape variety into a wine make to its aroma or flavor? What is Cabernet Franc?
When we hear "Cabernet"ù most of us think Sauvignon, the aristocrat of red varietals that attains ultra-concentrated levels of color, body and tannin; its progenitor, Cabernet Franc, rarely comes to mind. Although remarkably flexible with food, the latter grape remains unheralded, lingering forever in the shadows. It's like the spice in a recipe, however, that is noticed only by its absence. Even when Cabernet Franc contributes anonymously and in minuscule volumes, as with the Insignia and Far Niente, or, not coincidentally in other iconic wines such as Opus One and Dominus, the grape imparts aroma, finesse, charm, and freshness, softening but not diluting a deeper red wine by adding structure. In contrast to its more storied Sauvignon relative, whose swaggering personality exudes black fruit and richness, Cabernet Franc delivers flavors more suggestive of red fruits, savory dried herbs and subtle spices.
Because the grape thrives in moderately cool climates where Cabernet Sauvignon would not quite ripen, and because it can tolerate heavier, more water retentive soils, Cabernet Franc grows extremely well in places like the Loire Valley, the Right Bank of Bordeaux and upstate New York, as well as in Stellenbosch South Africa, Washington State and suitable parts of California's North Coast. As we continue to experience somewhat of a backlash against "monster"ù reds, brimming with alcohol and lavish in oak, Cab Franc has begun to attract more underground attention. But since it still registers so marginally in public awareness, there is a cachet that its choice conveys, creating a mystique around the grape as a stand-alone varietal, which the universally popular Sauvignon doesn't possess. The best part is that Cabernet Franc generally remains moderate in price, at least in comparison to its more famous near namesake. Anyone with the requisite credit card can purchase Sauvignon, but to buy Franc you have to know something.
The following wines, recently tasted blind, are from a variety of origins. Several originate in the Loire. The magical little village of Chinon in Touraine is the site of vineyards ranging along the banks of the River Vienne, a tributary of the Loire. Known locally by the grape name Breton (indicating its northern origins), Chinon's expression of Cabernet Franc is a versatile, multi-layered red wine with grace and elegance, if you can allow yourself to even imagine these qualities pertaining to a grape with the word Cabernet in its name. For me, Chinon is almost always a good choice for its precision and freshness. The best examples combine an intriguing minerally note with silky textures.
Not that Cabernet Franc is easy to grow. It's sensitive to excessive sunlight, and certainly to overcropping, and it does not take well to rich fertile soils. On the positive side, Cabernet Franc expresses terroir somewhat transparently, so there are many variations of its generally harmonious flavor profile depending on where it is grown. The grape seems to do best in medium to low fertility rocky soils (to build concentration and provide drainage), and it has a special affinity to chalk and calcium, which imparts refreshing acids. The following are listed in ascending order of preference.
DOMAINE GROSBOIS CUVEE CUISINE DE MA MERE CHINON 2O15
This is a lighter, softer textured rendition that has a leafy, green herb and soft red berry fruit personality. It's got the mellow acidity of the ripe 2O15 vintage, with a slightly bitter root vegetable finish. A red wine with extremely moderate tannins for delicate fish or vegetarian preparations.
DOMAINE DES RUETTES SAUMUR-CHAMPIGNY 2O15
Much of the Cabernet Franc that is grown in Anjou (closer to the Atlantic than Touraine) does not achieve enough ripeness to be made into a table wine, so it creates the base for the region's traditional method sparkling wines. Generally the table wines here tend to be less distinctive and to show less fruit extract than those from Touraine, but in warm vintages like 2O15 they can be quite round and charming. This Domaine's 2O15 is raspberry scented, with a fresh, tart, herbally scented red fruit flavor. Great as an aperitif.
DOMAINE DE LA NOBLAIE LES TEMPS DE CERISES CHINON 2O14
From one of the oldest family estates in Chinon with 45 hillside acres in the town of Ligré, Noblaie perches at one of the highest altitudes in the area. The wine is floral, with red raspberry fruit, ample minerality and juicy tart berry flavors. Clean and racy, it shows bright, sage and oregano-like savoriness in the finish. A good choice for herb-rubbed roast chicken.
RAVINES FINGER LAKES 2O14
Grown on the banks of Seneca Lake in upstate New York, this is all about the nose and the finish, which are both low key but lingering. Close in style to the Loire wines with signature notes of dill and dried thyme, but creamier and smoother, it also shows a combination of black tea, mushroom and coffee-like aromatics. Proprietor Morton Hallgren makes a nicely balanced, restrained but slightly more assertive style of Cab Franc, with additional notes of charcuterie, black olive and dark raspberry. An ideal match with grilled salmon or trout.
JEAN-MAURICE RAFFAULT LES GALUCHES CHINON 2O15
Raffault fashions a spicier style Chinon, with some pomegranate, rhubarb, fennel and earthy red berry characters. Clean, vibrant, a bit stony, with lively peppery notes, this medium bodied mouth-watering Chinon makes a nice partner for grilled sausages.
ALEXANDER VALLEY VINEYARDS ALEXANDER VALLEY 2O14
A Sonoma County wine with smoky, ripe, tobacco and earth notes predominating, it's much milder in acid than the French versions. There are minty, plum-like, cola and cedar notes, with intense earthy minerality. Cab Franc retains acidity in these warm environs, and though this is fuller in body, with a bit of tannin, it's not so overpowering as to drown out the flavors of grilled swordfish with an olive tapenade.
LANG & REED NORTH COAST 2O13
This has the full herb and bell pepper aromatic profile of its Cabernet DNA. A blend of Lake County, Sonoma and a little Napa fruit, it tastes chewy and ripe compared to the French wines, with stronger extract, medium tannins, and bold, savory bitter chocolate notes on the finish. Cab Franc for lamb with rosemary.
ANDREW WILL COLUMBIA VALLEY, WASHINGTON 2O14
From a vineyard planted in 2OO5 in the heart of the Horse Heaven Hills, on a sloping bluff high above the Columbia River, this has a dark, warm, richer middle palate profile, with intense stoniness, black raspberry and a cocoa-like note on the finish. A big Cab Franc for hearty fare. It's also ageable.
DOMAIN LE GRAND BOUQUETEAU CHINON 2O14
This wine has it all: tobacco, black olive, earth, jammy red and black cherries, licorice, and above all freshness. It's remarkably inviting, with enough spice to keep the salivary juices flowing, yet so satisfying that it makes a nice drink on its own. An all-purpose Chinon for before dinner, a first course, or any texture of fish or poultry.
CHATEAU COUDRAY MONTPENSIER CHINON 2O14
This wine's tomato-like essence, floral violet notes and brilliant acidity, make it irresistible before you can even take your first sip. If winemakers often say that Cabernet Franc is prized for its aromatic complexity, this is what they are talking about. You can discern the aforementioned tomato and violet, along with green pepper, boysenberry, clove, cassis, and espresso. Soft and smooth, with layered extracts of black and red fruit. Would be wonderful with a simply grilled steak.
PAUMANOK NORTH FORK, LONG ISLAND 2O14
This is the most enjoyable young Cabernet Franc I've had in quite a while. Long Island wines don't make it out of the New York area often enough, but a recent experience with a 1999 Cabernet Franc from one of Paumanok's neighbors, was enough to convince me that this is a shame. Produced by winemaker/owner Kareem Massoud, this is ripe, yet sharply focused, and well-balanced with ample acidity. It offers a palate of black raspberry jam, mint, moderately strong tannins and lush velvety textures. Made with the addition of 19% Cabernet Sauvignon and 2% Merlot, this is world class, and worth a special search.