THE CLEOPATRA CHAMPAGNE COCKTAIL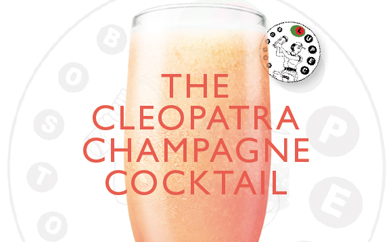 by PINK LADY
IT'S EASY TO FEEL the winter doldrums when February rolls around here in New England, so we recommend a little armchair traveling, courtesy of our favorite cocktail books. And we can hardly imagine a better way to lift the spirits than with Champagne, mixed into a classic cocktail of course. This month we're sweet on The Cleopatra Champagne Cocktail one we discovered in the new-old tome, The Waldorf Astoria Bar Book by Frank Caiafa. It's pink, too, which makes it a lovely selection for a Valentine's Day toast, if you're into that sort of thing.
Grab your mixing glass and be transported to a bygone era, when fashionable and well-heeled guests strutted the marble hallways that connected the Waldorf to the Astoria earning it the name Peacock Alley. The opulent hotel is home to so many firsts: the first hotel to open a rooftop garden, which doubled as an ice-skating rink in the winter; the first to employ female floor clerks; the first to open a ballroom of its grandeur and size. Oscar Tschirky, known as "Oscar of the Waldorf"ù, the Maitre d'h√¥tel from its opening in 1893 to his semi-retirement in 1943, is credited with innovating the use of a red velvet rope for guests to queue behind. Red Velvet Cake was also invented here.
It is unclear whether The Cleopatra Champagne Cocktail was actually invented at the Waldorf: "This is a complex cocktail often attributed to the Old Hotel,"ù writes Caiafa, though a recipe appears in neither of the books penned by his predecessors. He recommends it for celebration in any case: "It's worth the trouble and the inclusion of the high tone ingredients."ù
So are we, and so, dear readers, are you.
THE CLEOPATRA CHAMPAGNE COCKTAIL
4 ounces of Gosset Brut Champagne
3/4 ounce of Boulard Grande Solange VSOP Calvados
or Laird's 7.5-Year-Old Apple Brandy (chilled)
1/4 ounce of Benedictine
1/4 ounce of Grand Marnier
1 bar spoon (or 1/8 ounce of Campari)
Add Champagne to a flute or coupe.
Add all other ingredients to a mixing glass.
Add ice and stir briefly to integrate and chill.
Slowly strain into prepared flute or coupe.
Twist lemon peels to release oil then discard.