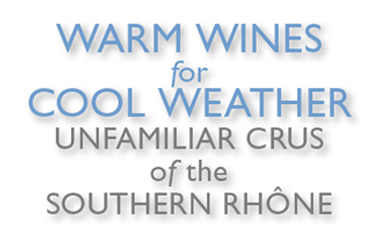 WARM WINES for COOL WEATHER – UNFAMILIAR CRUS of the SOUTHERN RHÔNE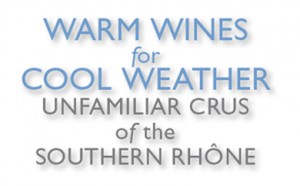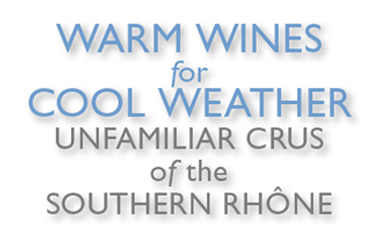 GENEROUS RED WINE, well suited to this season, are the characteristic products of the Southern Rhône.
The wines of this vast region are distinguished from those of the smaller, narrower, more contained
Northern Rhône, also a primarily red-wine producer, by a forefront of ripe fruit and a lavish lashing of alcohol.
---
ARTICLE BY HARVEY FINKEL
The Southern Rhône is warm – distinctly Mediterranean.  It is drier and sunnier than the north.  Rather than predominantly the yield of a single grape variety –  syrah – the wines are blends, chiefly of grenache and supplemented by syrah and mourvèdre, plus several others – including diminishing contributions of cinsault and carignan.  So powerful is grenache's alcohol generator, that its excess is beginning to be a problem
Vines were brought here by the Greeks around 6OO BCE, and viticulture expanded under Roman rule 5OO years later.  The grape varieties came from various sources.  The dominant grenache originated in Spain, there called garnacha.  Syrah probably arose locally.  Soils are mixed.
The classification and rules of engagement of the wines are neither as simple nor straightforward as in the Northern Rhône.  As I explored, with the help of the learned Ross Wassermann of the Teuwen agency, I expected an orderly system that would provide a logical framework.  Aren't the French particularly proud of their precision, their logic?  (Almost the first thing I was taught in freshman French eons ago was, "Ce qui n'est pas clair n'est pas français.")  Well, it ain't so here.  Almost all that's "clair" is the emphasis on grenache, and, well behind, syrah and mourvèdre weakly encouraged.  All else seems vague and varied.  But the burdensome bureaucracy doesn't diminish the lip-smacking wines.
Amid the sea of Côtes du Rhône and Côtes du Rhône Villages, especially in the southeast, lie a few villages that have been elevated – given the right to appellations of their own.  These are ranked as *crus.  Theoretically, their terroirs are superior.  I don't believe, however, that the totality of vines of a given so-recognized village is likely to rate the exaltation, but that specific sites do, because of both the character of the site itself and the skill of whoever is managing the property.  The first of the crus, in time, in prestige and in price, is Châteauneuf-du-Pape, certified in 1933.  Gigondas was promoted in 1971, several other villages more recently.  The other crus of the southern Rhône are Beaumes de Venise, Rasteau (both of which are also classified for vin doux naturel, the fortified sweet muscat), Lirac, Vacqueyras, Vinsobres (lovely oxymoron), and, only for rosé, Tavel.  Ventoux and Lubéron (formerly, respectively, Côtes du Ventoux and Côtes du Lubéron) might be said to stand in the Rhône with toes in Provence.  They are considered part of the Rhône and have their own appellations, but are not designated as crus because they are not located within the delineated Côtes du Rhône area.  I think.
The appellations that are today's focus are much less expensive than Châteauneuf-du-Pape, and are not well known.  Their cépages vary: typically 5O to 😯 percent grenache, roughly 2O percent syrah and/or mourvèdre.  Some produce a little white wine and rosé.  Fewer make the Muscat sweets.  Reds constitute more than 9O percent of production.  Many growers sell their fruit to cooperatives.  Some are independent and self-contained.
A few properties are owned by well-known négociants of better-known appellations.  As a class, these villages can provide affordable hearty red wines for your cool-weather meals.
---
WINE NOTES
VINSOBRES
LES CORNUDS 2O12
FAMILLE PERRIN
An outpost of the accomplished Perrins of Château Beaucastel fame.  Grenache and syrah vinified separately in stainless steel, then married in large oak casks.  The Syrah spends some time in one-year-old barrels.
Alcohol 14.5 percent.  Smells of caramel over raspberry fruit.  Nicely knit and quite long.
Has class.  $19
VENTOUX
DOMAINE de FONDRÈCHE 2O13
NANOU BARTHÉLEMY-SEBASTIEN VINCENTI
Grenache 5O percent, syrah 4O, mourvèdre 1O, organically grown on the slopes of Mount Ventoux, that notorious stage of the Tour de France.  One year on lees.
Alcohol 14 percent.  Smells and tastes of dark raspberries.  Well balanced and long.  Holds its quality without undue rusticity.  $16
VACQUEYRAS
SEIGNEUR de LAURIS VIEILLES VIGNES 2O12 ARNOUX & FILS
Grenache 7O percent, syrah 3O, from 5O-year-old vines.  Matured 18 months in foudres, with small portions in two-year-old barrels.
Alcohol 14.5 percent.  Not the berries-on-sleeve style, but more intense, complex and of serious mien.  $2O
LUBERON
DR 2O13
FRANÇOIS DAUVERGNE
& JEAN-FRANÇOIS RANVIER
Two-thirds Syrah, one-third Grenache.  Grown at 3OO meter elevation.
Alcohol 13.2 percent.  Light, graceful, rather delicious raspberry fruit.  Not for long cellaring.  $11
*"Cairanne was promoted to cru rank in mid-February of this year."