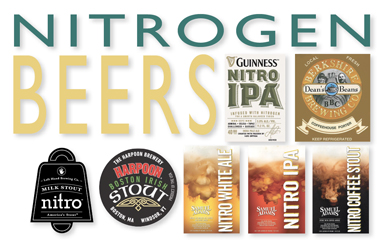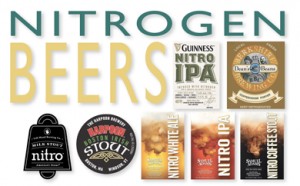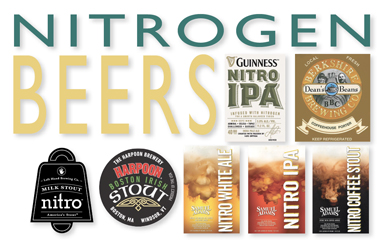 ARTICLE BY ANDY CROUCH
GUINNESS STOUT may be Ireland's most popular beer by a distance, but it is the brand's signature draft presentation that has long set it apart from competitor stouts.  Whether presented on tap at a bar or at home through a widget-aided can, the secret behind the beer's textured appearance and creamy mouthfeel lies in the use of nitrogen has.  Often referred to as nitro beers, these fun methods of beer distribution are beginning to make appearances in beers beyond the prototypical dry Irish stout, including many American craft beer styles.
Beer contains a substantial mixture of carbon dioxide, which is used to both protect the beer against the introduction of oxygen and to aid in the texture of dispensed product.  Beers – such as Guinness Stout draft and cans – add nitrogen, which is largely insoluble in a liquid such as beer.  The percentage used can radically change the flavor, aroma and mouthfeel of the beer in which is introduced.  Some bars use a higher mixture of nitrogen gas in their draft systems resulting in a more controlled pouring of the beer – a method often derided as softening the beer by many beer nerds.
Beers poured through nitrogen have tighter carbonation that gives off a texture of familiar creaminess – again, such as in Guinness draft – along with less acidic or carbonation bite.
Beyond the flavor attributes that come with adding nitrogen, the presentation of a draft nitro beer, with its beautiful cascades of almost ethereally suspended bubbles, catches the eye of any consumer.  Guinness has long successfully marketed this presentation as being key to its flagship stout business, which it says requires a six-step ritual that takes "exactly" 119.5 seconds.
In the United States, craft brewers have been slow to employ nitrogen.  One early entrant into the space was the Left Hand Brewing Company of Longmont, Colorado.  Left Hand's Milk Stout has been a staple in the brewery's lineup for more than a decade,
In New England only a handful of breweries have experimented with nitrogen in their beers, most notably among them the Berkshire Brewing Company.  Berkshire's Coffeehouse Porter is a frequent site in bars around the Boston area and is often dispensed by nitro, occasionally replacing a Guinness handle.  The rich, flavorful dark beer uses the brewery's Drayman's Porter as its base beer and infuses Dean's Beans organic coffee into the final beer.  The resulting beer is one of New England's classics, with a potent cold coffee nose and flavor.  The use of nitrogen to dispense the beer adds the usual creaminess and mellows the beer's more pronounced bitter notes.
Local brewer Harpoon has also experimented with nitrogen beers, eventually launching its own stout to compete with Guinness.  The beer is a pleasant cousin to the familiar dry Irish stout experience one gets with Guinness, with a slightly amped up roasted malt character.
Beyond these draft offerings, however, few craft brewers have invested the time and resources necessary to understand the particular challenges in producing and distributing nitrogenated packaged beer.  One recent exception is Boston Beer Company, which is currently moving into the nitrogenated beer space.  A longtime opponent of canned craft beer, going so far as to add it to a list of prohibited acts under its "Beer Drinker's Bill of Rights", distributed in 2OO5, Boston Beer finally entered the canned beer market in 2O13.  The company followed up on that offering with additional canned offerings, including its recently released Rebel Raw, an unfiltered double IPA in the vein of Heady Topper, that the brewer wants pulled from store shelves within 35 days if it does not sell through to consumers.
Boston Beer is now out with a line of nitro beers, largely available in canned form that will offer consumers around the country an opportunity to try new styles in the traditional presentation.  Under the banner of the Samuel Adams Nitro Project, the first releases will see Nitro White Ale, Nitro IPA and Nitro Coffee Stout.  The brewery reports having tried a variety of non-traditional styles with nitrogen before settling on these first three.
"We started experimenting with nitro beers in the mid 199Os when we brewed a Boston Cream Ale and over the years, I'd estimate we brewed more than 5O beer styles and worked with 2OO recipes to ultimately create these three unique beers," said founder Jim Koch in a release.  "We quickly discovered that you can't just put any beer on nitro.  We needed to develop recipes where nitrogen was the unexpected fifth ingredient and brought out the desired flavor profile of the brew."
The brewery had some challenges in finding the right styles to pair with nitrogen.  Koch cites getting the perceived bitterness in IPA right, where the absence of carbonation reduces said bitterness by cutting acidity, so brewers responded by substantially increasing the amount of hops.  The resulting beer offers the same smooth, creamy experience one would expect with a nitrogenated product, but with a pleasant and more fully flavored hop experience than in competitor products, such as Guinness's Nitro IPA.
The Nitro White Ale will be the first of the series to be available on draft while all of the offerings will be made available in a similar experience via 16-ounce can via a plastic widget similar to that found in Guinness packaged offerings.