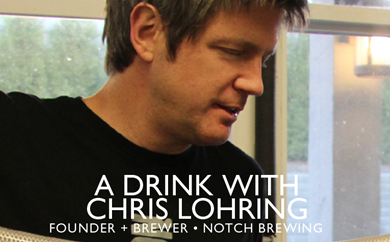 A DRINK WITH CHRIS LOHRING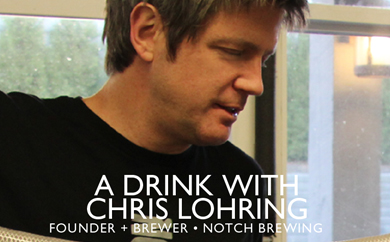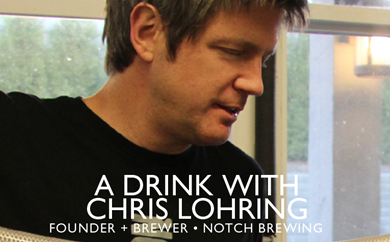 By BRANDY RAND
IN THE CROWDED FIELD of craft brewers, Chris Lohring is forging a path down the road less taken.  By focusing on brewing low-alcohol session beers – at a time when no one knew what "session" meant – Lohring took a risk that has paid off.  As an independent brewer, he has been turning out top-notch beers at shared facilities, but increased demand in the session category has allowed for him to build a home of his own.  This summer, Notch will open up its very own brewery and German-style beer garden in downtown Salem.  This much-anticipated addition to the brewpub scene will no doubt reflect the brand's hyper-focus on the customer.  Fans of Notch know it to be as real as the person brewing it – no gimmicks, no pretense – just damn good beer.
BRANDY RAND  You launched Notch in 2O1O and a lot has happened in the craft beer industry since then.  What are the biggest changes you've seen and how have they affected your business?
CHRIS LOHRING  Consumer preferences are clearly the biggest change.  Brand loyalty is gone and a constant need for new has come to the forefront.   Also, the desire from the consumer to have beers that are current and not dated.  The days of rolling out a 12 to 16 set tap list with well-known established brands – and expecting that to be compelling to the consumer – are done.  If your tap list is being directed by incentives, deals and Super Bowl trips, you are losing customers.
BR Session beer was a bit of an anomaly back then; what's it like now to be a session brewer and do consumers finally "get it"?
CL Many do get it, and they are clearly driving our growth as more consumers step away from a "strength = good" perspective and become more knowledgeable.  They understand and value beers of full flavor at a modest strength, they understand the benefit.  But there is still the machismo consumer that drinks ABV as
a badge.
BR You're opening your first official Notch Brewing facility in Salem – why now and why Salem?
CL  I started Tremont Brewery in 1993 in Charlestown.  we had no brand, no beer, no anything, but we built a brick and mortar brewery first.  We made it work, but that approach is rolling the dice and filled with risk.  With Notch I wanted to make sure we had a certain amount of volume being sold and high brand awareness before we built a brewery.  We have the volume and awareness now, and we need a home.  Salem is a really special place to me, my family has deep roots here and the community is very supportive of offbeat ventures like Notch.
BR What has the process been like?
CL We are producing an alcoholic beverage, so the process is highly regulated
and unnecessarily so.  I'll leave
it at that.
BR  What is the growth potential with the new brewery?
CL It will expand our production and we could expand into many more states if we want, but I am dogmatic about growing our local market.  In this competitive environment, take your eyes off your home base for a second and you'll be going backwards quickly.  We'll focus on Massachusetts, Maine and then New Hampshire later this year.  That will be it for a while.
BR What are you most excited about for 2O16?
CL Brewing in my own brewery again – it's been a long time since I've done that.  The creativity we will have here is unlimited.  You'll see a very large focus on German and Czech lagers brewed with  traditional methods, and as a brewer, this has me the most excited.
BR What are your most popular selling beers and what are your plans for the future . . . any new products?
CL Pils is still our number one selling beer, and as a pale lager fan that thrills me.  Left of the Dial IPA will overtake it this year, based on the huge growth we've seen.  We'll release a new year-round beer in cans (6- and 12-packs) in June, Infinite Jest, a hoppy wheat beer that we had great success as a draft only release in 2O15.
BR Explain your Single Series.
CL It's a new beer brewed every month and draft only.  You can't ignore shifts in consumer preference, and "what's new" has been influencing draft beer selection.  In accounts that constantly rotate drafts, we always have something new to offer every month.  Some are one and done, others come back each year with changes.  The Single Series will also be available in cans later in 2O16 when our Salem brewery opens.  And for a session-beer-only brewery, it's allowed us to demonstrate the wide array of styles you can brew at under 4.5%.
BR  Cans versus bottles – any opinion here as a brewer and a beer drinker?
CL Cans.  I love them as a brewer and consumer.  In Salem we will not have glass growlers, but 32-ounce cans to-go instead (known as a "crowler").
BR You have over 18,OOO Twitter followers; has social media been a big part of growing your brand?  What has been the key to making it work for you?
CL Without question – it's the great equalizer.  Larger brands cannot compete with us being ourselves.  We don't program, we live our life in beer and share it with our fans.  You can't buy that, you need to live it.
The consumer sees right through the larger brewer bull shit.  The key?  Being real.  Having a point of view.  Engaging in conversation.  Not playing it safe.  Not being contrived or obvious.  Making fun of ourselves.  Taking responsibility and ownership for everything we do.  Calling out BS.  Defending our friends.  Championing our supporters.  Being a person, not a brand.
BR What are the biggest challenges you face as a small craft brewer in trying to grow the brand?
CL The stranglehold larger brewers have on distribution channels.  When I say larger brewers, I'm not only taking about Bud, Miller, Coors, but the largest craft brewers.  Some are publicly traded, others owned by private equity, some owned by Bud or Heineken, and they have enormous power in the marketplace.
BR How has the beer drinking consumer changed since you first started in the business?
CL The fanatics, those who are into beer the most, are less fun.  Otherwise it's the same, just more of them.
BR When you aren't drinking beer, what's your go-to cocktail?
CL Rye Old Fashioned, just ask Sean at the Barrel House American Bar in Beverly!
BR What's the coolest thing happening in the world of beer right now in your opinion?
CL It's not happening yet in any great volume but it's coming . . . traditional lagers, German and Czech.  Our little brewery in Salem hopes to be a part of it.
BR If Notch was a movie, song, or book, what would the title be?
CL Left of the Dial!