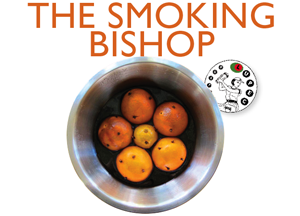 IF THERE was ever a time to congregate around a celebratory bowl of alcohol it's now, with the holidays and their endless pageant of festive occasions upon us. We've extolled the virtues of punch in this column before: there is no better way to enjoy your own party while tending to guests than to serve them all one big cocktail to which they can help themselves. And since there's also something remarkably festive about serving a hot punch in cold weather, we offer you The Smoking Bishop.
Made with port and served warm, this was all the rage amongst upper-class Victorians and enjoyed by Charles Dickens, who had a preference for sweet wine punches. The celebratory tipple even makes a famous cameo in the final scenes of A Christmas Carol when Ebenezer Scrooge, transformed after traipsing through graveyards with the ghost of Christmas past, tells Bob Crachit: "I'll raise your salary, and endeavor to assist your struggling family, and we will discuss your affairs this very afternoon, over a Christmas bowl of Smoking Bishop, Bob!"
As for the clerical appellation, according to historian Andrea Broomfield, author of Food & Cooking in Victorian England: A History,
the name harks back to medieval origins, when it was served "at guildhalls and university banquets in bowls resembling a bishop's miter."
In fact, there is a whole family of recipe variations which continue this theme: swap port for Burgundy
and your Smoking Bishop becomes a Smoking Pope, for example.
We recommend the recipe for festive gatherings and perhaps as a subtle hint as you raise a glass with your own boss this holiday season: may Bob Crachit's good fortune shine upon you. Cin-cin!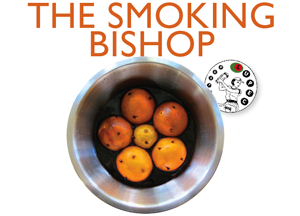 1 bottle of ruby port + 1 cup of water + 1 medium orange + 2O whole cloves + 2 ounces of sugar
pinch each fresh grated ginger, fresh ground nutmeg and fresh ground allspice + 4 to 6 ounces of cognac (optional)
wash the orange and pierce the skin with the cloves, leaving the buds protruding from the skin. Continue until the orange is well studded with cloves.
place the orange on a baking dish and bake in a preheated 35O-degree oven until the skin is lightly toasted, 6O to 9O minutes.
remove from oven and let cool. heat port and water in a saucepan until gently simmering. stir in sugar and spices.
cut the orange into slices and add with its juice to the pan of port (or get fancy and put it all in a warmed bowl) along with cognac, if using. stir and serve.