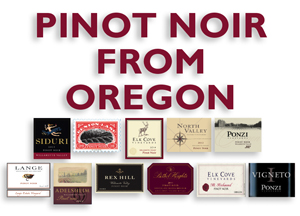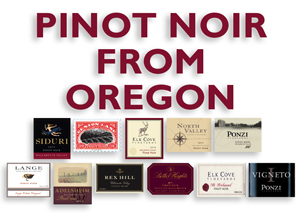 PINOT NOIR won't grow just anywhere. Genetically unstable, it's susceptible to frost, rot and over cropping. It requires a long, cool, but sunny and dry growing season for its personality to develop. I was on a panel recently the topic of which was Demystifying Wine; that's well and good, I said, but let's not forget Pinot Noir.
It is fundamentally a wine of mystery, it defies reduction to a formula. A good measure of Pinot's appeal is how distinctive each expression tastes, how it can arise only from one particular plot of land, from what we call the Terroir. The net net: in a world that prizes certainty, it's very unpredictable. If grown in the wrong place, if handled improperly, without attention to detail, its taste is problematic.
Knowing this, it's easy for even casual wine enthusiasts to grasp why Oregon and what's been called the heartbreak grape are a natural fit: the northwestern state's marginal almost inhospitable climate and the quirky grape variety's need for a long, cool ripening cycle make perfect sense. Oregon's northern Willamette Valley is always part of any discussion regarding the best sites in the US to plant Pinot Noir. Its image as the home of small scale artisans battling the elements and hand tending their Pinot vines on rocky infertile soils is a largely accurate depiction. Until very recently corporate ownership in the Valley has been non-existent and most of the wines originating there have been made by maverick devotees of this capricious grape. Only 5 of the state's 55O wineries make more than 5O,OOO cases of wine.
Oregon sits at the 45th parallel, halfway between the Equator and the Poles. Its northern location means that between March and September, like Burgundy, the state experiences an hour and a half more daylight on average than the Napa Valley; the difference is that during this critical part of the year there's more sun and less rain than in Burgundy. Most importantly, the weather remains relatively dry until the end of September.
The Willamette, a 11O mile long, 3O to 4O mile wide expanse nestled between the Coastal and the Cascade mountain ranges, is home to 19,OOO acres of Pinot Noir. Its soils are a combination of deep marine sandstone sediments (going back to the epoch 35 to 5O million years ago when the area was under the ocean), and volcanic basalt deposits with silty sands, loams and sometimes iron rich clays. Topsoils are thin. To ripen Pinot Noir in this environment generally requires 2O to 25 human touches between each row of vines throughout the growing season, to prune, adjust the canopy and harvest.
Interestingly enough, the Willamette experiences less mildew and rot than in California vineyards because it's cooler and drier, and also windy in places, so rot potential is somewhat reduced. In terms of style, the Pinots tend to be less about brightness and fruit ripeness and more about subtlety, layers of flavor and understatement. Also unlike California, where the most coastal influenced vineyards are prized for quality Pinot production, the Willamette's best vineyards tend to be the sunniest, warmest, driest sites. Average yields in the region are quite low (2.2 tons per acre) compared to California.
It's impossible to discuss the Willamette's prominence with Pinot Noir without mentioning the improved clonal situation that resulted from the introduction of so called "Dijon clones" from Burgundy in the last twenty to thirty years. They produce less overtly acidic Pinot with smaller clusters, deeper colors, softer textures, and subtler scents of cherry, plum and smoky earthy aromas than the original large-clustered clones brought up from California or, interestingly enough, from Switzerland.
What are the main characteristics one expects from Willamette Pinot? In my experience, they're halfway between the ripeness of California and the edgy gaminess of Burgundy. Oregon rarely produces Pinot Noir with explosive flavors. Its emerging aesthetic appears to be more about texture and herb nuances and tart red fruit flavors and length, rather than opulent sensuality. Within these parameters the best wines strike me as having a concentration, but also a restraint, that marks them as uniquely Willamette. There are a number of good vintages in the pipeline, with everyone raving about the 2O14s, some of which are beginning to hit the market.
THE following wines represent the best I've recently tasted – mostly in a blind context. These wines are presented in ascending order of my preference.
SIDURI WILLAMETTE VALLEY 2O13
Made by two Texans who have been producing Pinot Noir in Sonoma for twenty years, this wine shows the character of the 2O13 vintage: fragrant and floral, with subtlety, earthiness and a more graceful touch. Atypically there were significant downpours in 2O13 during the month of September. Acids are a bit higher than usual, but the Siduri touch is evident here: savory, with balsamic notes, a subtle earthiness and with good peppery intensity. A wine of charm and elegance.
BENTON LANE WILLAMETTE VALLEY 2O12
Produced by one of the many Pinot-obsessed refugees who headed north from California in a quest for the perfect Pinot Noir terroir, Benton Lane makes a lovely 2O12, with earthy and violet scents. Red cherry-like, smoky, with beet root-like flavors, this 2O12 is a savory mouthful of tart minerally fruit that is built for salmon.
ELK COVE WILLAMETTE VALLEY 2O14
This is one of the first examples I've tasted of the 2O14 vintage, which constituted one of the warmest and earliest on record. If this Elk Cove's Willamette bottling is representative, the fruit flavors to expect from 2O14 are unusually ripe and engaging. Pinot Noir should never be judged by its depth of color, or lack thereof. Shaded rather pale, the Elk Cove nonetheless tastes earthy, bright and very satisfying, with juicy bright cherry notes. Its engaging aromas are redolent of sweet herbs, violet, strawberry, and clove. Lush and mellow on the palate, the tannins are low, the fruit expansive. A rounded, satisfying young wine, with a mineral tang in the finish, it would serve as a good backdrop to more assertive spicy fare.
SOTER VINEYARDS "NORTH VALLEY" WILLAMETTE VALLEY 2O12
Delicate and flowery, with notes of strawberry and allspice, this wine from Oregon native Tony Soter displays intense concentration as well as more somber, brooding dark cherry notes. The texture is rounded and silky and the finish lingering, with herbs and white pepper.
PONZI WILLAMETTE VALLEY 2O12
Another one of the family pioneers of the Willamette Pinot Noir industry, Ponzi's wines always strike me as a bit softer in acid and more lush, perhaps reflecting their Chehalem Mountain origins. This AVA, the northern most in Willamette experiences the full force of the cooling Pacific influence, as well as the winds of the Van Duzer Corridor, both of which combine to extend the season and create concentrated, more tannic and structured wines. This delicious Pinot is earthy, with root vegetable and smoky tobacco-like notes. It delivers a sage and olive-like nuance, with red berry fruit, a strong spice statement and a creamy texture. A wine of power and grace.
LANGE FAMILY WINERY WILLAMETTE VALLEY 2O12
Another of Oregon's small family winery that consistently makes excellent wine, but in this vintage stands out, Lange is located in the Red Hills of Dundee, where the state's Pinot Noir industry originated in the early 197Os. A north-south oriented line of hills with unique iron rich volcanic soils, the region is sheltered from cool breezes and tends to ripen grapes a bit later than elsewhere in the Valley. It produces wines that are lighter and more delicately flavored, like this beauty that is strawberry-scented and minty, with leathery, tar-like nuances. Well structured, round and minerally, this is a silky textured wine to enjoy this with slightly spicy duck or chicken preparations.
ADELSHEIM WILLAMETTE VALLEY 2O12
David Adelsheim is another of the pioneers of Willamette Pinot Noir still active, and his wine remains a benchmark of the finely structured, tart but supple style. The 2O12 is particularly good, showing an abundance of floral red cherry fruit, with accents of baking spices, licorice and plums. It's got great acid, but is also smooth and balanced with earthy notes. Very satisfying.
REX HILL WILLAMETTE VALLEY 2O12
Featuring a fragrance of fresh picked raspberries, with herb tea, mushroom and minerally undertones, the current Rex Hill Pinot reflects the underlying balance and class of the 2O12 vintage. Quite intense on the palate, with notes of cinnamon, baking spices and vanilla, this is a silky, relatively rich crowd pleaser with a lingering savory finish. Enjoyable with a wide range of fish as well as meat dishes.
BETHEL HEIGHTS "SOUTHEAST BLOCK" EOLA-AMITY HILLS 2O11
Grown by the Casteel family on a 6-acre block of 3O-year-old own rooted Pommard clone vines, this is a wine with the bright acidity and fine-grained tannins I associate with the deep mineral earthiness of this site. The fruit is bold and savory and the core of acid quite intense. The Eola-Amity Hills AVA ripens fruit earlier than the rest of Willamette on its shallow dry but well drained volcanic soils. This southern-most Willamette district experiences direct access to cool ocean winds and tends to produces edgier Pinot with a bit higher acid than other Willamette sub-regions. There's a black tea smokiness and a delicate floral perfume that this wine shows, with dried red fruits and an almost saline minerality. Quite complex and capable of aging.
ELK COVE "MOUNT RICHMOND VINEYARD" YAMHILL-CARLTON 2O13
A beautiful elegant wine from this cooler year, this shows characteristics of the far western Yamhill-Carlton AVA: herbal notes with tobacco, leather, and softer acids than the other sub-regions. I got a braised meat aroma, with forest underbrush, juicy red berries and nice minerality. Velvety in texture, ripe and fleshy, this is medium tannin wine is a great answer to critics who've labelled 2O13 a year lacking in concentration or intensity.
PONZI "IL VIGNETO," BIEZE VINEYARD EOLA-AMITY HILLS 2O13
This bottling is extraordinary in its concentration and depth of perfume. Late harvested in the latter part of October, long after the inundation of rain in September, this wine shows intense cherry, floral and peppery oregano-like notes. It is super-velvety and round, with a great core of acidity and sweet balancing fruit. Moderate in alcohol, it shows what can be done in a challenging vintage with the right attention to detail.