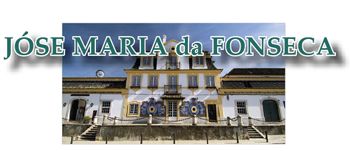 Reminiscent of Prince Henry the Navigator's dispatching explorers hither and yon from Portugal in the 15th century, thus widening European commercial horizons, Portuguese winemakers are fanning out widely of late to show their worthy wares. This was clearly evident at the 2O1O Boston Wine Expo, where they made a hit, and continued for me with the visit of Domingos Soares Franco, Senior Winemaker and Vice President of the interesting firm José Maria da Fonseca.
It is a timely emergence for Portugal, a small country that is not wealthy, but which produces a lot of wine of many types. Its political and economic troubles and the competition of larger forces had kept Portuguese wines in the shadows for most of the last century. The Portuguese language, including the grape names, is difficult for non-Portuguese speakers. On the page, it looks deceptively similar to Spanish and Italian, but try listening to or pronouncing it. Now, however, the economic downturn has stimulated consumers to look beyond the standard names for good buys of good wines, and Portugal is a prime source. The influence of Brazil's Portuguese heritage is weighty in the western hemisphere, and there is a distinctive Portuguese culture in our part of the US, much of it originating in the islands of the eastern Atlantic.
José Maria da Fonseca was established in 1834, Its attractive headquarters on the Setúbal Peninsula, an hour's drive south of Lisbon, has been a vinous magnet. I well remember my visit of some years ago. The graceful old winery, built in 1848, with its stacks of barrels of varying size, starkly contrasted with the Lancers winery just down the road, also owned by the Soares Franco family, so high tech and automated that, unique in my experience, it did not smell of wine. In addition to the wines grown in Terras do Sado of the Setúbal Peninsula, da Fonseca has reached out throughout Portugal to acquire vineyards and grapes in other regions. It owns more than 16OO acres of vineyards, and also buys grapes, must and wine. Much of the original hillside vineyards in Setúbal has been lost to urban development. Replacements tend to have sandy soil, some with limestone, rather than clay, which likely has changed the wines a bit. The company produces about twelve million bottles annually, exporting widely. Sweden and Brazil are two of its best customers.
Domingos and his older brother Antonio Soares Franco Sr., and his nephew Antonio Soares Franco Jr., are the sixth and seventh generations of the family to run the company. Domingos is the first Portuguese national graduated from UC Davis in viticulture and oenology (1981). He retains the Portuguese tradition, which is, however, enlivened by a 21st-century outlook and, I suspect, a bit of mischief.
We shall focus on those wines currently imported into the US. They are well priced, and range from popular-style, "easy-to-drink" to substantial wines to meditate on.
TWIN VINES VINHO VERDE 2OO9
Named to celebrate the twin daughters of Antonio, Jr. Thankfully not oversweetened, but lacking the genre's bracing and enticing acidity. Neutral. 45,OOO cases: 37,5OO in US. $7
PERIQUITA MOSCATO 2OO9
A riff on the 16O-year-old name derived from the extinct property in Setúbal. Dry muscats, like this, have been made in Setúbal for some time, in addition to the more traditional sweet ones. (I seem to be seeing more dry muscats everywhere lately.) Periquita means "parakeet"; Domingos says these birds were not indigenous residents of the property. The wine contains 24 percent Arinto. Dry and flavorful, though not very aromatic. A little pleasant bitter complexity. Good finish. 3O,OOO cases; 5OOO in US. $1O
PERIQUITA 2OO7 [THE RED]
Portuguese grape varieties grown in Setúbal: Castelão (used to be called "periquita", after the property) 75%, Trincadeira 15%, Aragonez 1O%. Fruity and pleasant, with touch of oak. Finishes well. Light-bodied. A world bestseller. 3OO,OOO cases; 5OOO in US. $1O
PERIQUITA RESERVA 2OO7
A delicious, ripe, long red, made from a selection of Castelão 45%, Touriga Nacional 3O% and Touriga Franca 25%, in different oak for longer (eight months). All grown in Setúbal. An excellent buy. 75,OOO cases; 2OOO in US. $16
DOMINI 2OO7
Dry red grown on da Fonseca property in Douro Superior. A blend: "Douro soup". Three months in new oak. Tastes as it should. 66OO cases; 25OO in US. $16
DOMINGOS 2OO8
Named for the winemaker by a Swedish journalist. From Touriga Nacional 6O%, Syrah 4O%, grown in Setúbal. 12 months in new French oak. Brightly flavored, modern style – echoes Domingos's California training. 1OOO cases; 5OO in US. $16
DOMINI PLUS 2OO7
From the Douro Superior property, with soil chiefly of schist. Vines average 2O years of age. Touriga Franca 6O%, Tinta Roriz (plus Aragonex, plus Tempranillo) 3O%, Touriga Nacional 1O%. 12 months in new French oak. Dark, saturated, with fine nose. Concentrated, blackberries and maybe a hint of chocolate. Long. Young, though enjoyable. Will live long and prosper. 15OO cases; 5OO in US. $4O
MOSCATEL de SETÚBAL 2OO3
The third and least known of Portugal's signature fortified dessert wines. Made from Muscat of Alexandria, grown in Setúbal for a long time. This one spent six years in cask. Very fine varietal bouquet. It is more suave, sweeter, less fruity, and probably has less acidity than I remember previous versions to be. Domingos thinks the change from clay to sandy soil may account for the changes. Still a wonderful thing. Domingos is experimenting with fortification using royal brandies. 5O,OOO cases (of 9 liters); 5OO in US. $15/375ml