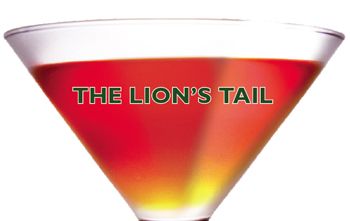 ENDANGERED COCKTAIL OF THE MONTH – THE LION'S TAIL
COCKTALE Ah, fall in New England. The leaves have begun their seasonal migration from green to vibrant shades of gold, orange and crimson, and local apples will soon make their way into crisps and pies loaded with fall spices. The ladies of LUPEC are most excited to see the flavors of fall make their way into our cocktail glass. One of our favorite ingredients for this is St. Elizabeth Allspice Dram.
Allspice liqueur originated in Jamaica and is referred to locally as Pimento Dram, after the pimento berry from which it is made. When English explorers encountered the berry, they found it to be a sensory conundrum, encompassing the flavors and aromas of cinnamon, nutmeg, mace, and clove all at once. They redubbed it Allspice. Locals used this fascinating berry to make a liqueur by soaking it in rum and sweetening it. Pimento Dram emerged as a cocktail ingredient in the 193Os. It was never a huge hit in the States but received real application during the mid-2Oth century Tiki craze when aficionados used the exotic, full flavored dram to add depth to their multi-layered potations. The importation of Pimento Dram declined as Tiki fell out of fashion.
The Haus Alpenz version of Pimento Dram debuted in 2OO8 and was christened with its Anglican name to reflect its distinctive flavor rather than evoke an image of plasticine red slivers stuffed inside cocktail olives. St. Elizabeth Allspice Dram is made in Austria using Jamaican allspice berries, raw sugar and an aromatic pot-stilled Jamaican rum. When used sparingly it adds subtle spice notes to cocktails; in larger proportions it evokes the full warm flavors of fall. It finds delightful expression in this drink, originally published in the Café Royal Cocktail Book, published in London in 1937.
THE LION'S TAIL
Adapted from the Café Royal Cocktail Book
2 ounces Bourbon
½ ounce St. Elizabeth Allspice Dram
½ ounce fresh lime juice
1 dash Angostura Bitters
shake with ice.
strain into a chilled cocktail glass.
Cin Cin!