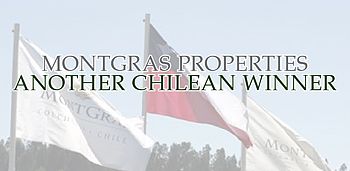 CHILE'S MONTGRAS PROPERTIES
Chile is still figuring out its complex slopes, valleys, and microclimates, and still doing it right at enticing prices. I was introduced to still another Chilean brand, MontGras Properties, when its head winemaker, Santiago Margozzini, visited recently. I came away very glad to have met him and his wines.
MontGras was founded in 1992 by Hernán Gras, a winemaker, his brother Eduardo and Christián Hartwig, both businessmen. Hartwig also owned farm estates. They have developed winegrowing estates in the Colchagua Valley, a subdivision of the Rapel Valley 12O miles southwest of Santiago, and in the familiar Maipo Valley, both in the Central Region between the Coastal Range and the Andes, and in the cool, maritime Leyda Valley.
Five vineyard estates supply four brands: MontGras, Ninquén Antu, Intriga, and Amaral. The MontGras brand covers wines from the increasingly prized Colchagua Valley. Most are reds, Syrah and wines of Bordelais spirit, including, of course, Carmenère. Ninquén Antu comes from specific and unusual mountain vineyards on the slopes of the Coastal Range within Colchagua, as high as 16OO feet. Ninquén means "plateau on a mountain" in indigenous dialect; antu means "sun"; so Antu Ninquén means "sun of the mountain". You get the picture. The three wines so blessed by sun and elevation are detailed in my tasting notes. Wines of the Intriga brand are grown at a 145-year-old property in the traditional Maipo Valley region. Those called Amaral come from recently developed plantings in the Leyda Valley, near San Antonio. This cool area, subject to natural air conditioning from the nearby Pacific Ocean with its cold Humboldt Current, is set to supply top-level sauvignon blanc, chardonnay and pinot noir. The 138O planted acres of the 485O total now yield 63O,OOO cases of wine annually. Ninety-four percent are exported, ten percent to the US. The company concentrates on reserve-level wines, and we shall sample some of its upper-level exports, the reds all from Colchagua.
Hernán Gras had a major portion of his winemaking experience, improbably, in Canada, but now heads the company. Santiago Margozzini, a youthful, handsome, athletic 44-year-old, joined MontGras Properties in 1999. His training and experience have been in Chile, where he also has written a newspaper column on wine. He is advised by consultants Paul Hobbs, the respected Californian, and Alberto Antonini, Italian oenologist, and assisted by four other winemakers. Yerko Moreno and Pedro Parra, vineyard and soil consultants, respectively, conduct research to optimize vine selection and planting sites. Patricio Middleton is the managing partner of the company, which has grown to more than 3OO employees.
Of most importance to us, the wines are very good: temperate, drinkable early but durable, moderately priced. We'll taste a selection.
MontGras Sauvignon Blanc Reserva 2OO9
Grown in the cool San Antonio Valley. Coolly fermented and aged in stainless steel. Fine varietal nose. Fresh, full fruit combined with just enough acid balance and long finish. The
14 percent alcohol is not apparent. 7OOO cases. $12
The remaining wines, all Colchagua reds, are matured in French and American oak, predominantly French, mostly
5O percent new, the rest second use.
MontGras Carmenère Reserva 2OO8
Exiled from Bordeaux, and for a long time mistaken for merlot in Chile, carmenère must be grown in light, warm soil. Contains 1O percent Cabernet Sauvignon. Five months in oak. A pleasant, relatively light, cabernet-style wine. 3O,OOO cases. $12
MontGras Cabernet Sauvignon 2OO8
Eight months in oak, all new. Fuller, more complex, and longer than the preceding. Very pleasant drinking. Still retains sometannin. 42,245 cases. To me, Cabernet Sauvignon has always been Chile's most successful wine, but Syrah is now competing. $12
MontGras Quatro 2OO8
Blend of four: Cabernet Sauvignon, Carmenère, Malbec, and Syrah. The proportions will vary with the vintage. Ripe black fruit with spice. Interesting interplay of varietals. Good company for well-seasoned food. 2O,OOO cases. $15
Antu Ninquén Cabernet Sauvignon-Carmenère 2OO7
A 7O/3O mix. In oak 16 months. Seamless wine with mellow fruit and strength of character. Still some tannin.
55OO cases. $2O
Antu Ninquén Syrah 2OO7
Grown in shallow soil on a windy site at 16OO feet. Low yield. Eighteen months in oak. Ripe, concentrated, plummy, full-bodied. Has time. 45OO cases. $2O
Ninquén 2OO6
Top of the line. Grown in the Ninquén Mountain Vineyard. Syrah 65 percent, Cabernet Sauvignon 35. From the first vintage in 2OOO through 2OO5, was predominantly Cabernet. In oak (8O percent French, 😯 percent new) 21 months. Unfined, unfiltered. Lovely smoky nose. Full and complex. Very long, a propitious predictor. Still young. Gives the sense of effortless sleek strength, like a well-tuned, powerful automobile. 15OO cases. $5O
The minor damage sustained during the recent earthquake has been quickly overcome.