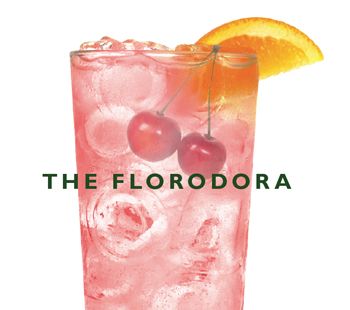 ENDANGERED COCKTAIL OF THE MONTH – THE FLORODORA
Florodora, a musical revue from London, hit it big on Broadway in 19OO. It was one of the first successful Broadway musicals of the 2Oth century, showing for 552 performances on the New York stage before touring extensively around the world. If the name didn't already cue you, the musical itself was little more than a fluffy romp, set half in Wales, half on the fictitious Philippine island of Florodora amidst a quirky feud over a local perfume factory that also happened to be riddled with romantic entanglements. The cast boasted a double sextet, half men and half women, the latter being the more popular members of the chorus. These six young maidens who all happened to be exactly the same size (5'4" tall and 13Olbs) accompanied Angela, daughter of the villainous owner of the Florodora Island, Cyrus W. Gilfain, everywhere. Originally dubbed the "English girls", they later came to be known as "the Florodora girls" and are believed to be the secret to the show's phenomenal international success.
The actresses who played the chorus girls were hot stuff, like the Pussycat Dolls of their time. More than 7O women played chorus girl roles during that first long run in New York City because suitors kept wooing these starlets from the stage. Legend has it that all six of the original "Florodora Girls" married millionaires; one even managed to snag herself a Carnegie. The Florodora girls stayed single long enough to have a cocktail named after them. As the story goes, an unnamed "pretty maiden" refused to drink anything but lemonade while rubbing shoulders with friends and fans in a New York restaurant after a show, which seriously bummed out her contemporaries. Only if presented with "something brand new" would she partake of a tipple. Barkeep Jimmy O'Brien invented the Florodora on the spot. It's a good enough drink to tip us off the wagon, too, should we ever decide to get on: A perfectly refreshing tipple to batch by the pitcher and share with friends this summer.
FLORODORA
Adapted from IMBIBE! by David Wondrich
2 teaspoons raspberry syrup
juice of 1 lime
1½ ounces Plymouth gin
Ginger ale
Orange slice and cherries for garnish
build over ice in a highball glass or stein.
add raspberry syrup, lime juice and gin.
fill the glass halfway with cracked ice.
top with ginger ale and stir to chill.
garnish with a slice of orange and a cherry.
Cin Cin!