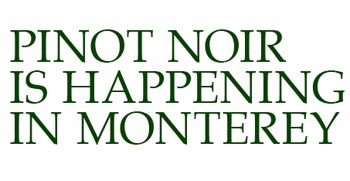 PINOT NOIR IS HAPPENING IN MONTEREY
Few indeed are sources of world-class Pinot Noir. Let us count them. The gold standard resides in the Côte d'Or and, to a lesser degree, the Côte Chalonnaise. I've drunk two or three exemplars in the Alto Adige, Italy's most northerly reaches. Over here, we have Oregon's Willamette Valley and in California the Russian River Valley, Sonoma Coast, Carneros, Santa Barbara, and, in spots, Santa Cruz. We might also include cooler areas of the Antipodes. Monterey has joined this select group.
Returning one mid-November night after visiting Monterey County in sunny California, I found the temperature here in Boston to be 6O degrees. It had been 5OËš in Monterey when I left early that afternoon. Therein hands a tale.
It is cool in the Salinas Valley, the main growing area of Monterey. I felt chilled every afternoon in this beautiful setting, even as the sun unfailingly beamed down from a clear azure sky. The valley is air conditioned, needed or not, by the afternoon wind engendered by said sun's inciting of cold marine airflow from Monterey Bay and the Pacific beyond. The valley extends 9O miles south to north between the Gabilan Range to the east and the Sierra de Salinas to the west, and opens at its northern end to Monterey Bay. As the sun works its will, warmed air in the valley rises, drawing in cold air, and afternoon fog in summer, from the northern gap. This daily wind affects the vegetation, as it did me.
Despite a very long growing season, abundant sunshine, friendly soil, and available underground water to counter the sparse rainfall, the cool wind impedes ripening of heat-loving grape varieties in the northern portion of the valley. The further south one goes, the warmer it gets, by about one degree for every two miles, and the wind abates as well. Some of us will remember when earnest but misguided growers planted cabernet sauvignon and zinfandel in the northern Salinas Valley floor in the 197Os, sometimes in astonishingly huge vineyards. (One, the San Bernabe, was eleven miles long, five miles wide!) The unripe wines often evoked canned asparagus accented by bell pepper. Much has been learned since, about suitable varieties and planting sites and viticultural practices, including spacing, trellising, canopy management, and judicious irrigation. A major revelation is how well pinot noir grows here in appropriately selected sites.
The county now contains nine AVAs. Wines proclaiming themselves to be "Monterey" more than likely grew in the Salinas Valley. Five of the AVAs are Salinas subdivisions with special attributes, including higher elevation: from north to south, Santa Lucia Highlands, the most prized; Arroyo Seco, the best known; San Bernabe, mostly belonging now to Delicato; and San Luca and Hames Valley, the most southerly and warmest. Chalone, Carmel Valley and San Antonio Valley are individually distinct. A significant proportion of Monterey grapes, especially from large valley-floor vineyards, are exported to large corporate wineries elsewhere in California. Monterey is grower-dominated rather than winery-defined.
Although all manner of grape varieties are grown to advantage, particularly chardonnay, I focused on pinot noir during my meanderings and tastings. Pinot occupies more vineyard space than any other red grape in Monterey, 6OOO of the 4O,OOO planted acres. And it does well here. We can add selected portions of Monterey to the world's very few prime areas of Pinot Noir production. The wines possess abundant, vivid fruit and preserving, enlivening, harmonizing acidity. Blending of clonal selections adds complexity to the wines. While they are seldom as delicate as some, their intense black cherry or strawberry fruit (depending on clonal makeup) is balanced and attractive. Good structure means they will age gracefully. Grapes from the better sites are especially prized, considerably exceeding the current average price of $18OO per ton.
I'll spare you (and the editors) notes on all the Pinots I tasted. Almost none were less than good. Those that especially enticed me came behind the labels of, in alphabetical order: Bernardus, Carmel Road, Chalone, Cima Collina, McIntyre, Morgan, Talbott.
In addition to the usual varietals, I was pleasantly surprised by several unexpected wines. I'll cite the few etched most deeply in taste memory. Eric Laumann makes wine under two labels. Cambiata Albariño 2OO8 is bracing but suave. Cambiata Tannat 2OO8 is firm, and concentrated with cassis. Laumann's Gewürztraminers, under the Ludwig label, are spicy and intense. Pierce Vineyards also has an Albariño 2OO8, just right for tapas, and Cosecheiro 2OO6, an Iberian blend, a rare red that works equally well as an aperitif or with food at table. Heller Estate Chenin Blanc 2OO7 from the Carmel Valley, laced with Riesling is mellow and a balanced just off dry.
Finally, the Boston-Monterey circle. The Salinas Valley is most unusual in hosting side-by-side billion-dollar vegetable and viticultural productions. Lettuce is king in the valley, "America's salad bowl", but it has plenty of company: strawberries, broccoli, spinach, and on in a long list. Andy Boy, a respected brand of produce, particularly here in the East, is the trademark of D'Arrigo Brothers, who farm 35,OOO acres. I met the eponymic Andy, semiretired Andrew D'Arrigo, now 85-years-old, with a full crop of hair and unlined face. His father, Andrea and uncle, Stefano, then living in East Boston, established the firm, and drafted four-year-old Andrew to personify the brand. Andrea was dispatched to Monterey to seek broccoli, then bordering on the exotic, and so it began.
LOCAL OPTIONS
The Massachusetts Farm Wineries & Growers Association completed its first three productive years with its third annual general meeting at the Hopkinton Country Club. Just as the wines of the region get perceptibly better each year and the number of wineries increases each year (there are, for the moment, 34 in the Commonwealth), so too does the quality of this meeting.
Kip Kumler of Turtle Creek Winery, Chairman of the Association, opened with an overview of the past year, which I shall highlight. Despite the woeful economy, sales of wine and other local products have healthily increased. New wineries continue to be born. One shocking tragedy: Terry Maloney, co-owner of West County Cider in Colrain, was killed recently in a freak accident at the winery. Judith, his wife and partner, and son Field plan to carry on. The bill that would allow wine sales at farmers' markets is progressing slowly through the state legislature. The legal status of shipping is confused and uncertain, and may see both the legislature and high courts involved, even at cross-purposes. It all may have to wait for the appeal in the case of Arizona to be ruled on. (So far, the state law of Massachusetts has been struck down, but similar laws in Kentucky, Arizona and Maine upheld; only Arizona is appealing.) Different segments of the trade have enough common interest to cooperate in helping to find solutions, but will they?
The last two items just mentioned anticipated more detailed discussion, by Henry Gillet, the Association's legislative consultant, and by the panel addressing "Thriving in a Regulated Industry". This was composed of attorneys Steve Miller, who works mainly with retailers, Lou Cassis of Wine and Spirits Wholesalers of Massachusetts, and Bob Ritchie, General Counsel to the Massachusetts Department of Agricultural Resources, and moderated by Dave Roberts of Truro Vineyards. From the discussion with some of the audience, I am led to conclude that there is no unanimity about the blessings of governmental regulation, and that is without registering the opinions of consumers. Gillet urged active participation in the political process.
John Comando of Neponset Winery then moderated a panel on the use of wine clubs to enhance business, composed of Chris Gamble of Truro Vineyards, Jackie Rogers of the Long Island Wine Council and Waters Crest Winery, and Craig Caesar of Westport Rivers. I'd venture that the listeners were divided on whether the reward might be worth the effort. I'd guess it would depend on the individual winery. It is striking that almost no wineries in New England use this tool, whereas it is very popular on Long Island.
Following a tasty wine tasting, nourished by cheeses of the region and other such enticements, lunch was adorned by guest speaker Nathan L'Etoile, assistant commissioner of the Massachusetts Department of Agricultural Resources. He focused on how vital agriculture is to Massachusetts, with wine production a large component of the success.
Much of the afternoon was devoted to a presentation on new grape varieties by Peter Hemstad, research viticulturist at the University of Minnesota. The goal of his project is the development of hybrids that possess cold-climate hardiness (think Minnesota winters), disease resistance (including to phylloxera), good productivity, favorable growth characteristics, and that yield wines of quality (including absence of foxiness). Four varieties in particular have thus far been promising: Frontenac and Marquette (both red), Frontenac Gris and La Crescent (both white). A tasting of three of these (all but Frontenac) served to kindle optimism. The project will continue to seek even better varieties, and also develop table grapes and rootstocks.
The Association announced a blending workshop in early May, and then I left the members to conclude the day with their business meeting. -HF