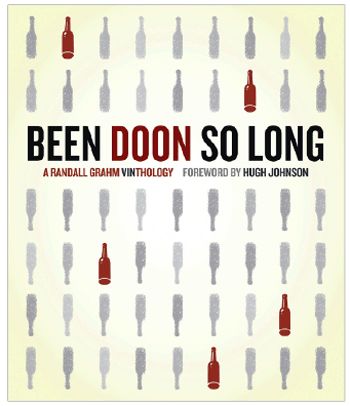 "O where hae ye been, Lord Randall, my boon?
O where hae ye been; so wan hae ye groon?"
"I've been to yon vineyard; mother make my bed soon,
For I'm weary o' pinot, and fain would lie doon."
"I'll plant the mourvèdre, and will dolcetto proon,
And I'll pick them both by the light o' the moon
But Pierced to the rote, I was ready to swoon,
To San Juan Bautista will fair Bonny Doon."
My parodic doggerel accurately summarizes the career of Randall Grahm at his Bonny Doon Vineyard in Santa Cruz, California. Let's go on to flesh it out, as I reviewed it on the occasion of Grahm's recent combined book and wine tour, at the same timetasting his current array of wines and discussing his new book. (I sometimes felt overmatched juggling too many Indian clubs, although the tête-à-tête was entertaining and instructive.)
Randall had his vinous epiphany as a youth clerking in a wine shop in Beverly Hills. It would have been just an interim job but for a generous, perhaps farsighted proprietor, who provided a high-level tasting experience. Château Cheval Blanc 1964 is particularly remembered. Randall still favors European wines. Then, after a degree at UC Davis, where, no surprise, he was something of a gadfly, he began the Bonny Doon adventure in 1981, first aiming to produce a great Pinot Noir. That was not to be. Next he mounted up as the most visible of the Rhône Rangers, but the Bonny Doon Estate Vineyard succumbed to Pierce's disease. There followed infatuation with Italian and other Mediterranean varietals and inflation into large-selling, low-priced, yet tasty, brands. All the while, Grahm spurned the commonplace, poked fun at the pretentious. No conventional Californian, he neither sows cabernets, merlot, pinot noir, zinfandel, nor does he reap chardonnay or sauvignon blanc. He is a committed terroirist, and has buried the cork in favor of the screwcap.
But then strange changes, perhaps influenced by doting fatherhood (Amélie is 6). Grahm embraced biodynamics, sold off the Big House and Cardinal Zin brands, and exiled Pacific Rim Riesling to Washington. Production, once as high as 45O,OOO cases annually, has been reduced to 3O,OOO, and is on its way to 2O,OOO. At age 56, he is planning to develop a property at San Juan Bautista in San Benito County, about 14 miles east of Monterey Bay, to which the enterprise will move to produce estate-grown, single-vineyard wines.
now to the book Been Doon So Long (Berkeley, CA: University of California Press, 2OO9, 318 pp, $35 large format) is Grahm's first, though his writings are familiar to many of us. It is large and learned, and, like its author, antic, amusing, manic, and courageously iconoclastic. Illustrated by the school of Hieronymus Bosch, it is handsomely mounted. A helpful glossary is appended, but no index. After introductory material comes the story of Bonny Doon fascinatingly told through the evolution of its labels. We are then regaled with pitch-perfect parodies of ageless immortals, followed by exposures and puncturings of what this master punster and alliterateur deems worthy of deflation, and so might you. He can impale with a feather. This book, best taken in small gulps, is a great gift, including to yourself.
The wines
Eleven wines are now produced. In addition to the six to be described in these tasting notes, there are Vin Gris de Cigare, a dry rosé of Rhônish grapes, Dolcetto, Sangiovese, Nebbiolo, and Vinferno, a passito style dessert blend of Roussanne and Grenache Blanc.
Albariño 2OO8
With 2O percent Loureira and 5 of Treixadura, all three grapes of northwestern Spain and northern Portugal. They, like the Muscat that follows, were grown in the Ca' del Solo Estate Vineyard in Soledad, Monterey County, in California's Salinas Valley.
Lean and racy, with good minerally flavor and fine acidity. Sharply focused.
25OO cases. $21
Muscat 2OO8
From moscato giallo, a grape of the far north of Italy. Soft and long. Clean. Contains O.6 percent residual sugar. 153O cases. $19
Le Cigare Blanc 2OO4
Roussanne and Grenache Blanc grown at the Beeswax Vineyard, Arroyo Seco, Monterey. Nutty and broad, then herbal (garigue). Needs time to emerge. Fine with food. 12OO cases. $22
Le Cigare Volant 2OO5
Grenache, Mourvèdre, Syrah, and Cinsault sourced from several Central Coast vineyards. Like the preceding, homage to Châteauneuf-du-Pape. Smells of wild berries. Fine, delicious juicy fruit, with some tannin and very long finish.
35OO cases. $3O
Syrah Le Pousseur MMVI
From Central Coast vineyards. Contains 13 percent Grenache. Leathery nose, berry fruit. Still youthful. 1OOO cases. $19
Le Vol des Anges 2OO7
Selected pickings of Beeswax Vineyard botrytised roussanne. Made only in suitable vintages. Sweet, thick, long, balanced. Nice texture: a suggestion of pear-like graininess superimposed on syrupy wine. 11OO cases (12 x 375). $31