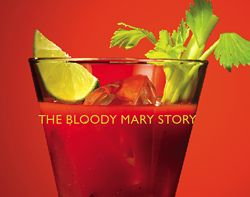 Endangered Cocktail: Bloody Mary
COCKTALE A staple of brunch menus across America, the Bloody Mary may seem anything but endangered. But we'll bet you a round that the question of how this morning tipple got its eerie name has crossed your mind at least once. Barman Fernand "Pete" Petiot is credited with inventing this cocktail in 1921 at Harry's American Bar in Paris. The drink was an exciting blend of two then-new products: vodka, which had recently arrived in France via refugees from Russia,
and canned tomato juice, an unsurprisingly American invention fresh off the boats from the States after World War I.
According to one theory, the drink's haunting name makes reference to Mary Queen of Scots via a regular often found drinking alone at Petiot's bar. Sipping in solitude for long, lonely hours as she awaited her beloved, she reminded bar guests of an imprisoned Queen Mary, who was also known by the sobriquet Bloody Mary. In 1936 the Astor family coaxed Petiot to move to New York to become head barman at the St. Regis Hotel's King Cole Bar, where his drink evolved further. Vodka was not yet available stateside and the St. Regis's swanky management wanted to lose the gruesome name. The new gin-based version was given the tamer-sounding name Red Snapper and earned a spot on the hotel's cocktail list.
The cunning marketers at Smirnoff saw opportunity in the Bloody Mary while trying to penetrate the market with vodka in the 195Os. They brought the original Bloody Mary back to its roots, making it a lynchpin of their legendary campaign to introduce vodka to the American marketplace. And it worked. Vodka holds forth on drink lists today, with modern brunchers asking for call-brand Bloody Marys by name. But the original Bloody Mary recipe was quite simple. As such, the drink lends itself to delicious invention, and is a great template to play with until you've got your preferred recipe just right. As Imbibe! author David Wondrich says, "the small, idiomatic differences . . . are the mixographer's delight!" Add celery salt, horseradish, and who knows what else.
BLOODY MARY
1½ ounces Vodka
2 dashes Worcestershire
4 dashes Tabasco
pinch Salt and pepper
¼ ounce Fresh lemon juice
4 ounces Tomato juice
Build in a mixing glass.
Roll back and forth in a shaker tin.
Strain in an ice filled glass.
Garnish with celery and a wedge of lime.

Cin-cin!