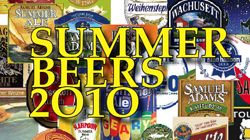 Ah, summertime. Hot weather. Baseball games. Trips to the beach. Backyard barbecues. And thirst. What better way to quench that thirst than with an ice-cold beer? Maybe one served in a well-frosted mug. Then again, maybe not. There's no need to pigeonhole certain beers as being just for summer. "The summer beer season outsells all others because it's so long," said Kristie Faufaw of Ryan and Casey Liquors in Greenfield. "The beers start arriving in late March. It's crazy." Beer ads from the big players permeating the media in the summer would have us believe that the only possible refreshing beer is one that's just above the freezing point. But that might not be entirely correct. If you're so thirsty that all you want to do is "refreshingly" wet your whistle, a glass of water will do just fine. If, on the other hand, you want to actually taste something at the same time, a good choice might be one of the many craft-brewed seasonal beers offered by the hundreds of American microbreweries. "Everybody is loving the micros," said Deb Flynn of the Eastside Grill in Northampton. "It's so huge and there are so many to choose from that it's difficult to figure out which is best for our place."
"Everyone loves this season for beer," echoed Nick Gregory of Redbones in Somerville. "We go through the full spectrum. Anything light and refreshing, the customers go for." The party line on what constitutes a summer beer is that such brew is "light, refreshing and easy to drink". No dark malts here, so the color is golden and the taste is free of toasty, roasty flavors. Hop additions are mild, so there's no big burst of flavor or bitterness from hops. Wheat malts go into the most popular types of summer beers, with the wheat adding a light crispness to the overall taste.
Wheat Beers
Wheat beers are the champs of the summer beer category. These are almost always top-fermented ales in which a certain percentage of wheat malt is added to the normally present barley malt. Wheat contains more protein than barley, and this extra protein tends to lighten the beer's flavor and add an ever-so-slight tartness to the overall taste. If handled correctly by the brewer, this tartness is wonderfully refreshing to the taste buds on a blisteringly hot summer day. Increased levels of protein also create a larger than usual frothy, foamy head. "We definitely sell more wheat beers in the summer," said Dan Demuth, Manager of Yankee Spirits in Sturbridge. Wheat beers confuse many beer drinkers not familiar with the style. Domestic and international brewers brew astounding variations of wheat beers. The Germans brew two distinct styles of wheat beers, as do the Belgians. Then there is the style known as American Wheat Beer. What they all have in common is some proportion of malted or unmalted wheat mixed with malted barley (anywhere from 3O to 7O% wheat), and they are top-fermented beers, putting them in the ale family.
German Wheat Beers
In Berlin there is a style of wheat beer known as Berliner Weisse (white). This beer is pale in color, intensely tart and sour, sparsely hopped, low in alcohol (2.8 to 3.6% abv), quite effervescent, light in body, and contains yeast in suspension, producing a cloudy beer. It's often served with raspberry syrup or woodruff to offset the sourness. "Hottenroth Berliner Weisse from The Bruery in California is an excellent beer," said Joe Santos of Julio's Liquors in Westborough. "This low alcohol beer, just 3.1%, has great flavor. Another Berliner Weisse we sell is Dogfish Head Festina Peche." This beer is described by the brewery as a "neo-Berliner Weisse fermented with honest-to-goodness peaches". In Bavaria, the southern German style of wheat beers are known as weizen (wheat), hefeweizen (yeast-wheat) or sometimes simply as weisse beers. These beers are usually pale or straw colored, with aromas and flavors of clove, bubblegum and bananas. Some degree of tartness is almost always present. Hopping rates are low, effervescence is high, alcohol is in the normal range (4.3 to 5.6% abv), and the body is light. Hefeweizens contain yeast in suspension, producing a cloudy beer. The Germans also brew dunkel weizens (dark wheats) and weizenbocks (strong wheat bocks). "Berkshire Brewing is the local microbrewery for us and a huge seller," said Flynn, "so their Hefeweizen will be on tap this summer."
"We always keep on one or two hefeweizens," said Gregory. "Usually Spaten Franziskaner and Weihenstephan, both from Germany." Faufaw at Ryan and Casey Liquors added, "UFO Hefeweizen from the Harpoon Brewery in Boston sells well. Put lemons on the counter and the beer flies out the door."
Belgian Wheat Beers
One style of Belgian wheat beer is called a wit (white) or bière blanche. This beer is often brewed with a 5O/5O blend of malted barley and unmalted wheat, and spiced with coriander and Curaçao orange peel. Wits are pale, slightly cloudy, effervescent, light in body, normal in alcohol content, and somewhat sour tasting. "We'll have a variety of witbiers," Gregory said. "Allagash White from Allagash Brewing in Portland, Maine, is always popular and is a great quality beer." Samuel Adams Summer Ale is basically brewed in the Belgian witbier style, using wheat malt, lemon zest and Grains of Paradise. It's a huge seller in Massachusetts during the summer.
"Right now the Samuel Adams Noble Pils is doing great as a spring seasonal," Flynn said, "so for the summer, Samuel Adams Summer Ale will definitely be on."
"Once done with a New England winter, customers are ready for lighter, citrusy summer beers," said Suzanne Schalow, General Manager at Cambridge Common, a Cambridge good-beer bar and restaurant with 3O taps (plus two cask ale taps) and around 3O bottled beers. "The biggest seller is Samuel Adams Summer Ale. This is a very respectable beer, and the Boston Beer Company has good marketing. They get in earliest with the seasonal beers. They're masters of craft beer."
"Avery White Rascal Belgian Wheat Ale from Avery Brewing in Colorado is a good witbier seller for us," Santos said.
Harpoon's UFO White is also brewed as a witbier and is a huge seller each summer. The Belgians also brew lambics, sour wheat beers produced only in the Senne River Valley southwest of Brussels. These beers are spontaneously fermented with wild yeasts and bacteria, and aged for two years or more in oak barrels, which have previously been used for aging wine. Lambics are brewed with 3O to 4O% unmalted wheat and aged hops. Straight lambics are young, acidic and fruity. Faro lambics are young lambics sweetened with candy sugar or brown sugar. Gueuze lambics are a blend of aged and young lambics. They have flavors that are wine-like and tart. Fruit lambics are aged lambics into which whole macerated fruit or fruit juices have been added during the long aging process. The most common fruits used in lambics are raspberries (known as framboise or frambozen) and dark, bitter cherries (known as kriek).
American Wheat Beers and Kölsch
American wheat beers are all of the above. Well, not really, although many American craft brewers do brew the above styles. An American wheat beer is best described as a pale ale into which some proportion of wheat has been added. They can be pale, amber or copper in color, hoppy or not hoppy, slightly grainy from the wheat or not, light in body and normal in alcohol content. "Wachusett Summer Ale and Smuttynose Summer Weizen are two good-selling American craft wheat beers for us," Demuth at Yankee Spirits said.
A style of beer from Cologne, Germany, a beer called a Kölsch, is also quite popular in the summertime, especially with American craft brewers. A Kölsch is a pale ale, mildly hopped and usually brewed with a small percentage of wheat. The most unique characteristic of a Kölsch is that it is warmly fermented with an ale yeast, but then conditioned at the colder temperatures associated with lagers. "Kölsch is popular in the summer," Gregory said. "Our mainstay is usually Reisdorf Kölsch from Germany." Schalow said that Harpoon Summer Beer, brewed as a Kölsch, is a big seller, and Demuth mentioned Geary's Summer Ale from Maine as a good Kölsch.
Other Popular Summer Beers
"Everybody always wants an IPA," Eastside Grill's Deb Flynn said, "so maybe that will be Dogfish Head 6O Minute IPA for us this summer."
"IPAs are killers, they sell all year long," Faufaw said.
Samuel Adams Latitude 48 is a new IPA this summer, brewed with a blend of hops from German, English and American growing regions all located close to the 48th Latitude, the "hop belt" of the Northern Hemisphere. "We'll carry lots of German lagers, such as Monchshof Lager and even the Schwarzbier," Gregory said. "And also Belgian saisons. We'll back off on the porters and stouts. Magic Hat #9 from Magic Hat Brewing in Vermont is a good old standby in the summer, and we'll have craft beers such as Southern Tier Hop Sun from Southern Tier Brewing in New York and some from Sixpoint Craft Ales of Brooklyn."
"I've noticed a little bit of a trend of brewers making lighter lagers and pilsners," said Lauren Clark of drinkboston.com. "These are lawnmower beers that are decent tasting. Summer is a good time for this. Great Divide Samurai Rice Ale (Great Divide Brewing in Colorado) is like a craft version of Bud. Pabst has even brought back the Schlitz formula from the 196Os, and it's doing well in hipster bars in longneck bottles, perhaps replacing PBR. I'm excited about this."
"Craft pilsners take off in summer," Santos said. "We'll carry Victory Prima Pils (Victory Brewing, Pennsylvania), Brooklyn Pilsner (Brooklyn Brewery, New York), Stoudts Pils (Stoudts Brewing, Pennsylvania), and Tröegs Sunshine Pils (Tröegs Brewing, Pennsylvania), as well as others."
Summer Beers Can Never Be Dark?
But who says a summer beer needs to be "light"? It's not blistering hot twenty-four hours a day. On a cool summer evening an imperial stout (or a barley wine, or any other strong ale or lager for that matter) would be just the ticket. How about that cold, windy day at the beach? A Belgian dubbel or maybe a German doppelbock sounds delicious. The BBQ party is rained out and the thought of drinking a cold wheat beer suddenly isn't so appealing? Now might be the perfect time to open a porter or stout.
Green Street Grill in Cambridge is a food driven restaurant and bar, said owner Dylan Black, "so we tend to have heavier and maltier beers."
"I like a beer with a good body," Black said. "We even keep stouts and porters on for the summer, as well as pilsners and other lagers. Even some oak aged beers." Some of Green Street's summer beers may include Stoudts Gold Lager, Lefthand Brewing's (Colorado) Polestar Pilsner, Fluffy White Rabbit Tripel (Pretty Things Beer & Ale Project, Massachusetts), Hoppin' Frog's (Ohio) Barrel-Aged B.O.R.I.S. Imperial Stout, Sierra Nevada Brewing's (California) Kellerweiss, Southampton Brewing's (New York) Double White, and Lost Abbey/Port Brewing's (California) Back Lager.
In other words, any beer is a summer beer.