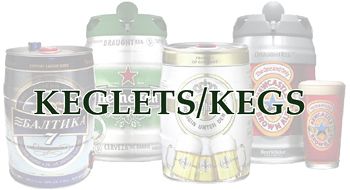 I'm a big fan of draft beer in the summer. The advantages are clear: less handling, usually less expensive, more environmentally friendly, and as lots of folks will tell you, it's usually how brewers meant the beer to be poured. I like having draft at all our family gatherings: it tastes great, it's always fresh and I look like "The Man" pouring cold draft beers!
But draft at home has downsides. You have to buy a lot of it – five gallons, at the least – you have to have a tap, it doesn't last more than a day so, you have to drink all of it, and it's really heavy to sling around (I've got a bad back to prove it).
Wrong, wrong, wrong, and wrong. Home draft has changed a lot, and there are opportunities for a smart retailer in the home draft market.
First, draft beer has been available in smaller sizes for quite a while. The familiar 5 liter "can kegs" that used to be a fairly primitive, somewhat sloppy operation have evolved into a pretty much leak-free proposition. There are two popular types, one that taps from the side with a gravity pour, and the other that has a centered tap in the top with a small pump dispenser (included in the purchase). There are even counter-top refrigerator units available to keep the center-tap cans cold and pressurized.
"We do Baltika in the cans," said David Park, who handles the beer section for his brother Gary at Gary's Liquors in Chestnut Hill. "That's a pretty specific market; we have a lot of Russians and eastern Europeans in the neighborhood. There's also German beers in them, like Warsteiner. That's a gravity-pour tap; you twist the tap, pull it out of the side – they're pretty popular. College guys will say things like, 'I'm just bringing one can of beer to the party,' and they show up with one of these.
Heineken has brought something a bit more technically advanced to the draft party, the DraughtKeg. Originally launched with Heineken, the DraughtKeg is also now available filled with Newcastle Brown Ale. The device incorporates a simple tap and valve that keeps the "keglet" pressurized for up to 3O days. (I can vouch that it's good for at least three weeks.) It also holds 5 liters of beer.
Heineken USA advises you to chill the keglet for 1O hours before serving, but the beer – like most European beers – is flash-pasteurized, and the units can sit on the store floor without being cooled. They can also be held at room temperature at the customer's convenience, which makes for a wrappable gift; I've included them in gift baskets.
"I do pretty well with them," Park said. "I sell about six a week, mostly on the weekends. It's good for parties, for when guests show up. People who like gadgets like them. They sell pretty consistently through the year, they don't really spike except around the holidays. They're good gifts for a Heineken drinker."
The DraughtKeg also fits the Krupps BeerTender (it should, it was made for it), a countertop mini-kegerator. It keeps the beer cold and fresh, and looks as stylish as you'd expect from Krupps. "I sold about three or four of them," Park said. "They take it home and put it on the counter. They liked those." The BeerTenders have come down quite a bit in price from their debut, to around $12O, which seems to be working.
But what if the size isn't a problem and you want a bigger keg? After all, these little ones are great, but . . . they're little!
I took a Newcastle keglet to a big party, and it was popular, but it was gone in 2O minutes. Most people don't want a larger keg because if you don't drink it all, it goes flat. That means you're either urging people to drink more than they should so the fresh beer isn't wasted (and they are), or you're throwing away good beer.
Or you could get a better tap. That's what I did, about two years ago, and we've had draft a lot more often. I bought the Leland Picnic Tap, a simple stand-up rod tap with a small one-use canister of CO2. I used it on vacation; we had the same sixtel keg tapped for five days, drinking it at our speed.
"College kids are not the key market," agreed Leland Ltd. President Lee Stanford. "It's for guys who can now afford to enjoy draft as it should be. We're not so young anymore, we don't consume the keg overnight. I invented the Picnic Tap to give consumers the best possible beer the day after the party. That's how we sell it to liquor stores. Store owners tell me, "It's not going to help me sell kegs." But it does. It allows people to consume all the contents of the keg in high-quality condition. Once they understand that, you sell more kegs.
"The key advantage over a hand-pumped tap when you're actually pouring beer," Stanford said, "is that you control the pressure. You set the regulator once, and forget it." Stanford quoted a suggested retail price of $25O for the tap, insulating rod sleeve, two canisters of gas and a sturdy carrying box.
It's dead simple; I was drinking a cold glass of beer less than ten minutes after I first got mine out of the box. Close the regulator, screw the fresh gas cylinder into the fitting, attach the tap to the keg, and open the tap. Once the first rush of beer peters out, slowly open the regulator till the beer is flowing freely. You're done. It's robust, too; I've loaned it to friends and it's come back unharmed. Cleaning's just as easy, as simple as running hot, soapy water through the tap and rinsing it.
Portable draft for parties, for softball games, for family reunions: it's a nice niche market you could work on. Start simple with the Heineken and Newcastle keglets, add variety with the Euro-cans, and maybe work your way up to selling kegs to supply your new tap customers. (Leland distributes the gas canisters, too.) You could be feeling a nice cool draft on a hot summer day.