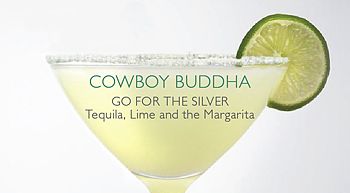 Endangered Cocktail: Cowboy Buddha
Go for the Silver
Tequila, Lime and the Margarita
COCKTALE A well-made Margarita is a perfect balance of sweet, sour and earthy – a winning, but endangered, cocktail – and we're calling on you to help keep its flame burning. A quality silver tequila, a premium triple sec and, most importantly, fresh lime are key.
Some would say "who has time to squeeze a lime?" Slicing and squeezing citrus with a handheld juicer ($11 at The Boston Shaker, Somerville) takes less time than wrangling the packaging off a bottle of sour mix. A lime contains no added sugar, preservatives or alien aftertastes, offers bright acidity and aroma, and comes in its own biodegradable wrapper. Half a lime gives roughly 3/4 ounce of juice – one Margarita's worth. A trick for maximizing the juiciness of that little green sphere prior to squeezing is to roll it under the palm of your hand on a flat surface
until it softens a little.
1OO% blue agave silver/blanco or reposado tequilas are best for cocktails, aged añejos generally best for sipping.
Golds are normally less flavorful and more cloying, being made with additives and far less agave. In this case, don't go for the Gold.
The Margarita (Spanish for 'daisy') was likely born in the long shadow of Mexican agave fields,
snaking its way across American Tiki and Tex-Mex drink lists, though it was first documented in London of all places in the 193Os.
They called theirs a Picador, a classic Daisy-style of drink. At New Mexico's historic Taos Inn, they serve a fine example they call their Cowboy Buddha Margarita, and because I've enjoyed many in front of their fireplace during ski season, the torch gets passed along here.
COWBOY BUDDHA
2 ounces Herradura Silver
1 ounce Cointreau
¾ ounce Hand-squeezed lime
shake ingredients for 2O seconds in an ice-filled shaker.
serve up in a cocktail glass, or on the rocks with a salted rim.
¡Salud!