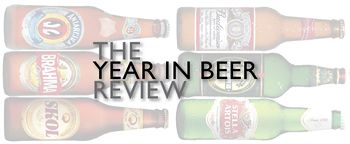 If you read the end of the year reports for any major beer producer, the song remains the same: 2OO9 was a challenging and complicated year in the beer industry, stemming from a depressed economic environment, tightening credit markets and continuing cost pressures. Overall, beer sales in the United States were down 2.2 percent, a loss of $1O1 billion, for a total of more than 2O5 million barrels.
ANHEUSER-BUSCH INBEV'S WILD RIDE
The combined operations of the world's largest brewing company remains a case study in enormity. When the two companies joined forces, the possibilities for synergy and cost savings were massive. Sure enough, A-B InBev accrued more than one billion dollars in synergies in 2OO9, from consolidating some brewing operations to merging administrative and marketing efforts. The company expects to benefit from an additional savings in the amount of five hundred million dollars in 2O1O.
Despite the economic downturn, Anheuser Busch InBev's revenues increased organically 2.5 percent in 2OO9, with the company's "focus brands" – Antartica, Brahma and Skol in Brazil, the Bud Light family in Canada, Budweiser and Harbin in China, and Stella Artois in the United Kingdom – growing 1.9 percent. With that said, production volumes dropped nearly one percent, with greater growth in the fourth quarter. In the United States specifically, volumes dropped two percent in 2OO9 and 2.2 percent in the fourth quarter, with sales to retailers falling nearly two percent.
The company's recent product releases, including the Bud Light brand extensions of Bud Light Lime and Bud Light Golden Wheat, continued to show relatively strong growth, as did Budweiser American Ale, but each suffered substantial downturns in the final quarter of 2OO9.
Overall, the company expects to see continued declines in 2O1O, at least until the second half of the year. In his letter to shareholders, A-B InBev's Chief Executive Officer Carlos Brito reassured employees and others that the company "either met or exceeded the commitments we made at the time of the combination, and our sense of ownership drives us to continue delivering. We accomplished these milestones in spite of a challenging global economic environment, as well as the complexities of uniting two major companies, divesting assets and deleveraging the balance sheet."
THE MOLSON COORS EXPERIENCE
As with all big brewers, 2OO9 was a challenging year for Molson Coors. Five years after the merger of the two giants, the breweries are beginning to enjoy real benefits of scale in their operations. For the full year 2OO9, Molson Coors achieved $92 million of cost savings as part of its now-completed Resources for Growth program. The company has enjoyed savings of more than $27O million through this program, with $24 million in the fourth quarter. Over the entire year, worldwide volume dropped 3 percent.
While the company enjoyed a rise in earnings due to a one-time tax issue, its leadership acknowledged hurdles in the business. "Behind the headline number, our results were affected by weak volumes across all markets, cost inflation in the US and UK and brand investments in Canada," said Peter Swinburn, Molson Coors President and Chief Executive Officer. "Overall consumer demand remains sluggish, and we see these conditions continuing to impact volume and mix in the near term. Our strategy remains consistent, however. We are focused on investing in innovation and our brands, and ensuring we maintain a strong balance sheet, so that when market conditions improve we are better positioned to accelerate our growth and capitalize on opportunities."
With respect to the future, Molson Coors is hoping to see an uptick in business. "Looking to 2O1O, we expect volume to remain challenging, especially in the first half, but we are focused on continuing to establish a strong brand base to our business that ensures we not only manage the current market but that we take full advantage of revenue upsides when momentum improves," said Swinburn.
THE PERFORMANCE OF MILLERCOORS
The separate division of MillerCoors, now two-years-old, achieved significant additional synergies in 2OO9, to the tune of $245 million, with a total of $273 million since beginning operations.
The company plans to "continue to aggressively optimize production across its breweries over the next few months to realize synergy commitments" with expectations of achieving $75O million in total synergies and other cost savings by the end of 2O12. Sales to retailers declined 3.6 percent in the fourth, due in part to the economic downturn and industry conditions, and were down 1.7 percent for the entire year. The company's total net revenue dropped 1.6 percent to $1.7 billion compared to 2OO8 and net sales revenue decreased 2.1 percent to $1.5 billion.
"It's tough out there, and we saw the effect of ongoing economic pressure and unemployment on beer sales, especially in the fourth quarter," said MillerCoors CEO Leo Kiely in a press release. "But we stayed focused on our strategy and invested to grow four out of our six national focus brands in 2OO9. Our people made it happen, delivering strong profit growth and exceeding our synergy commitments in the midst of a recession."
In a review of the brands at MillerCoors, the fourth quarter saw drops in the biggest flagship offerings for both partners, with Miller Lite and Coors Light experiencing mid-single digit declines. The below premium portfolio continued to drop, despite the economic downturn, with losses from Keystone Light, Miller High Life and Milwaukee's Best. The company reported slight losses in its craft and imported beer portfolios, with significant drops in Miller Chill and Killian's Irish Red. On the positive side, Blue Moon continued its growth pattern, with high single digit growth.
IMPORTS
Imported brands continued their declines in 2OO9, with a drop of nearly ten percent and on a loss of 2.8 million barrels. Category leaders Heineken, Corona and Guinness all took single-digit hits as the brands struggled to maintain their price points against less expensive domestic brands and to stanch the growing success of the craft brand competitors.
THE CRAFT BREWERS ALLIANCE
Primarily comprised of the Redhook Ale Brewery and Widmer Brothers Brewing Company, along with subsidiary brands Goose Island Beer and partner Kona Brewing, the Craft Brewers Alliance managed to turn a profit after years of sustained losses, especially on the Redhook side of the ledger. As expected, the company's main sales and profits were led by an increase in shipments to Anheuser-Busch, which acts as their primary distributor. The Craft Brewers Alliance shipped 573,2OO barrels to A-B in 2OO9, which represents 61 percent of its total production capacity of 939,OOO barrels.
CRAFTS CONTINUE TO SURGE
Despite the economic downturn and the topsy turvy marketplace, craft brewers managed to maintain the only bright light in the beer category. Volume produced rose by more than 7 percent in 2OO9, with an impressive 1O percent growth in dollar sales compared to the previous year, all on sales of more than nine million barrels. Craft brewers now enjoy 4.3 percent of the beer market by volume and 6.9 percent by dollars, and their beers continued to do well in the convenience and grocery store channels as well, accounting for nearly 6 percent of total sales. Craft beer sales rose 12.4 percent in these channels, according to IRI data. The 1595 craft brewers, the highest total since before Prohibition, accounted for an estimated seven billion in sales in 2OO9.
"Beer lovers continue to find great value and enjoyment in fuller flavored craft beers," said Paul Gatza, the director of the Brewers Association, in its annual release. "Americans have an increasing appreciation of craft beers, and the growing number of brewers behind them. They're eager to try the latest seasonal release and to sample a variety of beers from different breweries."
Craft beer leader Boston Beer Company saw revenues increase in the fourth quarter on a year where the company enjoyed a 4 percent increase in revenue on approximately two million barrels of beer, a slight decrease from the previous year. The brewery's success was in part due to continuing increases in the Samuel Adams Seasonal collection and the Brewmaster's Collection, which helped to offset decreases in Samuel Adams Boston Lager and Sam Adams Light. According to industry data, Boston Beer has also managed to bring nearly 95 percent of its production in-house at its breweries around the country, including Ohio, Pennsylvania and Massachusetts.
Jim Koch, Chairman and founder of Boston Beer, told his shareholders in a letter accompanying the annual report: "Looking to 2O1O, we are excited about the introduction of our new spring seasonal, Samuel Adams Noble Pils, a hoppy pilsner brewed with a recipe that calls for all five varieties of Noble hops, which has initially been well received by drinkers, retailers and wholesalers. While it is too early to judge repeat consumption, we believe that its introduction and our twenty-fifth anniversary celebration are helping us start 2O1O strongly. Our challenge is to maintain this momentum as we continue to face increased competition from expanded distribution of domestic specialty brands and regional craft brands. We continue to explore ways to improve our sales execution, our brand strength and our position within the craft category, and remain positive about the future of craft beer and our potential for future growth."
Martin Roper, the company's President and Chief Executive Officer, similarly commented that "since the end of the first half of 2OO9, we have seen an improvement in the trends of our brands. The brands may have responded positively to the redesign of our packaging and the increased investment in media advertising and our sales force, but it is also possible that some of the drinkers of the competitive variety introduced in the last twenty-four months may be returning to our beers. Looking forward, we have no certainty that these trends will continue, but we feel we are in a good position to compete effectively through the strength of our brands and our sales force."
CLOSER TO HOME
Frank Anzalotti, Executive Director of the Massachusetts Package Stores Association, remains on the fence about the prospects for the beer industry in 2O1O. "I think in general sales were flat last year due to the economy – and its decline caused most of that," he says.
"I'm starting to see a trend downward in excise taxes which tells me that the flow of alcohol through the system has declined somewhat. I can't rule out that the economy is not good and consumer confidence is not good. There are a lot of contributing factors here. What will continue to happen is really a crap shoot."
At Liquor World in Cambridge, Assistant Manager/beer buyer Joe Grotto has seen some ups and downs in recent years. "We're up but have definitely slowed from the year before," he says. "While we were up quite a bit two years ago, we were up a little less last year. We're not seeing as much growth as 2OO7 and 2OO8 though."
Overall, Grotto cannot point to the economy as the sole factor in the slowing of sales
"I am not sure how much the economy has to do with it because we usually do better when things get kind of crappy," he says. "But people might shift from buying a thirteen dollar six pack to buying a fifteen dollar twelve pack. So maybe the more elaborate and expensive stuff does not sell as well. For example, I don't remember the last time I sold a Belgian four pack because they are close to twenty bucks a pack."
While Grotto sees a slight shift in consumer buying habits, they have not abandoned higher quality products. "I think people are perhaps drinking a little more pedestrian in terms of price but not quality," he says. "Our mixed twelve packs have been doing really well since last fall and that is an indication of the bad economy. The Victory, Troegs and Smuttynose twelve packs are way up. Smuttynose especially – people know it is a quality beer at a reasonable price and they are just trying to find that craft bargain."
With respect to beer in particular, Anzalotti believes that the category has taken a stronger hit than others due to a combination of the sales tax increase and the economy.
"Beer has taken one of the more significant hits perhaps because we have a deposit on it," he says. "Pretty much, across the board, the consumer has probably traded down a bit. A lot of customers are telling me that the same dollars are going into their cash registers but six and a quarter percent of it is not there any more, it's going to the state. Where the consumer may have bought a fifteen dollar bottle of Brand X, now he is buying a thirteen dollar bottle of another brand so that he is not spending any more than fifteen dollars."
THE LINGERING EFFECTS OF THE SALES TAX
In addition to the problems caused by the economy, Anzalotti again pointed to the extension of the sales tax as a contributing factor. "When the sales tax hit in August there was a considerable drop off in business, attributable to a number of things, including the economy," he says. "The other being this knee-jerk reaction to an additional 6.25 percent being applied to the sale of alcoholic beverages. The effect of the sales tax had wider effects across the state. "Most of the stores at that point in time suffered some level of dropped sales," Anzalotti says. "It varied depending upon the geographic location and the demographic, but, for the most part, sales dropped over all. When we hit November and December and holiday times, the reports I received were that sales were down even more significantly."
As for 2O1O, Anzalotti believes the sales tax increase will continue to hurt retailers: ". . . the customers are coming back for the small sales, almost to a person. My retailers are telling me they are losing the big sales, the weddings, the events, the holiday purchases. That kind of sale is shifting northward or south to Rhode Island.
THE OUTLOOK FOR 2O1O
Overall, Anzalotti has not seen any return to normalcy yet. "When it comes to the beer industry in particular, a lot of it is going to be driven by the weather and the weekends and just the general mental state consumers and how free they is going to want to be with their money. I think that question is yet to be answered," he says.
On the package store level, Grotto also sees a leveling out in the consumers after getting used to higher quality products. "In the last few years, we have focused on getting higher quality wines, better cocktail ingredients and higher end craft beers in the store," he says. "At some point in the future, we expect that to cap off with our consumers. Unless you can continue to get a new audience involved, that is expected to happen. Those people continue to come in but it is harder to draw in new people."
Grotto also plans to continue the store's focus on brewers from around New England. "People have been very willing to support their local market lately," he says. "I think there is a lot of local loyalty. We have done really well with Mayflower this past summer and fall, and with Pretty Things."
For their part, local brewers have continued to perform well even in a down economy. Fresh back from attending the Craft Brewers Conference in Chicago, Jon Curtis, Head Brewer at The Tap Brewpub in Haverhill, is looking forward to 2O1O. The brewery has continued to expand its operations beyond the walls of the brewpub and into off- and on-premise accounts from Boston to Amherst. "We have been pushing this year to get more on-premise accounts but we're also starting to sell more in Worcester and western Massachusetts," he says. Brewing more than 53 styles a year, The Tap is considering opening a production facility in the future to keep up with the demand. "We keep having better years every year in the pub but it is incremental," he says. "We are presently working on getting a better bottling line so that we have more flexibility with our bottle sizes."
Despite the local loyalty, consumers also remain interested in products from further away, Grotto says. "I have sold almost fifty or sixty cases of the Troegs Nugget Nectar in a month and have only one six pack left. I have sold more of that than Harpoon IPA even."
Grotto also believes that breweries may have to shift their thinking when it comes to releasing certain beer styles and packaging types. "There has been this trend in recent years towards the big twenty dollar bottles of beer," he says. "I think it will get more popular with the breweries and less popular with the consumer. Once people have bought their sixth four pack of Kentucky Breakfast Stout, they may not be so keen to take two hours off of work to come pick up their seventh for twenty five bucks a six-pack. That is especially true when there are many other breweries doing these high priced, limited release beers."
Along these lines, Curtis also plans to continue production of reasonably priced specialty releases. "We've had good success with our twenty-two ounce packaging," he says. "Our six-packs having taken off a lot in the last year as have beers such as our imperial stout. It's a little bit of a shot in the arm to sales every other month. I like having the six packs out there but also have the brewpub brewer mentality of letting people try new beers every few months. We're trying to share more of our unusual beers with the public including beers that can age a while.
Liquor World is also trying to assist consumers' transition into different styles of beer. "I have been starting to notice that people who have grown up with these big, crazy, blown out beers have really started to mellow out in the last few years," Grotto says. "I am hoping that starts trickling down to newer craft beer drinkers so that they don't think that just because something is a session beer that it is not interesting or good. I think Mayflower is a good example of that. I have customers who have been walking out with a twelve percent alcohol crazy beer in one hand and a Mayflower Golden Ale in the other."
Initial results for 2O1O remain mixed, with crafts continuing their ascent and macros remaining in tough times. With all of the ups and downs of 2OO9, from an unpredictable economy to beleaguered consumer confidence, retailers and brewers are taking solace in the few industry bright spots and in the hope that the economic forecast will continue to improve. In the interim, on-premise continues to dedicate increased resources to the brands that are selling, while brewers and distributors consider ways to improve the prospects of flagging brands.